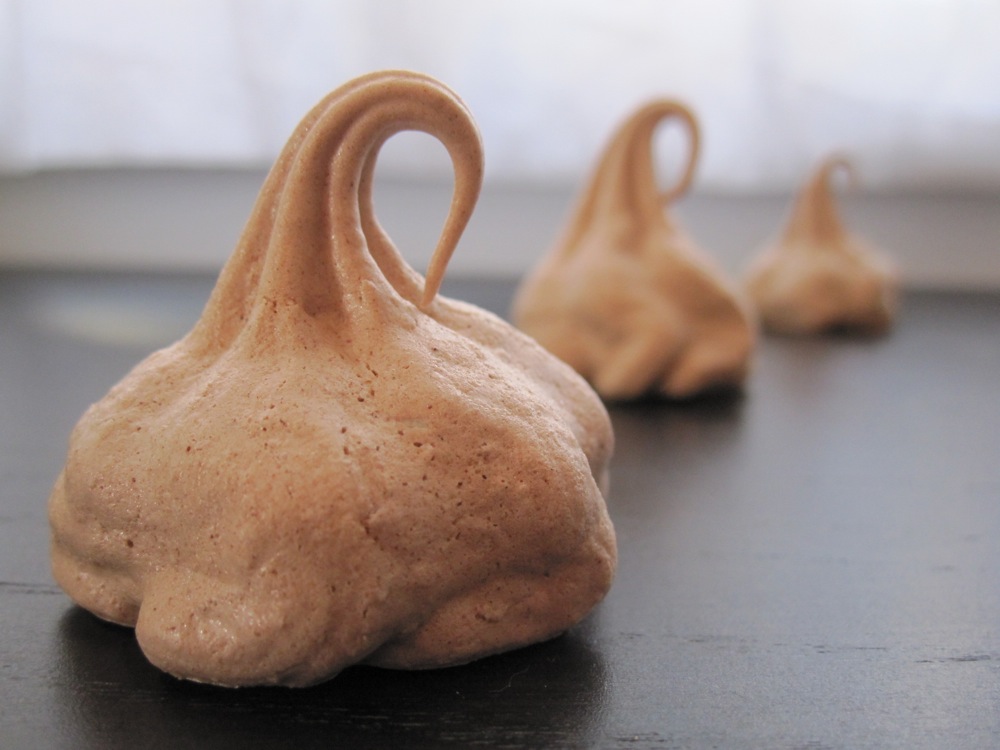 what do you do when it's almost november but it is still nearly 80 degrees outside? first, you do a happy dance, because that's awesome. then, you come up with a recipe that combines autumn flavors with the lightness of a summer dessert. + voila, spiced cocoa meringues are born!
meringues are super airy cookies, primarily made of heavily beaten egg whites + sugar. after being baked at a low heat, their texture is crisp on the outside, slightly soft in the inside, + melt-in-your-mouth. you can create wonderfully interesting flavors with them, + still retain their lightness.
for the flavors in these particular meringues, i simply looked in my spice cabinet to see what would fit the autumn mood. i used many of the same flavors as i did with my pumpkin spice latte, then added a pinch of chipotle chili powder to add some interest. these turned out spectacularly – they have a ton of depth for such a light little cookie + present beautifully. they are spiced just enough to remind you that it is fall, but are anything but overpowering. if you're looking for a delicious sweet to bring to a halloween party this weekend, look no further.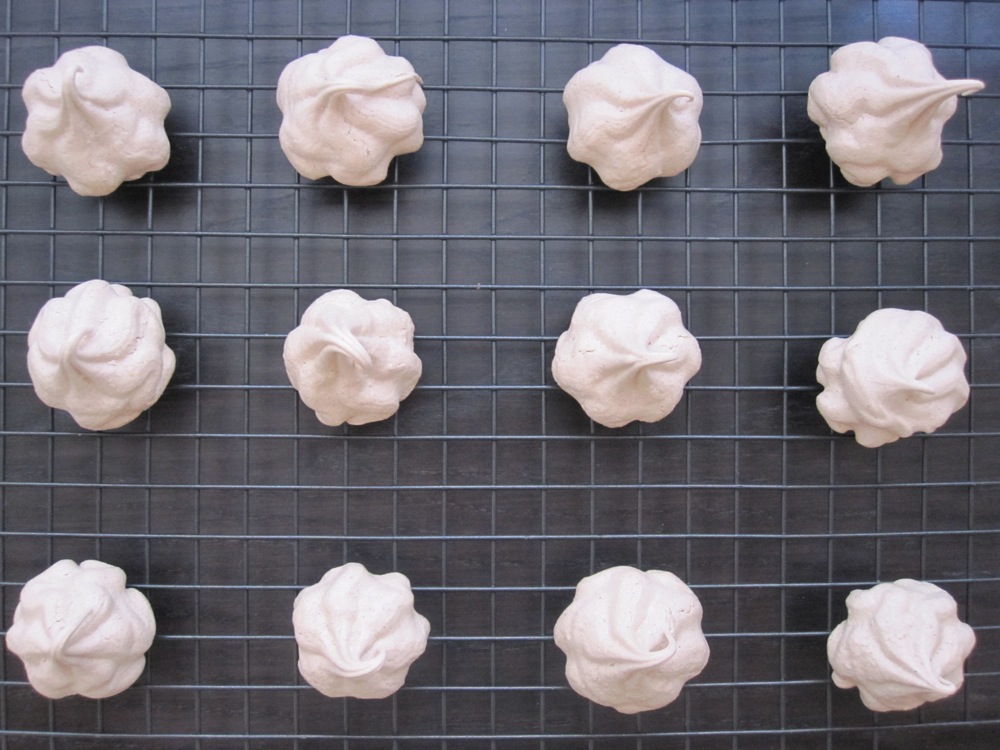 spiced cocoa meringues

makes 2 dozen meringues, adapted from bon appetit

ingredients

1/2 cup powdered sugar
1 1/2 tablespoons unsweetened cocoa powder
1/2 teaspoon pumpkin pie spice
1/4 teaspoon ground cinnamon
pinch of chipotle chili powder (optional)
3 egg whites, at room temperature for 30 minutes
1/4 teaspoon cream of tartar
5 1/2 tablespoons sugar

directions

preheat oven to 200°F. line 2 heavy large baking sheets with foil.

sift first 4 ingredients (+ the optional chipotle powder) into a medium bowl. in a large bowl, combine the egg whites + cream of tartar, + using electric mixer, beat until soft peaks form.

add 2 tablespoons sugar + beat whites until firm and glossy. beat in remaining sugar 1 tablespoon at a time, beating well after each addition. continue until whites are very thick + stiff peaks form, about 3 minutes. fold in the spice mixture in 2 additions.

working in batches, transfer meringue to a pastry bag fitted with a large star tip, + squeeze 1" wide x 1" tall stars onto baking sheet. alternately, you can simply drop heaping tablespoons of meringue if you do not have a pastry bag.

bake for about 2 hours, until dry + crisp, but not brown, reversing baking sheets halfway.

remove baking sheets from oven. transfer foil with meringues to racks + cool, then peel foil from meringues. (can be made up to 4 days ahead. layer meringues between sheets of waxed paper in airtight container. store at room temperature.)

print this recipe