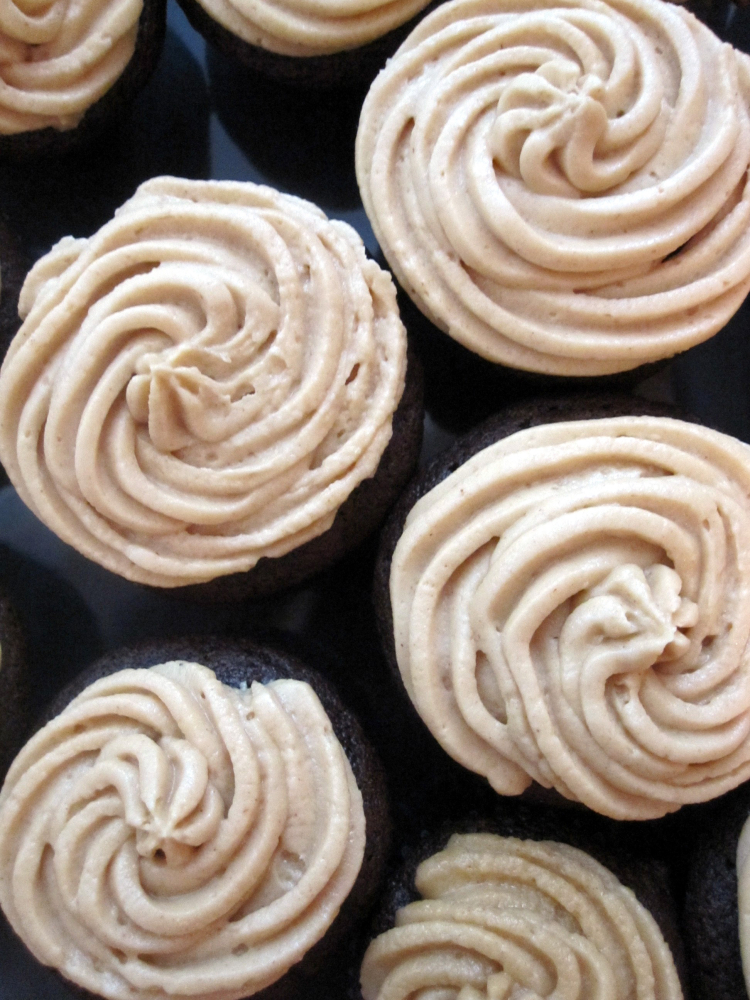 i can be pretty picky when it comes to sweets + desserts. most evenings i would rather have another helping of dinner or a handful of a salty snack instead of something sweet. i occasionally do fall in love with a dessert, + when i do, it is almost always something small, yet rich + decadent.
i came across the Brown Eyed Baker's blog the other day + her ode to chocolate + peanut butter got my attention immediately, as that is one of the dessert flavor combinations that i adore. peanut butter + chocolate = perfection! we were going out to celebrate a friend's birthday that evening, + i thought that these cupcakes would be a wonderful treat for the birthday girl. what says happy birthday better than peanut butter + chocolate? not much!
since i tend to prefer sweets that are small in size but powerful in flavor,  i altered the recipe to create mini-cupcakes instead of the standard size that the original recipe made. they turned out amazing – rich + flavorful cupcakes with a creamy, decadent frosting, all in the perfect size for someone who just wants a little something sweet after a great meal. if you're looking for an amazing dessert, look no further – these are chocolaty, peanut buttery perfection!
dark chocolate cupcakes with peanut butter frosting

dark chocolate cupcakes

ingredients

8 tablespoons (1 stick) unsalted butter, cut into 4 pieces
2 ounces bittersweet chocolate, chopped
½ cup dutch-processed cocoa powder
¾ cup all-purpose flour
½ teaspoon baking soda
¾ teaspoon baking powder
2 eggs
¾ cup (5.25 ounces) granulated sugar
1 teaspoon vanilla extract
½ teaspoon table salt
½ cup (4 ounces) sour cream

directions

adjust oven rack to lower-middle position + preheat to 350 degrees. (if using a non-stick muffin pan, heat the oven to 325 degrees.) line mini-muffin pan with baking cup liners.

combine butter, chocolate, + cocoa in medium heatproof bowl. set bowl over saucepan of barely simmering water; heat mixture until butter + chocolate are melted + whisk until smooth + combined. set aside to cool until just warm to the touch.

whisk flour, baking soda + baking powder in small bowl to combine. whisk eggs in second medium bowl to combine. add sugar, vanilla + salt until fully incorporated. add cooled chocolate mixture, whisk until combined.

sift about 1/3 of flour mixture over chocolate mixture + whisk until combined, then whisk in sour cream. sift in remaining flour mixture + whisk until batter is homogeneous + thick.

divide the batter evenly among muffin cups. bake until toothpick inserted into center of cupcakes comes out clean, about 12-14 minutes.

cool cupcakes in muffin pan on wire rack until cool enough to handle, about 10 minutes, then transfer each cupcake to cooling rack. cool to room temperature before icing.

peanut butter frosting

ingredients

1 cup confectioners' sugar
1 cup creamy peanut butter
5 tablespoons unsalted butter, at room temperature
¾ teaspoon vanilla extract
¼ teaspoon kosher salt
1/3 cup heavy cream

directions

place the confectioners' sugar, peanut butter, butter, vanilla + salt in the bowl of an electric mixer fitted with a paddle attachment. mix on medium-low speed until creamy, scraping down the bowl with a rubber spatula as you work. add the cream + beat on high speed until the mixture is light + smooth.

ice the cupcakes using a piping bag + the tip of your choice. i used a medium-size star tip to get the swirl appearance on the frosting.

print this recipe