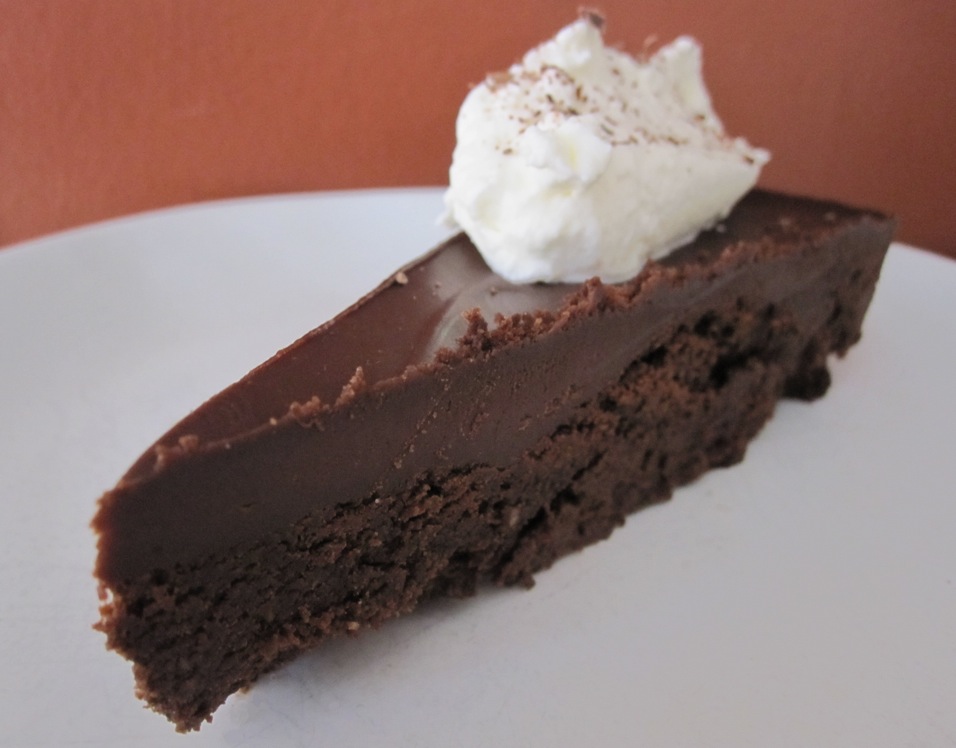 i've got a secret — i'm not much of a baker.  i'll admit i can cook pretty well, + i love cooking's improvisational nature, but baking is another story, scaring me off with its strict measurements.  however, with honey's birthday this week, i figured there was no better time to dive headfirst into serious baking + concoct arguably the most decadent of desserts – a flourless chocolate cake with chocolate ganache.  i gathered up my tools + set out to win the battle of amy versus baking.
the results?  this cake is absolutely amazing + truly restaurant quality. it is also really rich –  a small piece with a little whipped cream is all you need to get your sweets fix. surprisingly, the cake wasn't difficult at all to make – it took me a few minutes to work out the logistics of the springform pan + water bath, but once i figured that out, it was smooth sailing. the actual prep work + cooking were both quite easy.
the moral: don't let the unknown scare you off.  look that flourless chocolate cake recipe in the eye + say, 'i will win this battle!' + then celebrate your victory by eating said cake. if i can do it, you certainly can. this cake has celebration written all over it, + would be a great addition to your thanksgiving menu!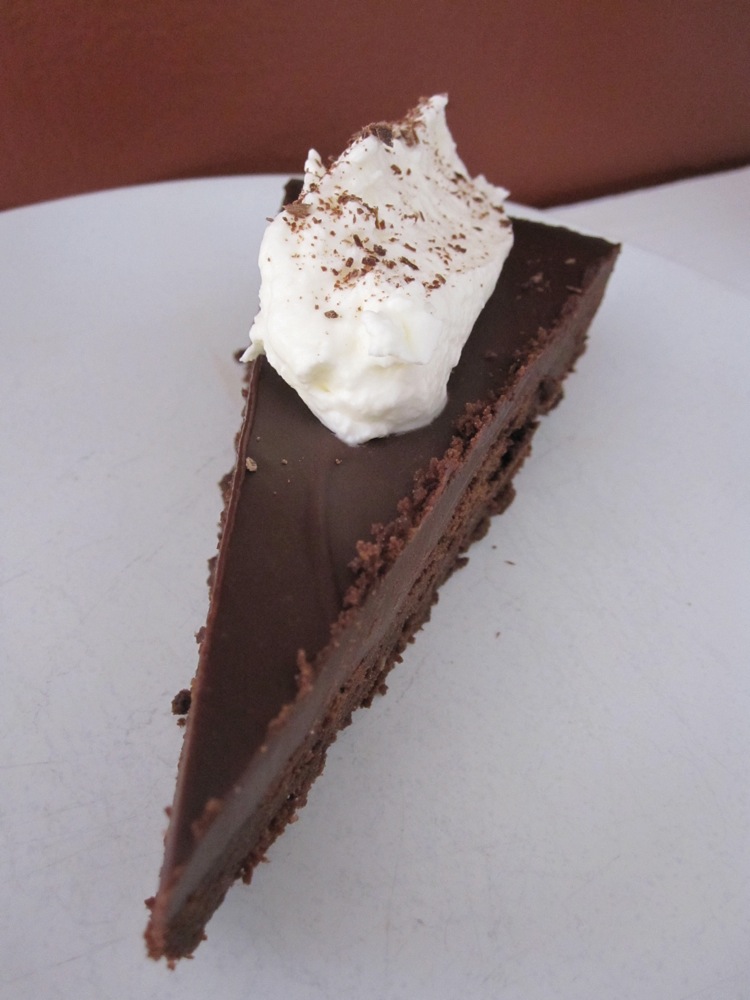 bête noire

makes 16 servings, adapted from the wilde roast cafe

ingredients

for the cake:
1 cup water
3/4 cup sugar
9 tablespoons (1 stick plus 1 tablespoon) unsalted butter, diced
18 ounces bittersweet or semisweet chocolate, chopped
6 large eggs

for the ganache:
1 cup heavy whipping cream
8 ounces bittersweet or semisweet chocolate, chopped

lightly sweetened whipped cream

directions

for cake:
preheat oven to 350°F. butter 10-inch-diameter springform pan. line bottom of pan with a round of parchment paper + butter parchment. wrap 3 layers of heavy-duty foil around outside of pan, bringing foil to top of rim.

combine 1 cup water + sugar in small saucepan. bring to boil over medium heat, stirring until sugar dissolves. simmer 5 minutes, then remove from heat.

melt butter in large saucepan over low heat. add chocolate + whisk until smooth. whisk sugar syrup into chocolate; cool slightly. add eggs to chocolate mixture + whisk until well blended.
pour batter into prepared pan. place cake pan in large roasting pan. add enough hot water to roasting pan to come halfway up sides of cake pan.

bake cake until center no longer moves when pan is gently shaken, about 50 minutes. remove from water bath; transfer to rack + cool completely in pan.

for ganache:
bring whipping cream to simmer in small saucepan over medium heat. remove from heat, add chocolate + whisk until smooth. pour over top of cake still in pan. gently shake pan to distribute ganache evenly over top of cake. refrigerate cake in pan until ganache is set, about 2 hours. run knife around pan sides to loosen cake; release sides. cut cake into small slices + serve with lightly sweetened whipped cream.