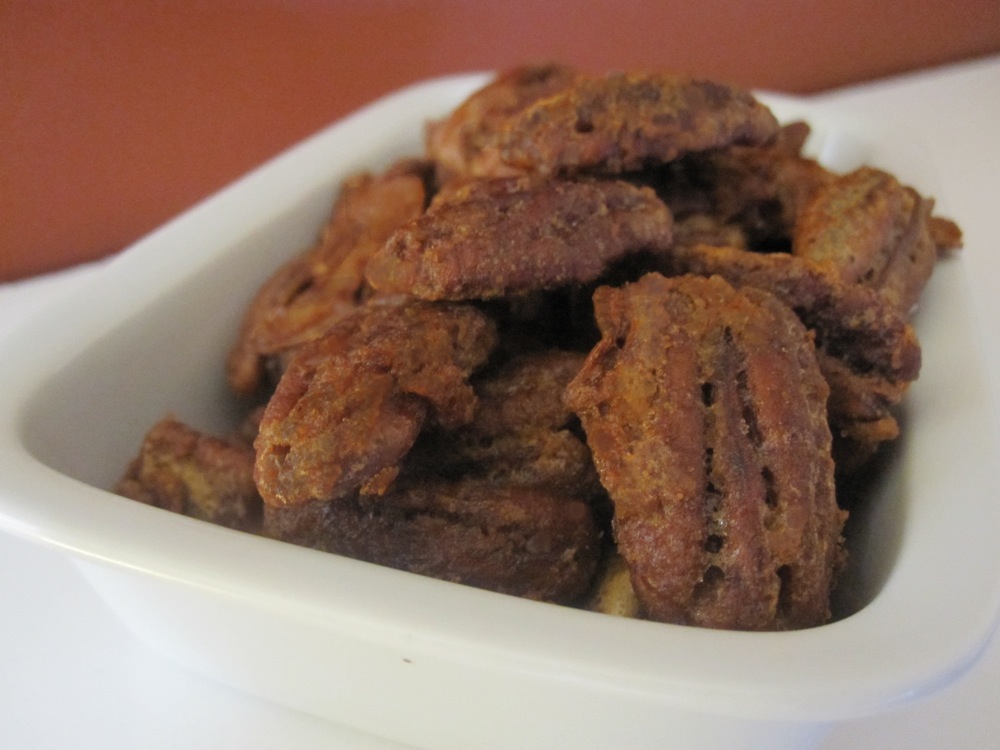 today is part II of my cookbook/recipe review + giveaway! for details, check out yesterday's post + of course, don't forget to enter the giveaway for a free copy of gifts cooks love: recipes for giving.
lately i have been loving interesting flavor combinations + when i saw this recipe, i had to try it. the heat + smokiness of the chipotle chile plus the sweetness of the brown sugar, along with a bit of salt, seemed like such an intriguing flavor combination that i could not pass it up.
the recipe was surprisingly easy to put together, considering the complex flavors involved + it went off perfectly. one thing to note – if you don't have a lot of experience with egg whites/making meringue, you might want to do a quick google search to familiarize yourself with the ways to get the best meringue. other than that (which is easy to learn), the rest of the recipe is simple to follow.
once the pecans were done + cooled, i finally sampled them. the flavors were everything i hoped – a bit of heat, smoky, sweet, + salty all at once. the texture was perfect – light, melt-in-your-mouth with a bit of crunch + the color is a lovely golden brown.
i have already made a second batch – that's how good they are. i will combining these pecans with the rosemary + parmesan crackers + some local cheeses to give as a hostess gift this holiday season.
chipotle chile candied pecans

for this fabulous recipe, head over to cooks+books+recipes. + while you're there, make sure you enter the giveaway!
disclosure: i received a copy of gifts cooks love:recipes for giving to facilitate my review. my review + opinions are solely my own, because that's how the fearless homemaker rolls.