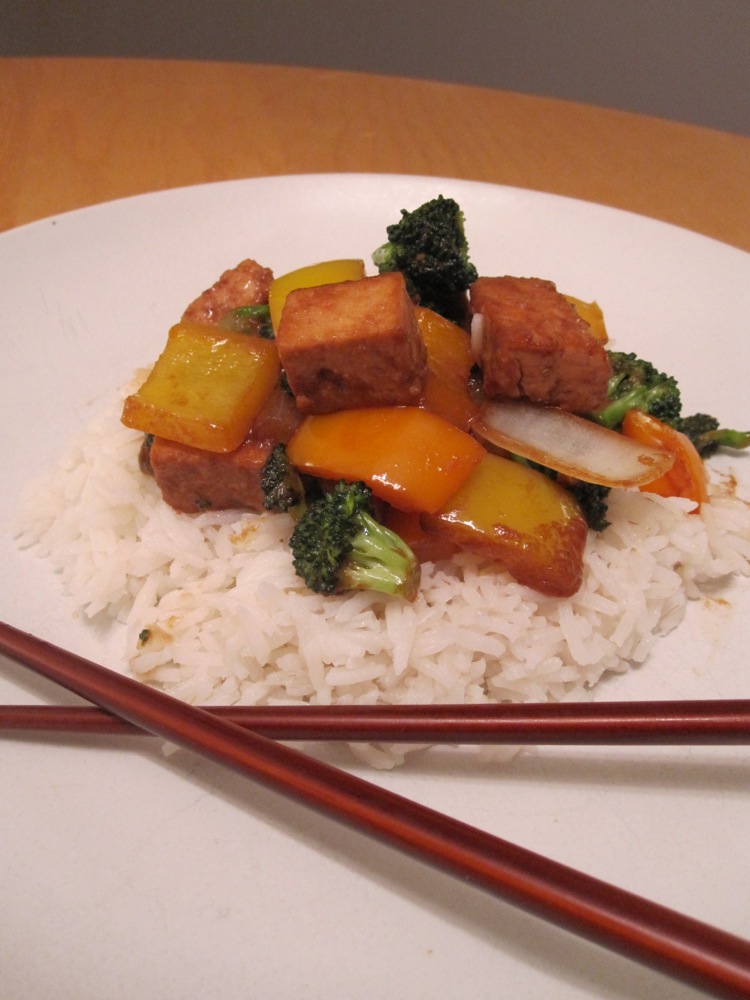 as some of you know, i was a vegetarian for about seven years, so i've eaten my fair share of tofu. even now that i've left vegetarianism behind, i still like tofu – it's easy to make, healthy + full of protein, + much like chicken, takes on the flavors of whatever is around it.
when i told my foodie friends that i was looking for a great new tofu recipe, + one of them suggested his kung pao tofu, i knew it was a must-try. i love the kung pao dishes at chinese restaurants + had never tried to recreate the sauce at home. so i gathered up the ingredients + got cookin'.
the result? this is *better* than kung pao from your local chinese restauarnt – the sauce is spicy, complex + delicious, + works wonderfully with the tofu. even honey, who backs away nervously when i suggest tofu, ate every last piece of it. absolutely give this a try! + of course, if you decide tofu isn't your thing, you can easily substitute chicken or another meat instead.
kung pao tofu

makes 4 servings, adapted from chris perrin

ingredients

to marinate the tofu:
1 package commercial tofu
2 tablespoons low sodium soy sauce
2 tablespoons chinese rice wine
1 tablespoon peanut oil
1 tablespoon arrowroot or cornstarch

for the sauce:
3 tablespoons dark soy sauce or regular soy sauce
3 tablespoons low sodium soy sauce
3 tablespoons chinese rice wine
3 tablespoons sugar
2 tablespoons powdered ginger
2 cloves garlic
8 dried chilies
1 tablespoon tahini
2 tablespoons oil

to make the dish:
4 tablespoons oil (divided)
1 yellow pepper, cut into 1 inch chunks
1 orange pepper, cut into 1 inch chunks
1 head of broccoli, cut into small florets
1 onion, diced
2 green onions greens
1/2 cup peanuts
(optional) drizzle peanut oil

directions

first, let's do the squeeze.  see, tofu is a big sponge, + you want to get as much of the water out as possible. so, take the block of tofu out of the package, pat it dry with paper towels, pick it up + squeeze it between your palms, then pat it dry again with paper towels.

second, marinate the tofu.  cut it into 1/2 inch pieces + put them in a plastic bag with the marinade ingredients.  set aside for half an hour. then, in a small bowl, whisk together the ingredients for the sauce + set aside.

heat your wok or pan to high heat. add about two tablespoons of oil with the peppers + onions + stir fry (that is, cook over a very hot pan while moving the food quickly) until they start to soften, about 3-5 minutes.  remove from the wok.

add the rest of the oil + the tofu.  stir fry for about 5 minutes or more if you like it really well done.  do not let the tofu sit, as it will stick to the pan/wok.

put the pepper + onion mix back into the wok/pan + toss until they are hot.  then add the sauce + cook until it thickens.

garnish with green onion greens, peanuts, + a few drops of peanut oil.

print this recipe