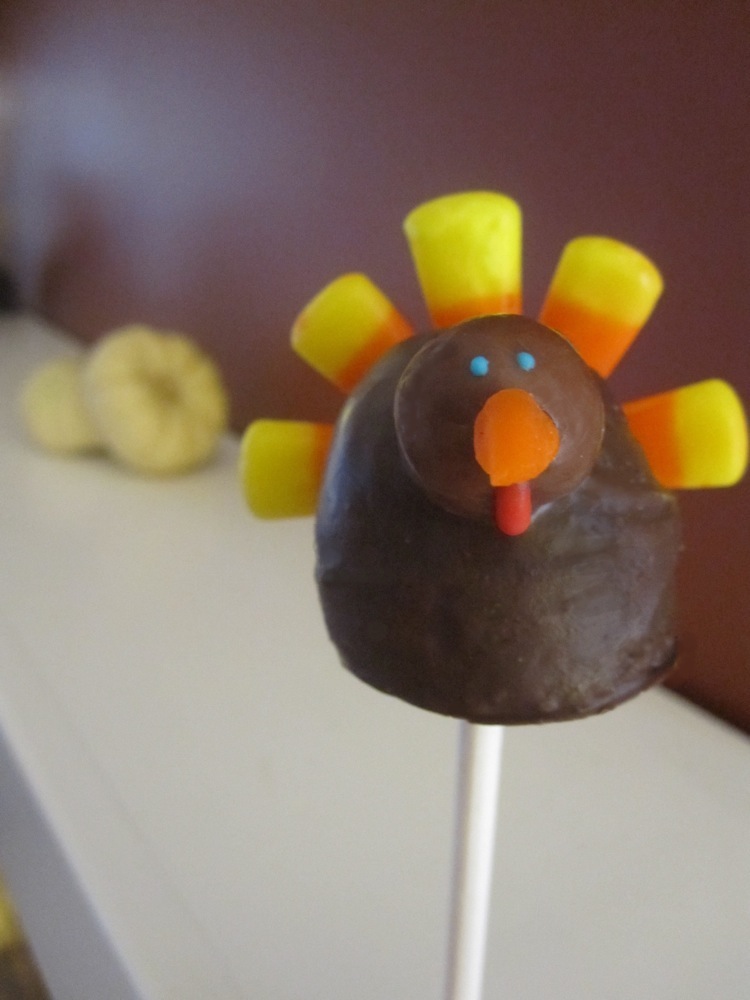 brownie pops + cake pops are all the rage + i decided make some bakerella-inspired turkeys in honor of thanksgiving. i bought a brownie pop pan + lollipop sticks, then gathered up my decorating tools – candy corn for the feathers + beak, malted milk balls for heads, assorted frosting, + melted chocolate for coating the brownie + using as 'glue.' for my first attempt at brownie pops, i used a boxed brownie mix so i could focus on the decorating instead of a new recipe.
let's go ahead + get it out there — i'm no turkey picasso. truthfully, my turkey pops lack a little finesse. perhaps the chocolate coating seems a bit lumpy. + yes, i'm pretty sure that turkeys don't have blue eyes. but in a way, i feel that my sort-of-lumpy brownie turkey pop has a certain charm. a charm that makes me want to pop it in my mouth + devour all of its sugary goodness.
so if you're looking for a cute thanksgiving dessert idea, why not give this a try? i imagine that with a bit of practice, + perhaps a slightly steadier hand, you could have some seriously cute turkeys in no time. + if you wind up with semi-lumpy blue-eyed brownie turkey pops, they'll still taste delicious!
(below is a picture of the pops straight out of the pan, so you can see them as a blank canvas.)