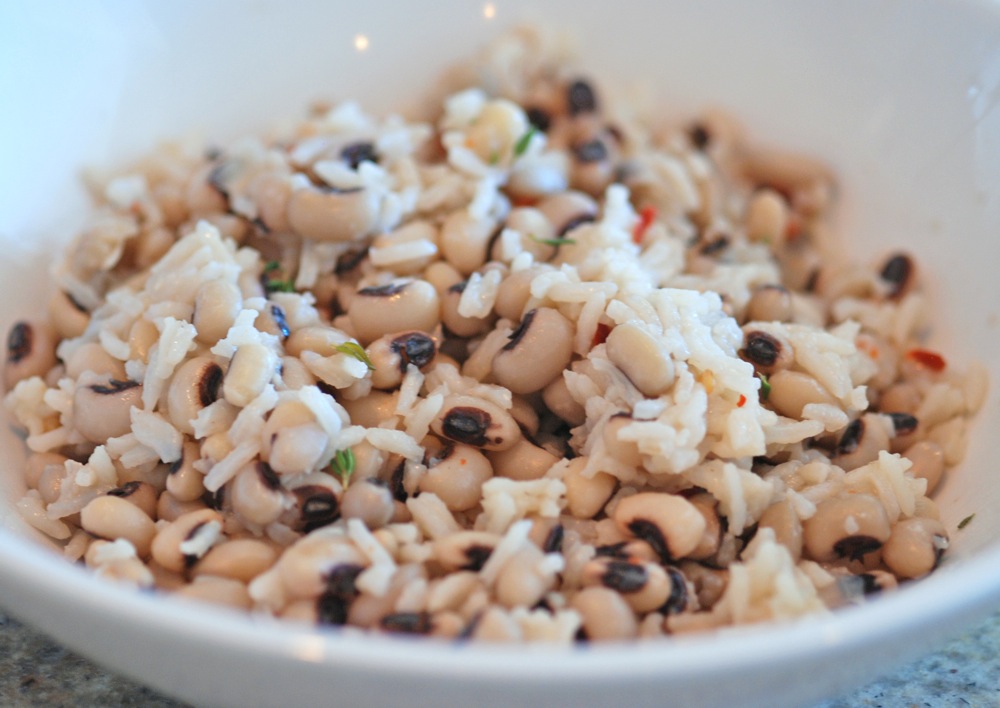 with 2010 ending, let's make 2011 lucky! there are certain actions that supposedly start the new year off right, one of the most famous being to eat hoppin' john on new year's day. hoppin' john is a variant of beans + rice, with black-eyed peas, bacon or ham hock, + white rice. black-eyed peas are lucky because they supposedly resemble coins, thus bringing prosperity + general awesomeness for the new year.
here are some other things that are supposed to make for a lucky new year. more luck can't hurt, right?
– smooch someone at midnight on new year's eve (but only if you really dig them).
– after midnight, open your home's doors. this lets the old year out + makes room for the new year.
– add more lucky foods to your new year's day meal, especially anything that resembles coins/money. i make wilted spinach or collard greens with my hoppin' john + sometimes sear up scallops, because they look like giant coins. right? sure.
in researching traditions to bring new year's luck, i came across this gem:
the first person through the door after the stroke of midnight should be a tall, good-looking, dark-haired man. he has to knock + be let in – not use a key to enter. he ideally carries a piece of coal (the house will always be warm), bread (the house will always have food), money (obvious), + greenery (for long life). the first-footer brings extra luck if he happens to have a high instep or comes on a horse.
high instep? a horse? now you're just being picky, new year.
what are your new year's eve/day traditions? anything fun or unusual?  the time-tested countdown + champagne toast?
i'll be new year's eve toasting with bubbly, then eating delicious hoppin' john on new year's day with my dark-haired, good-looking, high-instepped (maybe?) first-footer. see y'all in 2011 – happy new year!
hoppin' john

makes 10 servings, adapted from emeril lagasse

ingredients

1 tablespoon olive oil
1 large ham hock (or substitute 1/4 lb. of chopped bacon instead)
1 cup onion, chopped
1/2 cup celery, chopped
1 tablespoon chopped garlic
1 pound black-eyed peas, soaked overnight + rinsed
1 quart chicken stock
1 bay leaf
1 teaspoon dried thyme
salt, black pepper, + cayenne
3 tablespoons finely chopped green onion
3 cups steamed white rice

directions

heat oil in a large pot, add the ham hock + sear on all sides for 4 minutes. *if you prefer to use bacon, saute bacon until almost crisp, then pour off all but 1 tablespoon of grease.

add the onion, celery, + garlic, cook for 4 minutes. add the black-eyed peas, stock, bay leaves, thyme, + seasonings. bring to a boil, reduce the heat + simmer for 40 minutes, until the peas are creamy + tender, stirring occasionally. if the liquid evaporates, add more water or stock. adjust seasonings, + garnish with green onions. serve over steamed white rice.

print this recipe
photo courtesy of cookthink.com – will be replaced with my own pic on new year's day!