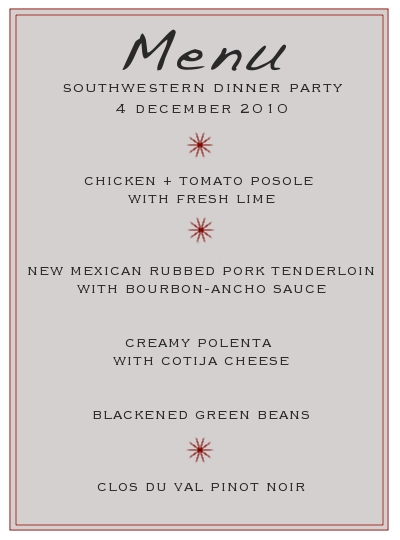 my parents are visiting from boston this weekend, + of course, i couldn't let the weekend pass without having a little dinner party. while this menu is not 100% final, it's pretty close to what it will be.
first course: chicken + tomato posole – this was on the blog in october, + try as she may, my mother has not been able to locate hominy (nor have some of my west coast friends). i think my parents will adore this soup, so i thought i'd start the meal off with a little serving of it.
second course: the pork tenderloin + polenta are recipes from bobby flay's mesa grill cookbook. i have dined at mesa grill + loved it, + have adored all of the recipes i've made from this cookbook before. plus, how can you go wrong with a bourbon-ancho sauce? the blackened green beans are from guy fieri who always has cool, edgy dishes.
third course: some sort of dessert. i'm torn about what to make! if you have suggestions, please share! i was initially going to make a specialty cocktail instead of a dessert, but my wise foodie friends convinced me to make a dessert + serve wine to drink instead.
so what do you think? i still have some time to adjust the menu, so please tell me your critiques, thoughts, or recommended changes. also, i'd love any dessert recipes that you think would complement the menu!