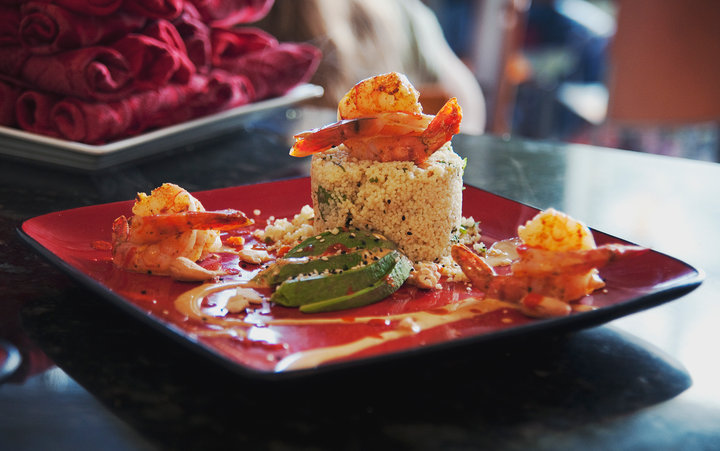 before i start with my review, massive thanks + appreciation go to tim duggan, an amazing knoxville/nashville photographer who took these gorgeous pictures + so graciously allowed me to use them here. if any locals are looking for an fantastic photographer, make sure to check out his portfolio!
now, onto the food! silly goose is a couscous, salads, wraps + sandwiches restaurant in east nashville (conveniently in walking distance for us). when it first opened, it took us a little while to visit because we kept thinking, how good can couscous + sandwiches really be? once we finally went, we were floored by how amazing it was. everything is packed full of fresh, local ingredients + wonderful flavor combinations.
pictured above is the king kong couscous, which features sesame couscous with curried shrimp, mint, ginger, cashews, coriander + avocado ($10.50). yeah, sounds insanely good, doesn't it?
in addition to their couscous plates, they make delicious sandwiches. my two favorites so far are the bird (grilled chicken breast, sun-dried tomato, avocado, bacon, peppered goat cheese on organic flax seed bread -$9) + lyle's surprise (hot cappicola, thommé, arugula pesto, basil, shaved fennel, balsamic syrup on rosemary foccacia – $9), both which are served with salad, couscous, or a little of each.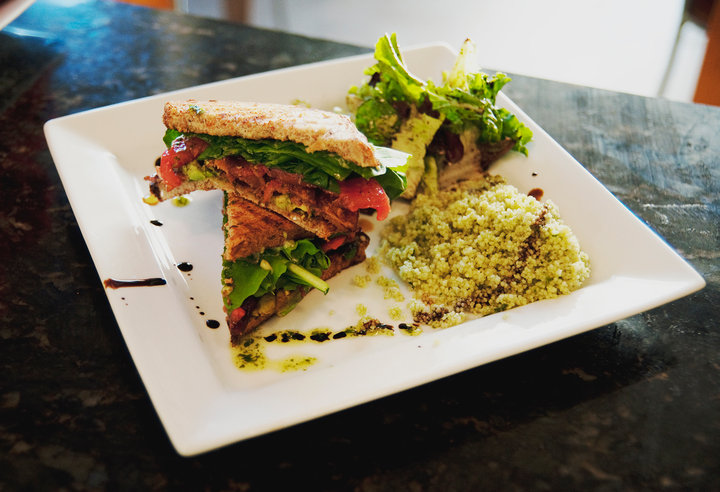 finally, i have to give a shoutout to my personal favorite – the mexico city couscous (pictured below). it boasts red chili couscous, grilled chicken, poblano peppers, cilantro, goat cheese, mango, + lime juice ($9.50) + is simply perfect.
next time you're in my 'hood, try the silly goose! i know you'll leave impressed, full, healthy + happy.
silly goose
1888 eastland avenue
nashville, tn 37206
silly goose credo: we make delicious, nourishing, wholesome food with love and care from the purest and highest quality ingredients available to us.
we search for and buy local, organic, sustainably produced, minimally manipulated food.