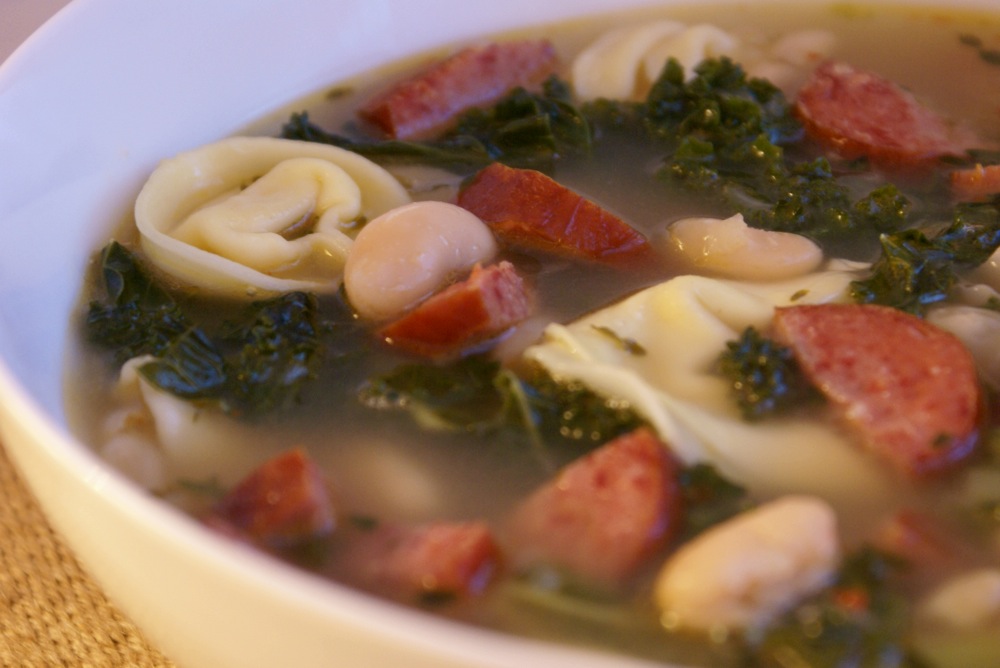 i love soup. i eat soup all year 'round – cold weather, hot weather, it doesn't matter to me. give me soup + i'm a happy camper. i was browsing some of my friends' blogs the other day + came across this soup recipe on bruce's kitchen. bruce is a new england-based photographer who also happens to be a food lover, + i always enjoy reading his recipes. once i ran across this soup, i knew i had to make it that day.
i can't stress how much i loved this soup, which was easy to make, hearty + delicious. i wound up doubling the crushed red pepper (i only recommend this for true spicy lovers), which brought out wonderful flavors in both the broth + the rest of the ingredients. if you're not a kielbasa fan, you can easily substitute turkey kielbasa or a vegetarian version, or omit it entirely. i enjoy the flavor + texture of traditional kielbasa + think it worked perfectly in this soup.
seriously, i liked this soup so much that the day i made it, i had it for lunch, a snack, dinner, + a late-night snack. that's how good it is. i hope y'all will try it soon + let me know what you think of it!
cheese tortellini soup with cannellini, kielbasa + kale

makes makes 6-8 servings, adapted from bon appetit

ingredients

2 tablespoons olive oil
12 ounces fully cooked smoked kielbasa sausage, thinly sliced
1 onion, chopped
1 cup chopped fresh fennel bulb
4 garlic cloves, minced
1 1/2 tablespoons chopped fresh thyme
1/2 teaspoon dried crushed red pepper
10 cups canned low-sodium chicken broth (i used homemade chicken stock instead)
4 cups chopped kale (1/2 bunch)
1 15-ounce can cannellini (white kidney beans), rinsed, drained
1 9-ounce package cheese tortellini
1 cup grated asiago cheese or parmesan cheese

directions

heat oil in heavy large pot over medium-high heat. add next 6 ingredients + sauté until vegetables are soft + kielbasa is brown, about 12 minutes. add broth + bring to boil. stir in kale + cannellini. reduce heat to low + simmer until kale is wilted, about 4 minutes.  add tortellini to soup. simmer until pasta is just tender but still firm to bite, about 5 minutes.
ladle soup into bowls. serve, passing cheese separately.

print this recipe