as i mentioned last week, we pretty much spend each valentine's day the same way. we forgo dining out at restaurant (it's just so crazy on valentine's day) + opt to cook dinner at home instead. this valentine's day we kept with that tradition! first, i came home to some beautiful springy tulips from my valentine.
after enjoying a glass of red wine, we got ready for dinner – we seasoned filet mignon, chopped up potatoes, carrots, + parnsips, prepped brussels sprouts, + minced bacon, herbs + garlic.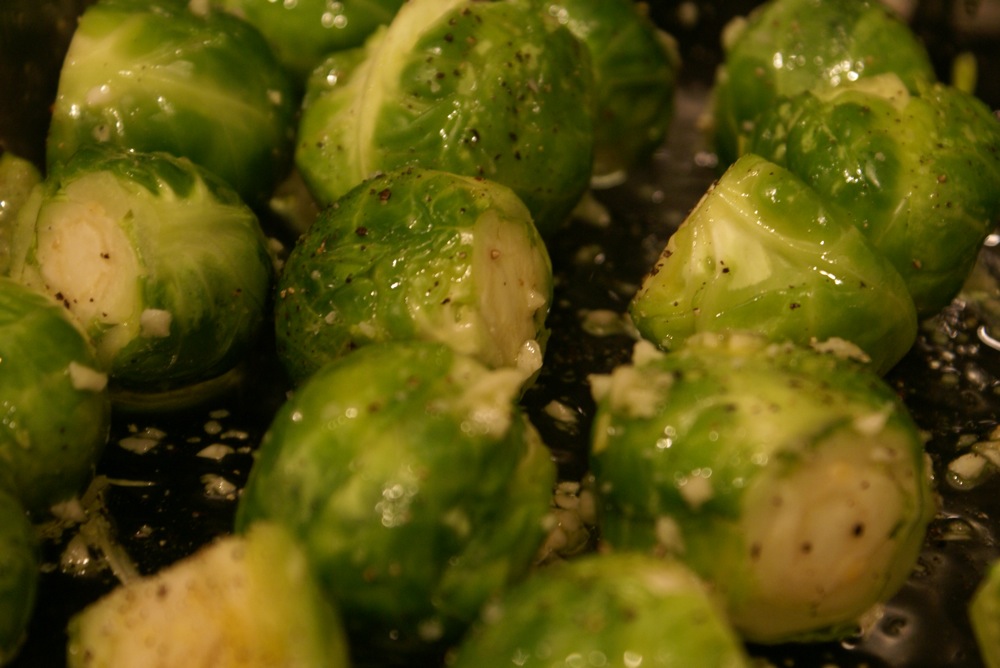 after some oven-roasting, baking, + grilling, here's the result! peppercorn-crusted filet mignon (cooked to a perfect medium, just the way i like it), rosemary + thyme oven-roasted root vegetables, + roasted brussels sprouts with garlic + pancetta (recipe below). everything was absolutely amazing.
now, on to the recipe! there are many differing opinions about brussels sprouts. some people adore them, some can't stand 'em, + some are indifferent. personally, i love brussels sprouts, although i have certainly had some less-than-great version of them. this, however, is the tastiest brussels sprouts recipe i have ever tried – the pancetta/bacon + garlic vibe wonderfully with the brussels sprouts. if you still haven't found the perfect brussels sprouts recipe for you, give this one a try!
roasted brussels sprouts with garlic + pancetta

makes about four servings, adapted from gourmet

ingredients

1 lb brussels sprouts, trimmed + halved (quartered if large)
2 oz pancetta, visible fat discarded + pancetta minced (or you can substitute bacon, which i did here)
1 garlic clove, minced
1/2 tablespoon extra virgin olive oil
1/4 cup water

directions

preheat oven to 450 degrees.
toss together brussels sprouts, pancetta (or bacon), garlic, oil, salt + pepper to taste in an 11- by 7-inch baking pan + spread in one layer.

roast in upper third of oven, stirring once halfway through roasting, until sprouts are brown on edges + tender, about 25 minutes total. stir in water, scraping up brown bits. serve warm.

print this recipe