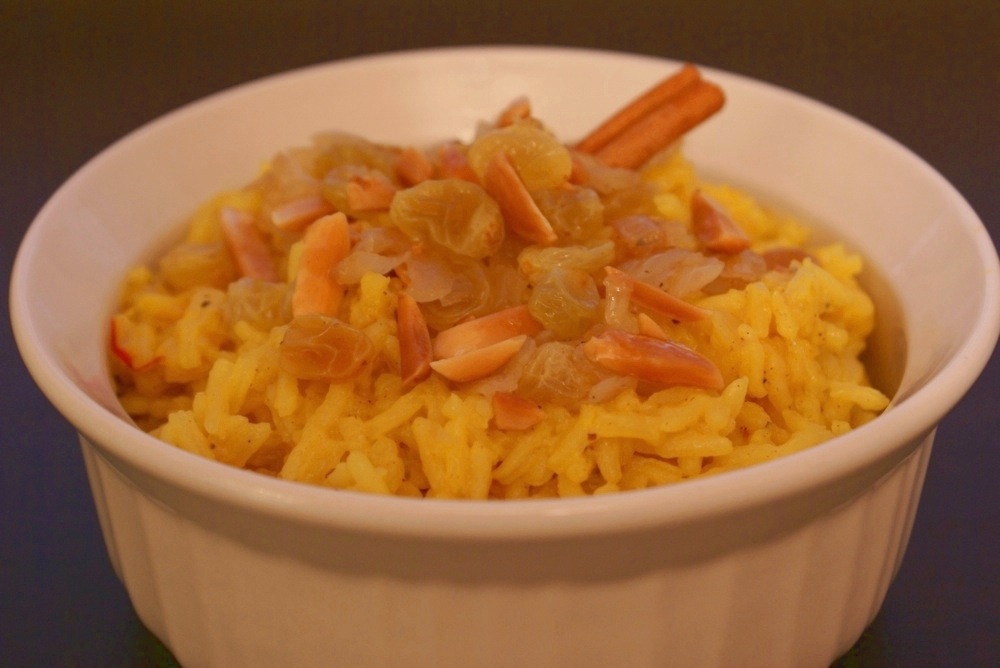 i was looking for a new, interesting side dish to accompany chicken last week + decided that something with saffron would be perfect. after a few minutes of searching, i found this irresistible recipe + after making it, was incredibly happy with the results.  this rice is AMAZING!
while the original recipe called for currants, i opted for golden raisins + they worked perfectly. in the future, i may try a combination of both raisins + currants. the almonds add a lovely flavor + crunch to the dish while the slowly-sauteed onions add a wonderful savory note + the raisins add a pop of sweetness. i also added a pinch of cinnamon to deepen the flavor even a bit more, which was a delicious addition.
i will absolutely be making this rice again, next time to accompany a new moroccan chicken recipe i found. if you're looking for a delicious new side with the perfect balance of savory + sweet notes, this is for you!
saffron, golden raisin + almond rice

makes 8 servings, adapted from gourmet

ingredients

3/4 teaspoon crumbled saffron threads
2 tablespoons boiling-hot water
1/3 cup olive oil
1 cup slivered almonds (4 ounces)
1 very large onion, chopped (3 to 4 cups)
3 cups white basmati rice (19 ounces)
4 1/2 cups water
1 cup dried currants (4 ounces) – * i substituted golden raisins, which worked perfectly.

directions

soften saffron in hot water (2 tablespoons) in a small bowl.

heat oil in a 5-quart heavy pot over medium-high heat until it shimmers. fry almonds, stirring frequently, until golden, about 3 minutes (* i fried them a bit longer to get a deeper golden color). transfer with a slotted spoon to paper towels to drain.

fry onion in oil remaining in pot, stirring occasionally, until golden brown, 15 – 20 minutes. transfer half of onion to a bowl.

add rice to onion in pot + cook, stirring, until fragrant, about 2 minutes. add water (4 1/2 cups), saffron mixture, 1 1/2 teaspoons salt, + 1/2 teaspoon pepper + bring to a simmer. reduce heat to low + cook, covered, until water is absorbed + rice is tender, 18 to 20 minutes. let rice stand, covered, off heat 5 minutes.

while rice stands, stir almonds and currants into bowl with onion. fluff rice with a fork + serve with almond mixture spooned on top.

print this recipe