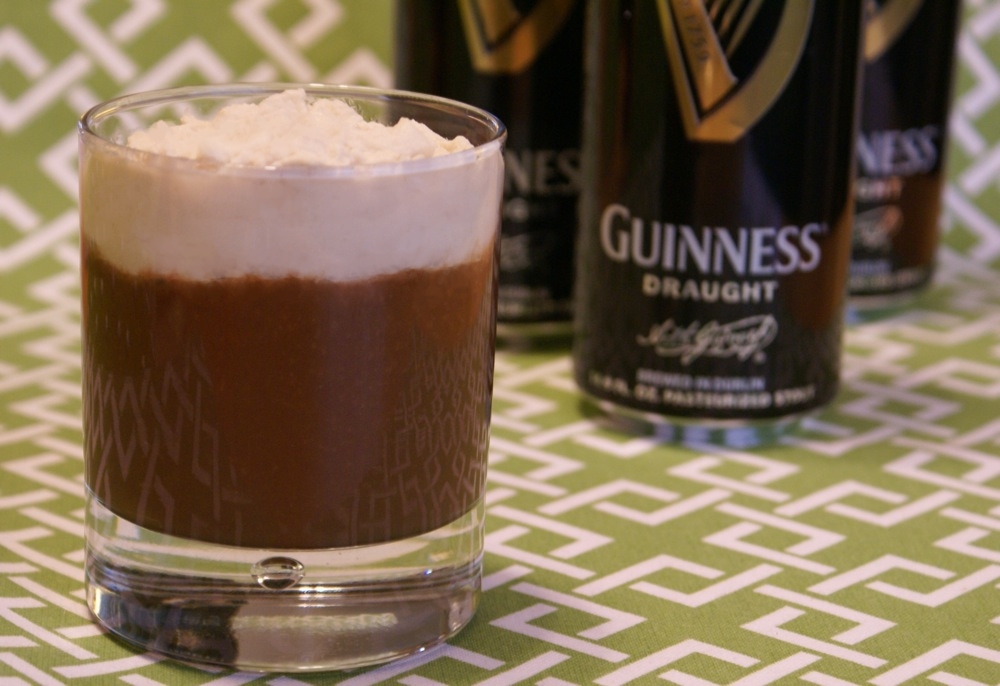 st. patrick's day – i can dig it. after all, a good chunk of my ancestors did come from ireland, which is probably no surprise to any of you. after all, my last name is donovan, i have the telltale auburn hair / tan-resistant porcelain skin, + i grew up in boston, alongside lots of other irish-named folks.
so, in honor of st. patrick's day next thursday, i bring you this amazing dessert: chocolate guinness pudding with guinness vanilla whipped cream. that's right! this dessert is amazingly delicious + gives a nod to ireland with its use of guinness in both the pudding + the whipped cream.
let me be completely honest with you – this is not diet food, nor is this a light pre-dinner snack. this dessert is unashamedly rich + decadent. as you know, i am not usually a huge sweets person, but i could not stop eating this stuff. it would be the perfect addition to your st. patrick's day menu, or delicious by itself with a little bit of jameson or bushmills whiskey to accompany it. happy st. patrick's day!
chocolate guinness goodness

makes 6 servings, adapted from chef shane coffey via epicurious.com

ingredients

8 large egg yolks
1 cup sugar
one 14.9-ounce can guinness draught
3 cups heavy cream
7 ounces high-quality bittersweet (70 to 72% cacao) chocolate, finely chopped
vanilla extract to taste (**see my note in recipe)

special equipment: six 8-ounce old-fashioned glasses

directions

in large nonreactive mixing bowl, whisk together egg yolks and sugar.

open can of guinness and slowly pour into 4-cup measuring cup, pouring down side of cup to reduce foaming. pour half of guinness (about 7/8 cup) into heavy-bottomed 3-quart saucepan. add 2 1/4 cups cream + whisk to combine. set over medium heat + heat, whisking occasionally, until bubbles just begin to form at edges. remove from heat, add chocolate, + whisk until smooth.

slowly pour hot chocolate mixture into eggs, whisking constantly to prevent curdling. return mixture to saucepan + set over moderately low heat. cook, whisking constantly, until mixture thickens + coats back of spoon, about 15 minutes. (pudding will look separated.) pour into blender + blend on high for 1 minute. divide pudding among glasses, leaving at least 1 inch of space at top of each. cover with plastic wrap + refrigerate until chilled and set.

meanwhile, pour remaining guinness into small saucepan + bring to boil over medium heat. reduce heat to moderately low + simmer, uncovered, until reduced to 1 tablespoon, about 20 minutes. pour syrup into small bowl and let cool.

beat remaining cream until soft peaks form. add guinness syrup (**note: i found the guinness syrup to be a bit intense, so rather than use all of the syrup, i used 1/2 of the syrup along with an equal part vanilla extract, which was perfect) + beat until combined. divide cream among 6 glasses of pudding + serve.

print this recipe