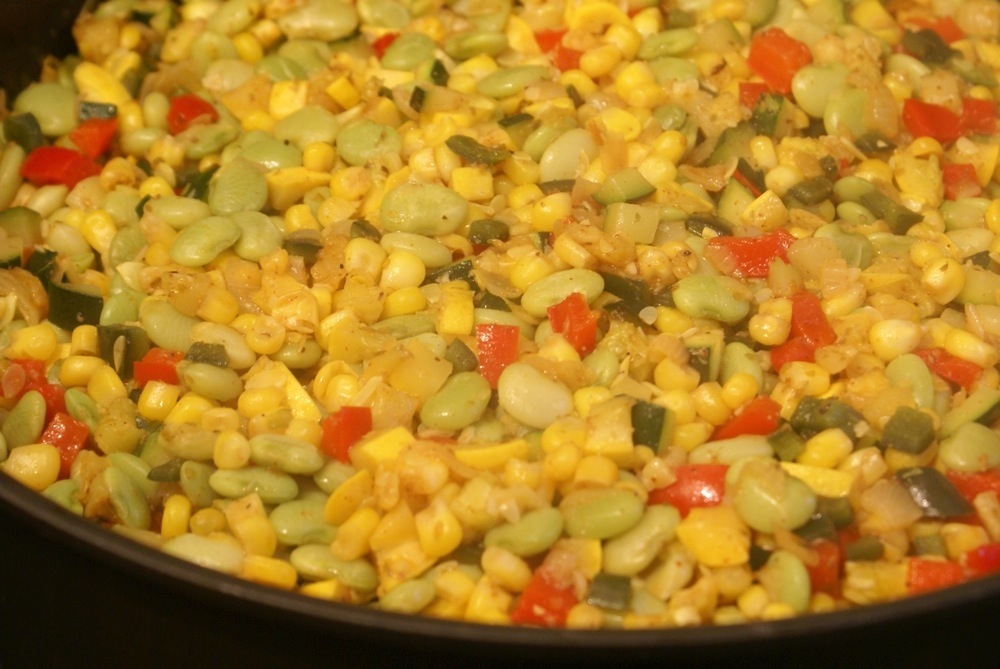 we had another family dinner this past sunday + the main course was southwestern-inspired chicken skewers with black beans + rice. they asked us to bring some sort of vegetable, + succotash immediately came to mind. not only is it delicious + healthy, but i also knew it would add some lovely color to the plate.
while the original recipe didn't call for the cayenne pepper or chile powder, i added them for an additional southwestern twist + a little heat. since i was making this for a group, i kept the spicy factor low. however, if i was just making it for us two, i'd probably up the cayenne to 1/2 teaspoon or more, as the heat adds a nice dimension to the already wonderful flavors of the dish. plus you know i love everything spicy!
if you make this, make sure you have enough for leftovers. the following day, i tossed some of it with whole wheat pasta, olive oil, + parmesan cheese + it was a delicious lunch. it would also be great addition to your morning omelet, perhaps with some cajun-spiced skillet potatoes. the possibilities are endless!
southwestern succotash

makes about 6-8 servings, adapted from bon appetit

ingredients

1 10-ounce bag frozen lima beans
1 10-ounce bag frozen sweet white or yellow corn
1 tablespoon olive oil
1/2 tablespoon cumin seeds
1/2 onion, chopped
1 red bell pepper, chopped
1 poblano chile, seeded, chopped
2 garlic cloves, minced
1 tablespoon chopped fresh oregano
1/4 teaspoon cayenne pepper (or more if you want more heat)
1/4 teaspoon chile powder
1/2 cup low-salt chicken broth
1/3 cup chopped fresh cilantro
kosher salt + fresh black pepper to taste

directions

cook lima beans in large pot of boiling salted water until just tender, about 6 minutes. remove from heat. stir in corn. drain well.

heat oil in heavy large skillet over medium heat. add cumin seeds + stir until toasted, about 3 minutes. add onion + sauté until translucent, about 8 minutes. add bell peppers, chilies, garlic, oregano, cayenne pepper + chile powder; sauté until peppers are almost tender, about 3 minutes. add in zucchini + squash + saute for another 3 minutes. stir in lima beans + corn, then broth. simmer until vegetables are tender, about 20 minutes. stir in half the cilantro. season to taste with salt + pepper.

transfer succotash to serving bowl; sprinkle with remaining cilantro.

print this recipe