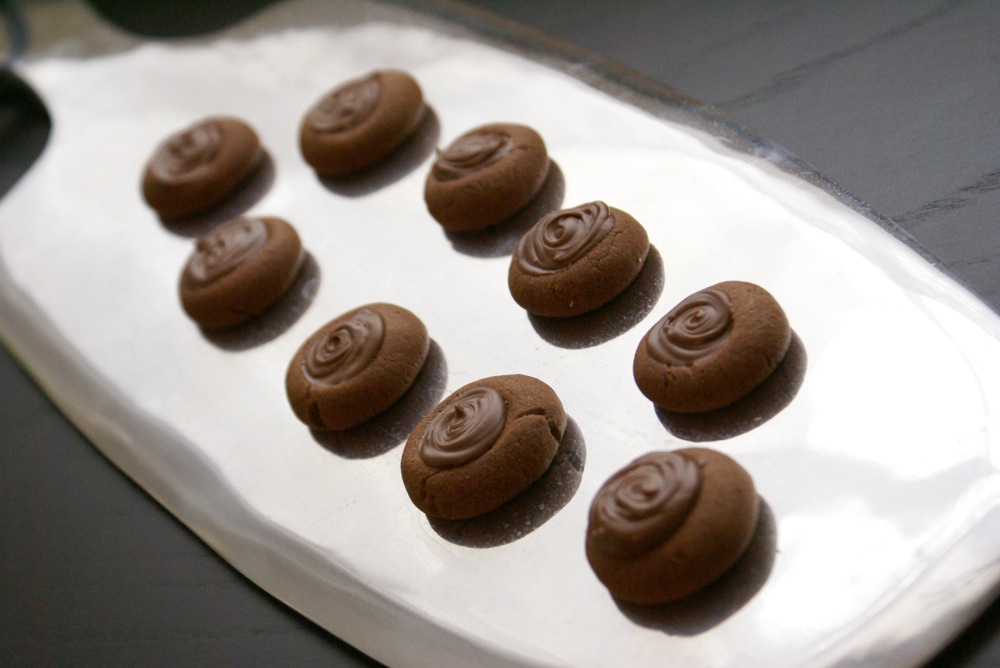 we had dinner last week with the future in-laws (less than 4 weeks to go!) + i offered to bring a side dish + dessert. the main dish was smoked chicken fresh outta the smoker, so the side dish was a no-brainer: my decadent mac + cheese. dessert-wise, i wanted something fairly light, since i imagined we might be awfully full after dinner. i had stumbled across these chocolate-nutella thumbprints on the cooking light website, + figured this was a perfect time to try 'em out!
how were they? awesome, in a word. i was worried that they wouldn't be a hit since they're 'healthy,' but i was mistaken. future father-in-law actually said, 'these might be the best cookies you've ever made,' while honey gobbled them down by the handful. they have a wonderful rich cocoa flavor that works beautifully with the delicious nutella AND they're (relatively) guilt-free. not such a bad thing when you're going to be, say, on your caribbean honeymoon in less than a month. =) win!
(note: each cookie has less than 100 calories if you skip the step of rolling them in hazelnuts, as i did).
chocolate nutella thumprint cookies

makes about 28 cookies, adapted from cooking light

ingredients

4.5 ounces all-purpose flour (about 1 cup)
1 cup powdered sugar
1/3 cup unsweetened cocoa
1/4 teaspoon salt
1/2 cup butter, softened
2 large egg yolks
1 teaspoon instant espresso (optional)
1/2 teaspoon vanilla extract
2/3 cup finely chopped hazelnuts, toasted (optional)
1/3 cup hazelnut-chocolate spread (such as nutella)

directions

preheat oven to 350°

weigh or lightly spoon flour into a dry measuring cup; level with a knife. combine flour, sugar, cocoa, + salt; stir with a whisk. place butter in a large bowl, + beat with a mixer at medium speed until light + fluffy (about 2 minutes). stir egg yolks with a whisk, adding espresso, if desired. add the yolk mixture + vanilla to butter; beat well. add flour mixture to butter mixture; beat at low speed just until combined.

turn dough out onto a sheet of wax paper; knead 6 times or until smooth + shiny. shape dough into 28 (1") balls. (*optional: roll sides of balls in toasted hazelnuts, pressing gently).

arrange balls 1" apart on baking sheets lined with parchment paper. press thumb into center of each cookie, leaving an indentation. bake, 1 batch at a time, at 350° for 10 minutes. remove cookies from pans; cool completely on wire racks. spoon a scant 1/2 teaspoon nutella into center of each cookie.

print this recipe