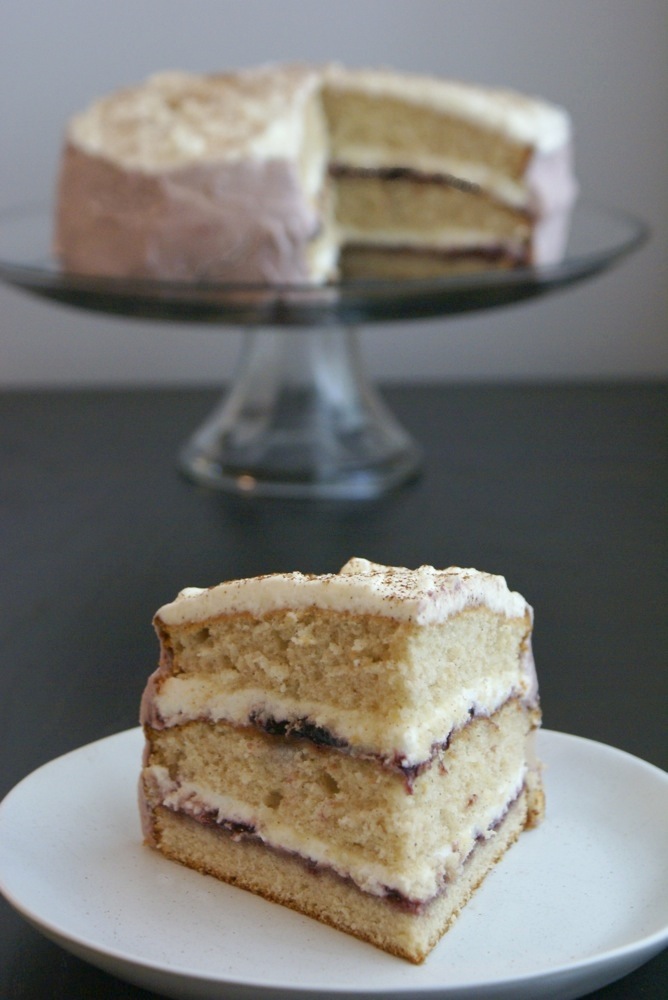 for easter this past sunday, we had dinner with family + i knew i wanted to try a new, springy dessert for the occasion. i had run across this sugar + spice cake in the latest issue of martha stewart living, + thought it would be the perfect light dessert to complete our meal.
the cake is super light, moist, + flavorful, while the blackberries provide a wonderful slight tartness. as if that wasn't good enough, the mascarpone frosting was literally the creamiest frosting i have ever had + kept the light, fresh theme going. i worried that husband-to-be + future-father-in-law wouldn't like it, as they are typically chocolate dessert people, but in a surprisingly pleasant twist, they loved it, as did everyone else. (*in exciting news, husband-to-be will be actual husband in less than a week!!!)
a few notes – this cake is supposed to 4 layers, but sadly, a wobbly container in the spice cabinet fell onto one layer, splitting it in three pieces + sending millions of crumbs flying. rather than try to repair it, i simply ate the evidence, + made a three-layer cake instead. with the extra frosting i had, i mixed in a little additional blackberry jam, + frosted the sides of the cake with that (they were supposed to be un-frosted). it was such a nice addition that i will probably do the same again next time i make it!
sugar + spice layer cake with blackberries + mascarpone frosting

makes about 12 servings, adapted from martha stewart

ingredients

vegetable oil cooking spray
1 1/2 cups all-purpose flour
1 1/2 cups cake flour (not self-rising)
1 tablespoon baking powder
1 teaspoon ground cinnamon
1/4 teaspoon freshly grated nutmeg
pinch of ground cloves
salt
2 sticks unsalted butter, room temperature
1 3/4 cups sugar
3 large eggs
2 teaspoons pure vanilla extract
1 1/4 cups whole milk
1 1/2 cups blackberry jam (from one 17.5-ounce jar)
**mascarpone frosting (recipe below)
garnish: cinnamon-sugar

directions

preheat oven to 350 degrees. coat two 8-inch round cake pans with cooking spray, line with parchment, + spray parchment. sift flours, baking powder, cinnamon, nutmeg, cloves, + 1/2 teaspoon salt into a bowl.

beat butter + sugar with a mixer on medium speed until pale + fluffy, about 3 minutes. beat in eggs, 1 at a time, then vanilla. reduce speed to low. add flour mixture in 3 additions, alternating with milk, beginning + ending with flour. continue to beat until smooth, about 1 minute more.

divide batter among cake pans, + bake until a toothpick inserted into the centers comes out clean, about 40 minutes. transfer pans to wire racks, + let cool for 20 minutes. turn out cakes from pans, remove parchment, + flip right side up. let cool completely.

trim tops of cakes to create a flat surface. cut cakes in half horizontally. spread 1/2 cup jam onto 1 layer, then spread 1 cup frosting over jam. top with another cake layer. repeat layering cakes with jam + frosting, leaving top layer (bottom side up) uncovered.
Spread remaining frosting on top of cake, + garnish with cinnamon-sugar.

**mascarpone frosting

2 cups cold heavy cream
1 pound mascarpone cheese
1/2 cup confectioners' sugar, sifted

whisk heavy cream with a mixer on medium-high speed until stiff peaks form. whisk together mascarpone + sugar in a bowl until smooth. fold whipped cream into mascarpone mixture. use immediately to frost cake as described above.

print this recipe