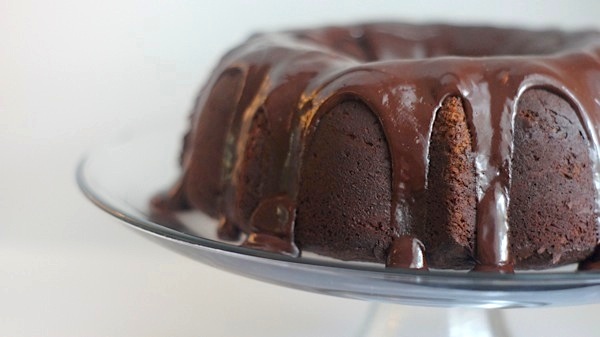 my husband is going to be shocked when he reads this post. i served him this cake the other night (+ he polished it all off, with a scoop of wine ice cream, no less), but i didn't tell him there were beets in there. (sorry, honey). he is the ultimate beet hater, who eloquently says that they taste like a mix between dirt + feet. after chatting with a bunch of people on twitter, i learned that many of you (even seasoned foodies) hate beets as well. well, beet haters, i've found the recipe that will change your mind.
i'm not sure what wonderful chemistry of flavors makes it work, but it does. you literally cannot taste a beety flavor at all. instead, you taste chocolate (score!), with a rich kick from the brown sugar + cinnamon. for any of you who've tried mexican chocolate, that's what this cake tastes like – it's truly delicious.
many of my friends + readers participate in CSA programs where they receive produce from local farmers weekly. while this is normally a good thing, the appearance of the much-loathed beets tends to disappoint many of you. while i've gladly taken many a beet (+ cabbage, + radish, + kohlrabi) off the hands of my friends, you no longer have to pawn your beets off on me. now, you can bake it into a delicious spiced cake + no one will be any the wiser. have your cake + eat beets, too? yes, please!
update: i brought this cake to our family dinner last night + it was heartily + successfully consumed by two toddlers, two in-laws, a sister-in-law + her husband, + my husband (again). my father-in-law actually said, this might be the best dessert you've ever made + he is definitely *not* a veggie lover. win!
spiced chocolate beet cake with truffle ganache

adapted from always order dessert

ingredients

for the cake:

2 cups all-purpose flour
2 tablespoons unsweetened cocoa powder
1 teaspoon vietnamese cinnamon
2 teaspoons baking soda
1 tablespoon kosher salt
3/4 cup + 1/4 cup butter, softened + divided
1 1/2 cups packed dark brown sugar
3 eggs, at room temperature
4 oz semisweet chocolate, chopped
2 cups beet puree (about 6-7 medium beets roasted, peeled, + processed until smooth)
1 tablespoon pure vanilla extract
1 tablespoon instant espresso powder

for the ganache:

6 oz semisweet chocolate, chopped
2 tablespoons unsalted butter, softened
1/2 cup heavy cream

directions

grease a bundt pan + dust with cocoa powder tapping out the excess. preheat the oven to 375 degrees.

in a large bowl, combine the flour, cocoa powder, cinnamon, baking soda, salt + sift until evenly distributed. set aside.

cream 3/4 cup butter and the sugar in the base of a standing mixer until light and fluffy. Add the eggs in one at a time and let beat for 3-4 minutes until doubled in volume.

while the egg mixture beats, combine the chocolate with the remaining butter + microwave 20 seconds at a time, stirring each time, until melted. stir until smooth and set aside.

add the vanilla extract to the eggs, followed by the espresso, chocolate, + the beet puree. mix until well combined.

add the flour mixture to the beet mixture + mix just until completely + evenly combined. pour the batter into the prepared bundt pan with the batter angled so that it is an inch higher on the sides than in the center, + bake at 375 degrees for 40-50 minutes or until a tester inserted near the center comes out clean. cool in the pan for 15 minutes before inverting on a wire rack.

while the cake is cooling, make the ganache by combining the chocolate + butter in a medium bowl. heat the cream through gently just until it starts to bubble + pour over the chocolate. stir slowly until the chocolate melts + the ganache becomes smooth + glossy.

pour the ganache over the cooled cake + let set 15-20 minutes before serving.