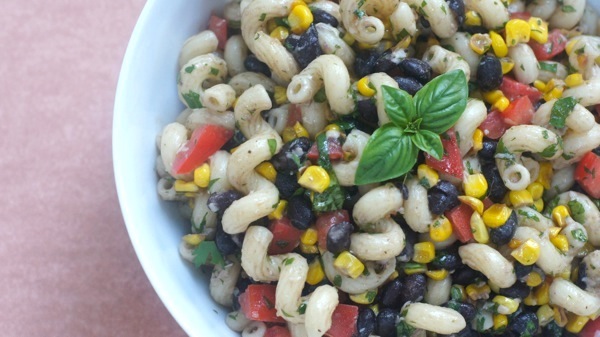 i love pasta salad. i could eat pasta salad (or really, pasta in any form) every day of the week. i especially enjoy it in the warmer days of summer, as it doesn't involve much time in front of a hot stove + can be just as tasty chilled (if not tastier) as it is warmed.
i came across a recipe for charred corn + jalapeno pasta salad with cilantro oil on bran appetit, + while it looked delicious, i thought that some additional ingredients could make it even tastier. after thinking about the perfect flavor/texture combinations, i added black beans, fresh tomatoes, lime juice + cotija cheese to the original recipe. the results? absolutely perfect!
the cilantro infuses the olive oil with a lovely flavor + color, similar in taste to a traditional pesto, but with a slightly cilantro-y kick. the most surprising thing? my cilantro-loathing husband ate this. due to all of the complex flavors, the cilantro does not dominate this dish (as it sometimes can). instead, it lends a mild, delicious flavor to a wonderfully summery pasta salad. while this is great whether you serve it chilled, room temperature, or warm, i found that serving it slightly warm best showcased the amazing flavors. this is definitely going to be in heavy rotation throughout the rest of the summer + fall – it's the perfect warm weather side!
charred corn, black bean, + jalapeno pasta salad with cilantro oil

makes 8 servings, adapted from bran appetit

ingredients

1/3 cup fresh cilantro, minced
1/2 cup + 1 Tbsp olive oil, divided
3/4 lb. pasta (i used cavatappi)
kernels from 3 ears of fresh corn
2 jalapenos, seeds removed + pepper diced
the juice from 1 lime
1 can black beans, drained + rinsed
2 large tomatoes, diced
1/3 cup cotija cheese
kosher salt + fresh black pepper to taste

directions

in a small bowl, stir the minced cilantro into the 1/2 cup olive oil + let this sit until ready to serve.

bring large pot of salted water to a boil. cook pasta until al dente. reserve 1/2 cup of the cooking liquid, + drain. set aside.

heat 1 tablespoon olive oil in a skillet over medium-high heat. add diced jalapenos + cook 3-4 minutes until softened. toss the corn kernels into the pan with the peppers + cook, stirring occasionally, until the corn starts to brown. add the black beans + heat a few minutes longer, until heated through.

in a large bowl, toss the pasta, corn, jalapenos, black beans + cilantro oil together. add in the diced tomatoes, lime juice, + cotija cheese. salt + pepper to taste.

serve warm, chilled, or at room temperature, depending on your preference.