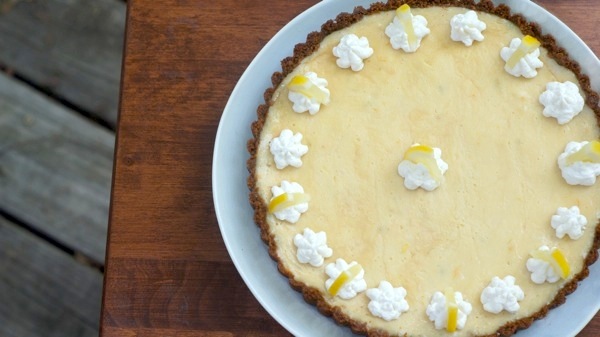 despite having grown up in boston, after 11 years in tennessee, i feel pretty darn southern. the culinary traditions of the south, particularly fried green tomatoes + fresh collard greens, make me incredibly happy. the one food/drink tradition i haven't gotten into? sweet tea. we grew up drinking unsweetened tea with a little lemon, + that's still what i enjoy now. the crazy sweet stuff my husband drinks? my teeth start quivering in fear as soon as it approaches.
however, when i saw a recipe in southern living for a sweet tea icebox tart with a gingersnap crust, i was willing to give sweet tea another chance. the ingredient list was free of massive amounts of sugar, so i figured this might be the one way i'd like sweet tea. luckily, i was right!
this tart is so bright + fresh, with a subtle hint of tea flavor. because the filling is so light, the gingersnap crust is a perfect match for it. a rich shortbread crust, for example, could easily overwhelm the summery lightness of the filling, but the bite of the gingersnap perfectly complements the other flavors. a little dollop of whipped cream adds the bit of richness needed to perfect round out this dessert. whether you're a born-and-raised southerner, a transplated northerner like me, or just someone who likes new + delicious desserts, you've gotta try this sweet tea icebox tart!
sweet tea icebox tart

makes 12 servings, adapted from southern living

ingredients

for the tart filling:
1/4 cup freshly-brewed unsweetened iced tea (or 2 tablespoons instant unsweetened ice tea mix)
1 14-oz. can sweetened condensed milk
1/2 teaspoon orange zest
1/2 teaspoon lime zest
1/3 cup fresh orange juice
1/4 cup fresh lemon juice
2 large eggs, lightly beaten
1 cup heavy cream
3 tablespoons sugar
garnishes: lemon slices, fresh mint sprigs

for the gingersnap crust:
1 1/2 cups crushed gingersnap cookies
5 tablespoons butter, melted
2 tablespoons light brown sugar
1/4 teaspoon ground cinnamon

directions

stir together all ingredients for crust – cookies, butter, brown sugar + cinnamon. press mixture into a 9" tart pan with removable bottom.

preheat oven to 350°. pour tea (or iced tea mix + 2 tbsp. water) in a large bowl. whisk in sweetened condensed milk + next 5 ingredients until blended. place gingersnap crust in tart pan on a baking sheet; pour in milk mixture.

bake at 350° for 20 – 25 minutes or just until filling is set. cool completely on a wire rack (about 1 hour). cover + chill 4 to 24 hours. remove tart from pan, + place on a serving dish.

beat cream + sugar at medium speed with an electric mixer until stiff peaks form. pipe or dollop on top of tart; garnish, if desired.

note: you may also bake this tart in a 14- x 4-inch tart pan with removable bottom; increase bake time to 25 – 28 minutes or until filling is set.

print this recipe