Tomorrow marks three months from the day my now-husband + i pulled off our surprise wedding, i thought it was a perfect time to (finally) share some pictures with you from that amazing day!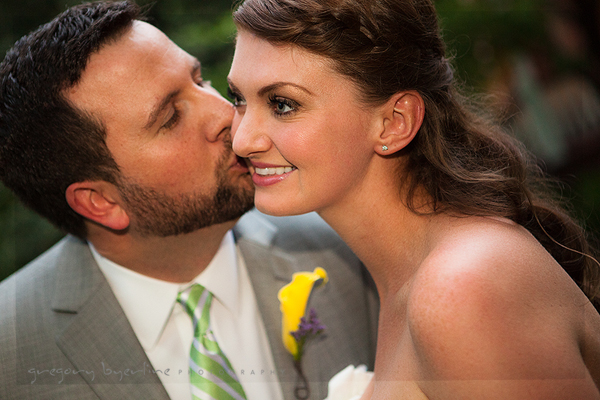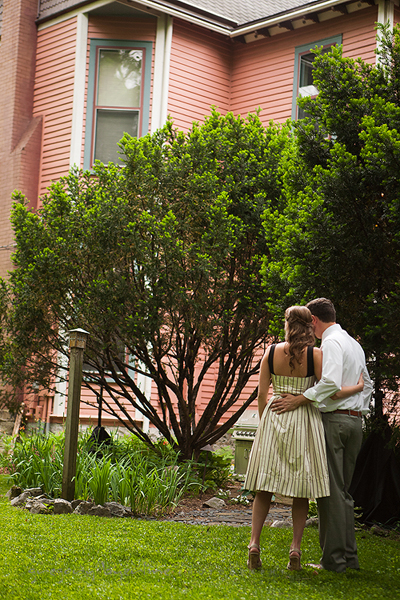 The 'engagement party' started at 6 PM + we planned the surprise ceremony to begin at 6:45. This was minutes before we separated to change into our wedding clothes, taking a quiet moment together.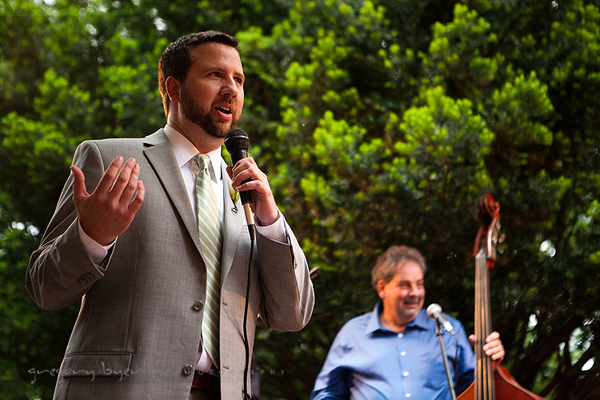 About 45 minutes into cocktail hour, almost-husband (now in a jacket + tie) gathered everyone's attention. He thanked them for coming + told them we had a surprise before dinner was served. The bluegrass quartet changed to classical music (canon in d) + the minister strolled out from the wings.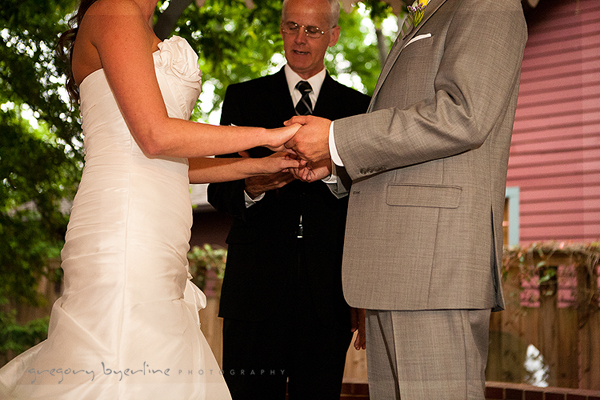 My father + i emerged from behind the carriage house + (truly) an audible gasp rose from the crowd. I joined my soon-to-be husband + minister under the gorgeous gazebo for our vows. After the ceremony, my now-husband + i snuck back into the carriage house for a glass of champagne.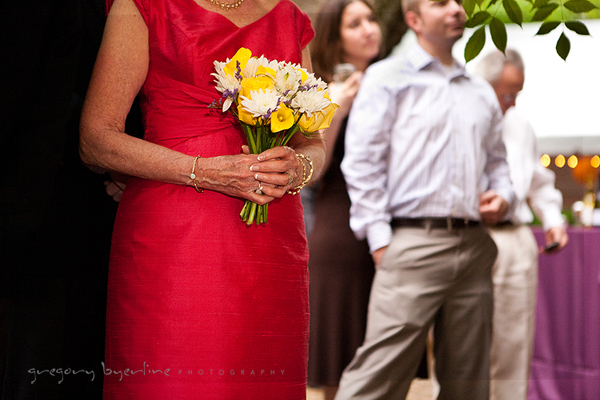 Thanks, mom, for holding my bouquet!
We emerged, to everyone's awesome well wishes + words of surprise. but first, i hugged my mom.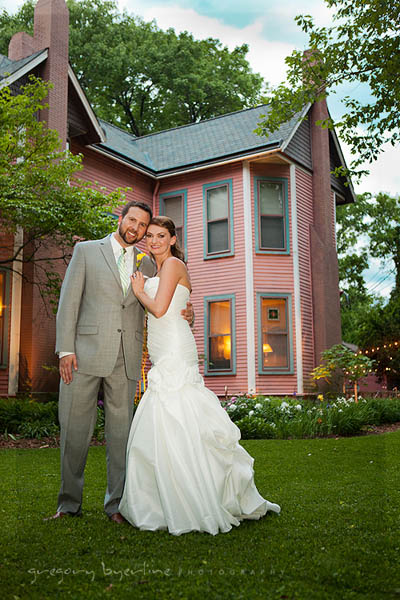 We took some pictures, just the two of us, before the sun started setting.
Then we took some pictures with our parents + family, too.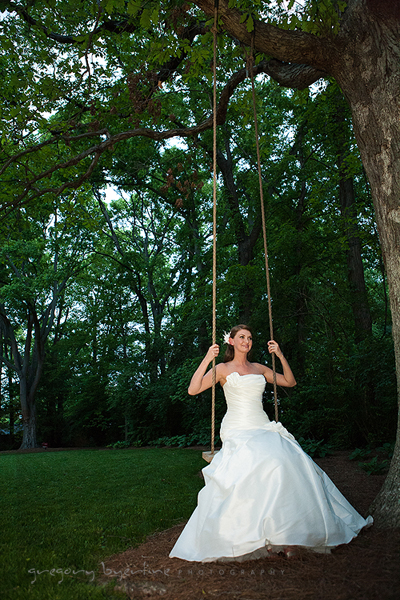 As the sun started setting, i had just enough time to take a little bridal swing.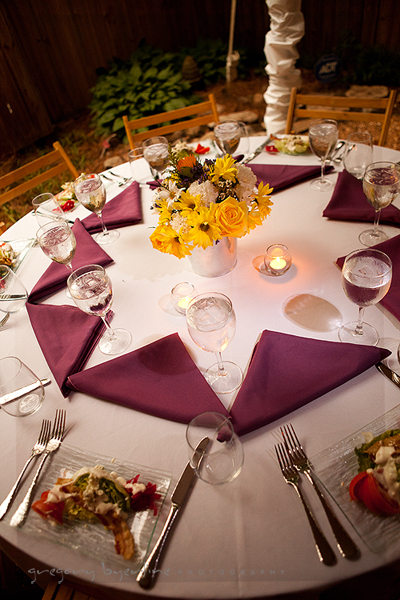 We re-joined our nearly 100 guests for a wonderful southern dinner, dessert, drinks + champagne.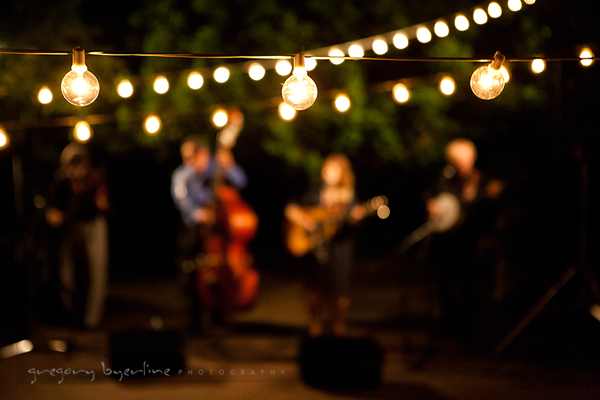 Our meal was accompanied by the amazing blueglass stylings of Craig Duncan's bluegrass quartet.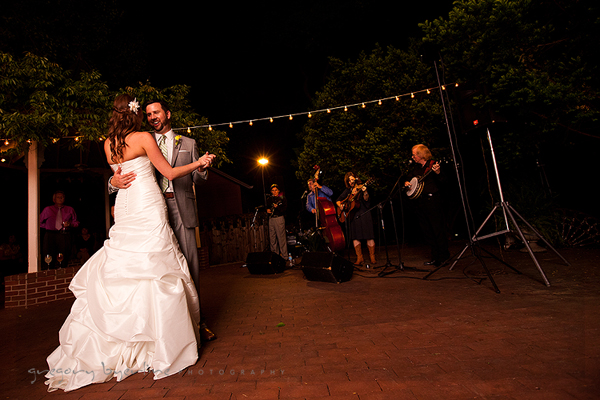 I had my first dance with my husband under the stars.
With the sun long set, our surprise revealed, + everyone happy, we headed out + left our guests to continue the party.
It was a perfect day. friends + family had come in from all across the country + world (my brother flying in all the way from india), The weather had been sunny + warm, + our surprise had gone off seamlessly. If i had to do it again, i wouldn't change a thing!
Update: our surprise wedding was featured in a magazine – so cool!
venue: the mulberry house (owned by our lovely family friends, catherine + doug)
photography: gregory byerline photography
musicians: craig duncan's bluegrass quartet
lighting: nashville event lighting
flowers: megan mcdugald (email me if you'd like her contact information)
catering: clean plate club
hair: sarah behnke at studio green