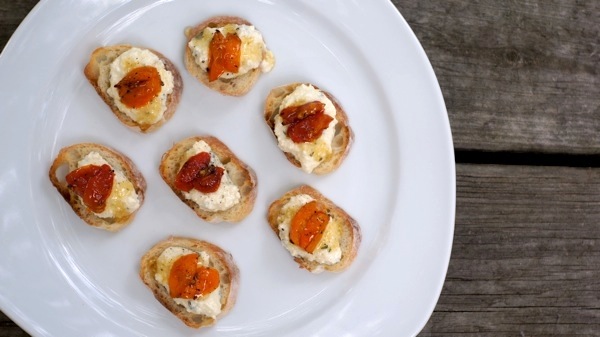 it's tomato season! fresh, ripe tomatoes are in their prime, popping up in gardens + farmer's markets, making appearances on seasonal menus + even inspiring an entire festival. as a tomato-lover + someone who grows tomatoes, this makes me very very happy. when i saw this recipe for honey-roasted tomatoes + herbed ricotta on crostini, i leaped to try it + am thrilled with the results!
the honey-roasting brings out a wonderful flavor in the tomatoes, which works perfectly with the creamy, herbed ricotta + the crunch of the crostini. i used two types of tomatoes to add variety in color + flavor, + both turned out beautifully.  the coolest thing about this recipe? all ingredients were locally-grown or locally-made. the crostini are from our local bakery, the tomatoes were grown on a tennessee farm, + the oregano came straight out of our own garden. pretty neat, huh?
for the recipe + a review of the cookbook it came from, quick-fix southern: homemade hospitality in 30 minutes or less, hop over to cooks + books + recipes, where i'm guest posting today!