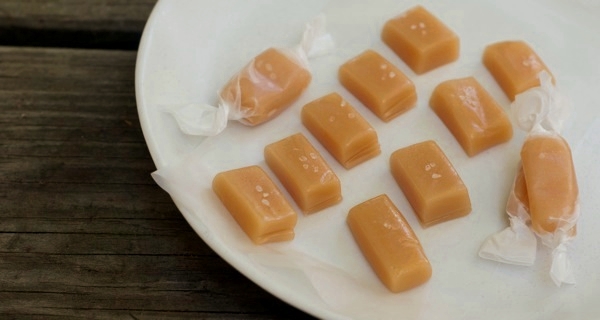 well, i successfully made candy for the first time, + surprisingly, it wasn't nearly as difficult as i anticipated. in fact, it was easy. who knew? i know that august isn't exactly caramel season, but over the weekend, i made some delicious salted caramel buttercream for the Let's Bring On Fall party (full recipe coming soon!), which made me wonder, how hard would it be to make actual salted caramels?
a quick google search revealed tons of caramel recipes, + conveniently, i had all the ingredients + equipment in the house. i decided to make them on the spot + the results were absolutely delicious! being more of a salty person than a sweet person, these caramels combine both in a way that is 100% irresistable to me. if you're a caramel lover, you must give this recipe a try, even if you're a newbie to candy-making like me — i promise, this recipe is a piece of cake (or rather, candy). =)
apologies that the picture isn't wonderful, but taking photos of caramels outside on a hot, sunny day meant that i had to act quickly (before they melted) + this was the first picture i took!
fleur de sel caramels

makes about 40 caramels, adapted from gourmet

ingredients

1 cup heavy cream
5 tablespoons unsalted butter, cut into pieces
1 teaspoon fleur de sel (a sea salt available in specialty food shops + online)
1 1/2 cups sugar
1/4 cup light corn syrup
1/4 cup water

Special equipment: parchment paper + a candy/oil thermometer

directions

line bottom + sides of an 8" square baking pan with parchment paper, then lightly oil parchment.

bring cream, butter, + fleur de sel to a boil in a small saucepan, then remove from heat + set aside.

boil sugar, corn syrup, + water in a 3-4-quart heavy saucepan, stirring until sugar is dissolved. boil, without stirring but gently swirling pan, until mixture is a light golden caramel.

carefully stir in cream mixture (mixture will bubble up) + simmer, stirring frequently, until caramel registers 248°F on thermometer, 10 – 15 minutes. pour into baking pan + cool 2 hours. cut into 1-inch pieces, then wrap each piece in a 4" square of wax paper, twisting 2 ends to close.

print this recipe