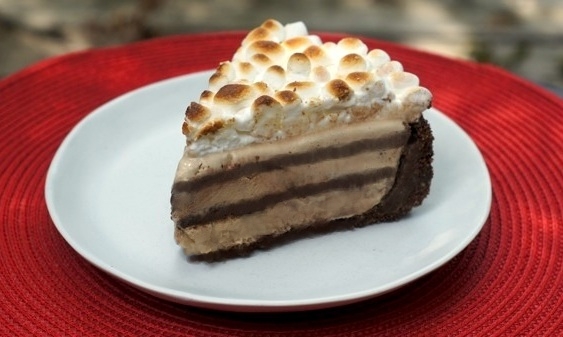 get excited, friends, because it's NATIONAL S'MORES DAY! if that's not an excuse to make a ridiculously decadent s'mores-related dessert, then i don't know what is. i debated making my delicious s'mores cheesecake again, but decided at the last minute to try something new: a s'mores coffee + fudge ice cream cake topped with toasted marshmallows. sounds good, doesn't it? well, it is – super flavorful + chocolaty, while still being wonderfully refreshing on these hot summer days. the variety of flavors+ textures in the cake is just wonderful!
while the cake is simple to make, note that it takes some time since you have to freeze the cake after each layer. i intended to serve this to our dinner guests on monday evening, but my poor planning meant that it wasn't ready in time. thankfully, i had a batch of no-bake coconut + almond brownies on hand to feed 'em. crisis averted!
i hope you all spend this momentous holiday doing something s'moresy! i'm going to grab some graham crackers, marshmallows + chocolate + have myself a s'mores party. or, maybe i'll just sit down to another piece of this amazing, decadent, s'mores ice cream cake!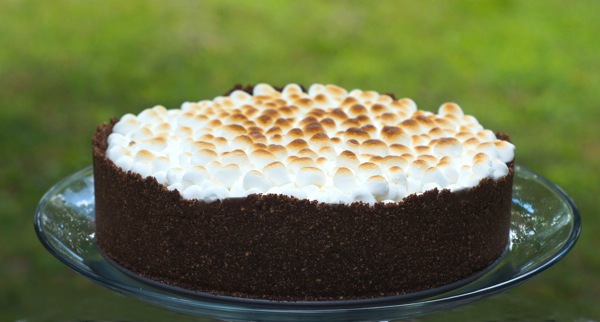 s'mores coffee + fudge ice cream cake

makes 10-12 servings, adapted from bon appetit

ingredients

16 whole graham crackers – i used chocolate graham crackers for additional chocolaty goodness!
1 cup whole almonds, toasted
3 tablespoons sugar
1/2 cup (1 stick) unsalted butter, melted
1 1/2 quarts coffee ice cream, softened until spreadable
1 7-ounce jar marshmallow creme
2 cups miniature marshmallows

for the fudge sauce:
1 cup whipping cream
1/2 cup cane syrup, homemade sugar syrup, or light corn syrup
10 ounces bittersweet (not unsweetened) or semisweet chocolate, chopped

directions

preheat oven to 350°F. finely grind graham crackers, toasted almonds + 3 tablespoons sugar in processor. add 1/2 cup melted butter; process mixture until moist crumbs form.

press graham cracker mixture onto bottom + up sides of 9-inch-diameter springform pan with 2 3/4" high sides. bake crust until edges are golden, about 12 minutes. cool graham cracker crust completely.

spread 2 cups softened ice cream in crust. spoon 3/4 cup cooled fudge sauce over. freeze until sauce is set, about 30 minutes. refrigerate or freeze remaining ice cream as necessary to prevent ice cream from melting. repeat layering with 2 cups ice cream, then 3/4 cup sauce. freeze until sauce is just set. spread remaining 2 cups ice cream over. cover + freeze cake overnight. refrigerate remaining fudge sauce.

preheat broiler. warm remaining fudge sauce in small saucepan over low heat. remove from heat. place cake in pan on baking sheet. spread marshmallow creme over top of cake. sprinkle miniature marshmallows over in single layer. broil just until marshmallows are deep brown, watching closely to avoid burning, about 1 minute. run knife between pan sides + cake to loosen. remove pan sides. cut cake into wedges. serve cake immediately (with remaining warm fudge sauce, if desired).

print this recipe