it's one of my favorite weeks in nashville — tomato art fest week! tomato art fest is a festival dedicated to the awesomeness of the tomato, with live music, contests (i'm competing in the tomato recipe contest!), tomato arts + crafts, tomatoey menus at local restaurants, + more. wonderfully, it all takes place just a few blocks from us, in the heart of our 'hood, east nashville. seeing as it was voted 'best festival' by the nashville scene for the last four years, i'm not the only one who loves it!
what are my favorite parts of the festival? first, the art. one year, we bought the gorgeous piece above (by local artist hosanna banks), which i adore. we also attend the amazing tomato dinner at marche each year – a four-course tomato-centered meal with wine pairings for each course. also, it's always fun to stop into rumours east or 3 crow bar for a bloody mary (or two) with friends.
what to wear? much of the festival is outdoors + in the summer heat, dressing cool is a must. i try to wear something tomato-colored or themed each year, so imagine how happy i was to discover this fabulous anthropologie dress. i saw it, thought, whoa, are those tomatoes?! + had to get it.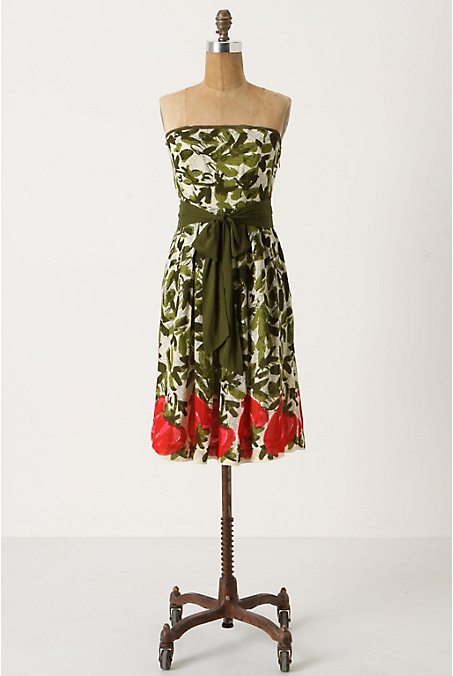 i told everyone about the dress, modeled it for friends, sent pics to my mom, the whole shebang. the only thing that didn't make sense? the name: berry months dress. then it dawned on me. those aren't tomatoes, they're strawberries. embarrassing! regardless, i will proudly wear my tomato/berry dress at the festival. who cares about the name? tomatoes are in the eye of the beholder.
if you're near nashville this week + weekend, i highly recommend that you participate in some fabulous tomato fest events. if you need tips, advice, or a friendly local to show you around east nashville, let me know. you can reach me via facebook, twitter, or email – i'm happy to help!