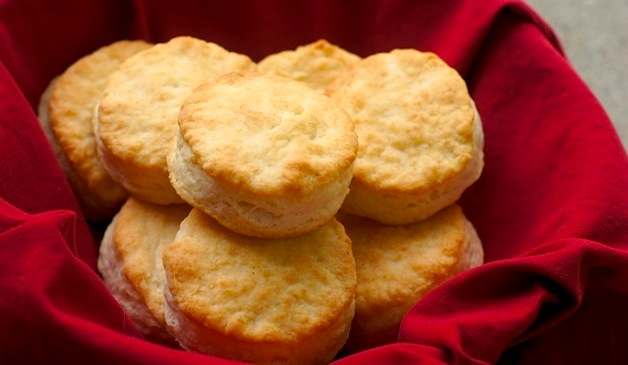 most weekdays, my husband + i just make a quick breakfast – nothing fancy. so, we both look forward to the weekends, when we can take the time to make a big, hearty, leisurely breakfast. this past weekend i woke up with a major hankering for biscuits, so, i gathered up the ingredients for these delicious little numbers, + set about making a delicious meal of eggs, bacon, biscuits, + jam.
believe it or not, after living 11 years in tennesee, this was my first time making buttermilk biscuits. i cannot praise these enough! the dough is a cinch to make – it came together super quickly + easily. + the flavor? absolutely delicious. they're light, flaky, buttery + have the perfect texture – serious biscuity awesomeness. they made for a delicious breakfast that morning. + snack that afternoon. + accompaniment to chili that evening while we watched football. gotta love versatile food! =)
a huge thanks goes to fab fellow food blogger erin, who shared this delicious recipe with me. a born + raised southerner, i knew she'd have the perfect buttermilk biscuit recipe, + she did! thanks, erin!
buttermilk biscuits

makes about a dozen biscuits, adapted from one particular kitchen

ingredients

1 cup flour
1/2 teaspoon salt
1 tablespoon baking powder
1/4 cup cold butter
1/2 cup buttermilk
3-4 tablespoons butter, melted, for brushing the tops of the biscuits

directions

preheat oven to 425 degrees. combine flour, salt, + baking powder in a bowl or in a food processor, then add in butter with a pastry blender or fork, or pulse in the food processor until the mixture looks like coarse cornmeal.

slowly add buttermilk, gently stirring with a rubber spatula or your fingers; add just enough so that it turns into dough.

turn onto a floured surface + knead it four times, folding it back over itself as you go. FOUR! Then STOP, no matter how much fun it is. Overworked dough = unhappy biscuits

roll the dough out to 1/2" thickness, then cut out biscuits with a ring mold (or drinking glass). place biscuits on a parchment-lined or silpat-lined baking sheet, + brush the tops with melted butter. bake until just starting to turn golden, about 15 minutes.

print this recipe