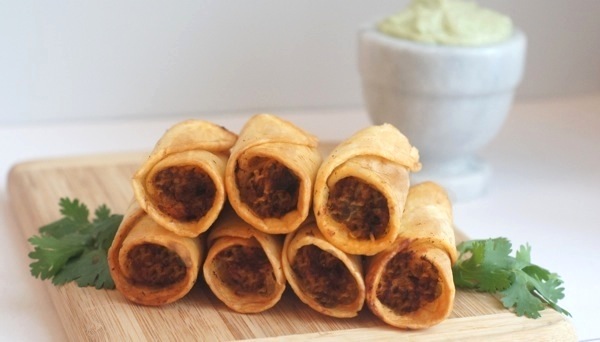 as many of you know, football season (both college + nfl) is here! we frequently have family + friends over to watch football, which means that many of my recipes over the next months will be group-friendly appetizers, entrees + sweets. first up? these amazing chicken flautas with avocado cream.
why are these flautas are perfect for football-watching/parties? first, they're just as tasty at room temp as they are hot – a must for any gathering where people graze + chat over the course of a few hours. second, they're make-aheadable! i do all the steps except the frying a full day ahead of time + on the day-of, they only take me a few minutes to finish. this is critical when friends are over + you want to spend time socializing or watching the game rather than working in the kitchen.
flavor-wise, these are crowd-pleasers. they have enough heat to appeal to spicy lovers without being too hot for non-spicy people. the depth of flavors is amazing + the cool, bright avocado cream is a perfect accompaniment. the last time i served these at a party, they were the first dish to be entirely devoured, which is just about as fabulous a review as possible! whether you're a football fan or not, the next time you're looking for a group-friendly appetizer to win over a crowd, give this a try!
note: for a healthier preparation, you can easily pan-saute these instead of deep-frying them. instructions on both methods are below.
chicken flautas with avocado cream

makes 16 full-sized flautas or 32 mini-flautas, adapted from food network

ingredients

for the flautas:

vegetable or canola oil, for frying
1 tablespoon butter
1/2 small red onion, diced
1 jalapeno, diced
1 garlic clove, minced
1 teaspoon ground cumin
1/2 teaspoon cayenne pepper
1 rotisserie chicken, skin removed + meat finely shredded
1 cup salsa
1/4 cup freshly chopped cilantro leaves
1 cup shredded cheddar/monterey jack cheese blend
1 lime, juiced
salt to taste
16 (5-6") flour tortillas – leave full size if you want larger flautas, or cut in half if you want mini-flautas
toothpicks
2 cups shredded iceberg lettuce, for serving (optional)

for the avocado cream:

1 very ripe avocado, halved, pitted + flesh removed
1 (4-ounce) container sour cream
2 tablespoons fresh lime juice
salt to taste

directions

if frying: fill a large pot with enough oil to reach 2" up the side of the pan. heat over medium heat until a deep-frying thermometer inserted in the oil reads 375 degrees. meanwhile, preheat the oven to a warming temperature – somewhere between 180-200 degrees.

to make the flautas: in a pan over medium heat, melt butter + saute onions + jalapenos until tender, about 5 minutes. add garlic, cumin, + cayenne pepper + cook until fragrant, another 2 minutes. add chicken + salsa; stir to combine. remove from heat + stir in cilantro, cheese + lime juice. remove from heat + let cool slightly.

spread a heaping spoonful of filling along the middle of each tortilla. roll tortilla tightly around the filling + secure with a toothpick.

if frying: using tongs, hold each flauta in hot oil until firm, then release to continue cooking. cook until golden brown, about 1-2 minutes, then remove to a paper towel-lined plate + immediately season with salt. repeat until all flautas are fried.

if sauteing: heat a large saute pan over medium heat, then add enough vegetable oil to lightly coat the bottom. add flautas to pan (do not crowd) + saute until lightly browned on all sides. remove to a paper towel-lined plate + immediately season with salt. repeat until all flautas are sauteed.

once flautas have cooled enough, remove the toothpick. keep flautas warm in the oven on a baking sheet while assembling + cooking the remaining flautas.

to make the avocado cream: in a serving bowl, mash avocado, sour cream + lime juice until smooth. season with salt, to taste. to serve, arrange flautas on a platter + serve with avocado cream on the side.

print this recipe