thanksgiving is an incredibly special time of the year for me. last year, the day before thanksgiving, my then-boyfriend (+ now husband!) proposed to me at sunset on the gorgeous beach at seaside, florida. see? here we are, just minutes after he proposed.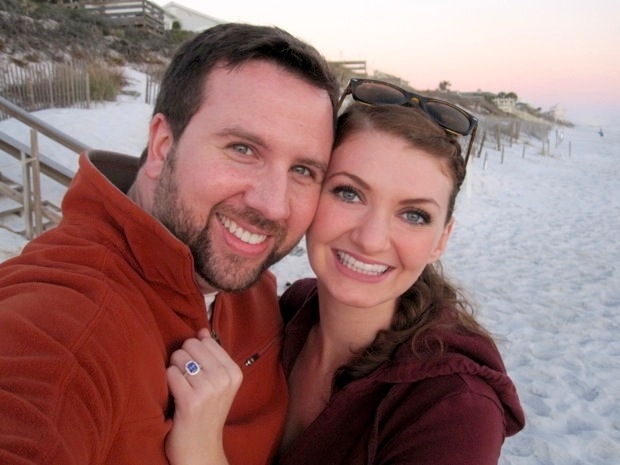 for the past few thanksgivings, we've traveled down to florida with family to celebrate the holiday at the beach. however, since we've done a lot of traveling lately with our trip to italy, we decided to pass on the beach this year + spend thanksgiving in nashville instead. and you know what that means? it's time for me to make my first turkey EVER! (wish me luck + send good vibes, please).
here's a sneak peek of what i'll be serving for our very first thanksgiving as a married couple!
to start:
tomato-pancetta butter with crostini (see recipe below), assorted cheeses, olives, + bread
the meal:
herb + butter roasted turkey
farmhouse herbed stuffing
herbed yukon gold + sweet potato gratin with gruyere
green beans with caramelized shallots
cauliflower with mustard-lemon butter
dinner rolls in mason jars
to drink:
cranberry champagne cocktails + wine
for dessert:
pumpkin whoopie pies with cream cheese filling
something chocolatey – still trying to figure this one out!
*update: i wound up making a delicious chocolate, toffee + apple galette.
without further ado, here's the recipe for the delicious tomato-pancetta butter that i make for lots of holidays + parties. it's seriously amazing, always a huge hit, + even better, it's very easy to make. =)
so, what are your plans for thanksgiving this year? are you staying home? or traveling? what's on your dinner menu? + most importantly, do you have any ideas of what i should make for my chocolate dessert? y'all always come up with seriously great suggestions!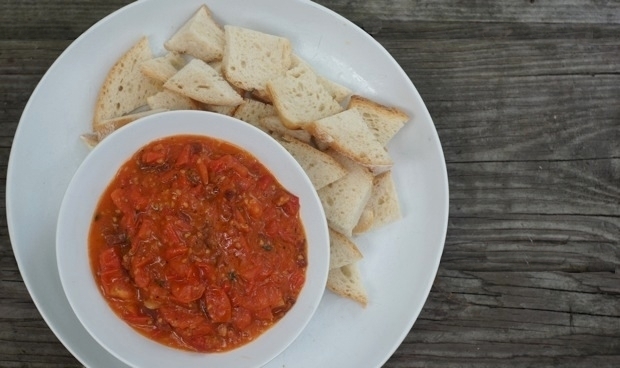 tomato-pancetta butter

makes 4-6 servings, adapted from bon appetit

ingredients

6 ounces thinly sliced pancetta or bacon, coarsely chopped
3 tablespoons butter
8 large plum tomatoes, quartered, seeds + membranes discarded, tomatoes diced
1 teaspoon chopped fresh thyme

directions

cook chopped pancetta/bacon in large skillet over medium-high heat until crisp + brown.

using slotted spoon, transfer pancetta to paper towel; drain. set aside. pour off all but 1 tablespoon drippings from skillet. add butter to drippings in skillet; melt over medium-high heat. add tomatoes + thyme; sauté until tomatoes are tender, about 5 minutes. add cooked pancetta/bacon back to to tomato mixture + cook an additional minute or two, until pancetta/bacon is heated through. season to taste with salt + pepper. (can be made 2 hours ahead. let stand at room temperature.)

print this recipe