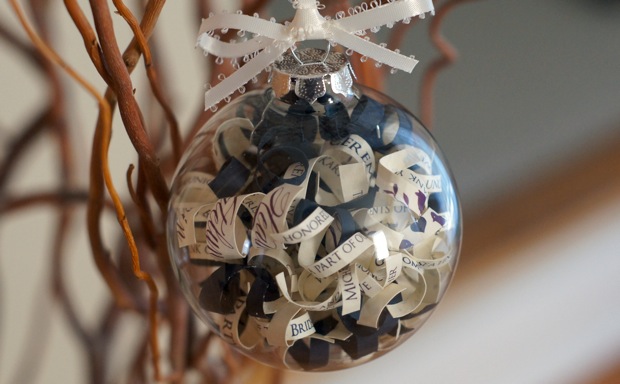 welcome to my new favorite craft — turning an invitation into a keepsake ornament. i stumbled across this craft over at pinterest + knew that it would be a great use for one of the leftover invitations from our surprise wedding. (you can find me here on pinterest if you want to follow me).
so, i picked up a four-pack of clear glass bulb ornaments + a bit of ivory ribbon at michael's, then headed home. i cut our invitation into roughly 1/4" strips, wrapped each strip around a pencil to give it that pretty curl, then dropped it into the glass ornament. when the bulb was filled, i used tweezers to spin a few of the curls around so key words showed – nashville, love, friends, family, 2011 + our names, for example. i was absolutely floored with the gorgeous + chic result (pictured below).
i immediately wanted to make another, + luckily, my friend heather had married a couple months before + i had saved her save-the-date, wedding invitation + wedding program in the hopes of making her something special. so, i made her two ornaments – one (pictured above) uses parts of both her wedding program + her wedding invitation. since her + her husband's faith was a huge part of their ceremony, i highlighted a lot of faith-related words in her ornament, as well as traditional words like bride, groom, ceremony, etc. again, it turned out amazing!
i also made her one with their fab save-the-dates, which had lovely red, blue, + golden tones. i didn't have time to get a picture because i hurried to leave these as a surprise delivery yesterday, so she could see them in person before she saw them posted here. trust me, it turned out just perfect!
so, if you're looking for a great use for that invitation or announcement you've been hanging on to, look no further. i promise you that the results are absolutely charming + make a great keepsake!