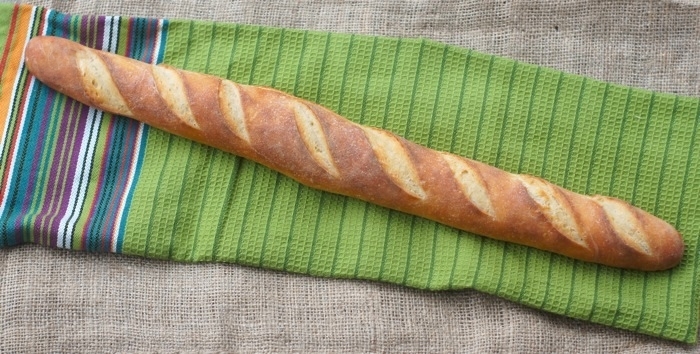 i love love love bread. i start almost every morning with a similar breakfast: a breakfast sandwich with egg, cheese, bacon or veggie sausage, all on a fresh baguette. for years, i've bought baguettes from a wonderful local bakery, + while their bread is amazing, it was time to try making some myself. the result? holy moly, why did i wait so long to try? i've made 10-12 baguettes in the last 4 weeks, + with each that i make, my technique + result improves. even the very first ones were delicious, although they weren't the prettiest.*
speaking of pretty, my picture doesn't show nearly how gorgeous this baguette turned out. apparently baguettes are surprisingly hard to photograph with their long, skinny shape, + assorted crevices + nooks. but trust me, they turn out beautiful. in addition, their flavor + texture are amazing — the crust is perfectly crispy while the inside has a wonderful chewiness + flavor. i've eaten a lot of bread + this baguette can truly stand its own against many of the other baguettes i've tried. really!
i know the recipe below looks long, but don't let it scare you off. breads like this take prep, resting + proofing time in addition to hands-on time, + most of the recipe below covers hands-off stuff. the hands-on time, honestly, is probably no more than 5 minutes on the prep day, + maybe 10-15 minutes on the baking day. and if i'm lying to you, may i be struck down by a giant pat of butter.
so, if you've ever flirted with the idea of making your own bread, try it! it's easy, it's inexpensive, + most importantly, it's delicious. when you make it, definitely check out not without salt, as it has wonderful step-by-step pictures for this baguette recipe. i debated taking step-by-step pictures, too, but i was too busy stuffing my face with homemade bread. =) enjoy!
*update: see comment #16 below for a pic of my first batch. a little practice makes a big difference!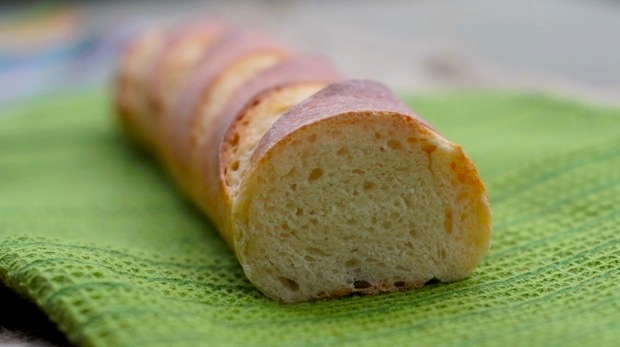 french baguettes

makes four baguettes, adapted from artisan breads every day by peter reinhart, as seen on not without salt

ingredients

5 1/2 cups unbleached bread flour (*see note below)
1 tbsp coarse kosher salt
2 1/4 tsp instant yeast
2 cups warm water

*note: i have used all-purpose flour instead of bread flour – it works out just fine, although the texture + taste are slightly different. i prefer the texture + flavor results of bread flour.

directions

prep day: combine all ingredients in bowl of mixer, set with paddle attachment, + mix on lowest speed for 1 minute until well blended + smooth. dough should form a coarse, shaggy ball. let rest, uncovered for 5 minutes. switch to dough hook + mix on medium-low speed for 2 minutes. dough should be smooth, supple, + tacky but not sticky. knead dough by hand on lightly floured work surface for 1 minute, then transfer to a large clean, lightly oiled bowl. cover with plastic wrap + immediately refrigerate overnight or up to 4 days.

(dough can also be made without the use of a stand mixer. combine all the ingredients – start with a wooden spoon then switch to your hands when the flour is incorporated. lightly knead until all the ingredients are well blended. let rest for 5 minutes then knead for about 5 more minutes until dough is smooth + slightly tacky.)

baking day: remove dough from refrigerator 2 hours prior to baking. gently transfer to lightly floured work surface, taking care to release as little gas as possible. divide dough into four equal portions.

form baguettes: pat each piece of divided dough into a thick rectangle.
fold the bottom half to the center + seal the seam. fold the top half to the center + once again seal the seam. roll the top half of the dough over the seam to create a new seam on the bottom of the loaf.

with seam side underneath, gently rock loaf back + forth, with hands moving out toward + increasing pressure at the ends, to slightly taper the loaf until baguette is the length of baguette pan (or baking sheet). repeat with the remaining loaves.

place the formed baguettes on a baguette pan or a baking sheet that has been oiled or covered with parchment/silpats. mist top of dough with oil, loosely cover with plastic wrap, + proof at room temperature for about 1 1/2 hours, or until it has increased to 1 1/2 times its original size.

baking: about 45 minutes before baking, preheat oven to 450 degrees. place a sheet pan, which will serve as steam pan, with a 1-inch rim on shelf under which baguettes will be baked. remove plastic wrap from the dough 15 minutes prior to baking. just prior to baking, score the dough 1/2 inch deep with a serrated knife or razor. transfer dough to the oven, pour 1 cup hot water into the steam pan (being careful not to splash yourself with the hot water).

bake for 15 minutes, then rotate pan + bake for another 15-20 minutes, until the crust is rich golden brown, the loaves sound hollow when thumped, + the internal temperature is about 200 degrees in the center. cool on wire rack before slicing or serving. best eaten the same day, or heated briefly in the oven the next day if crust loses its crispness.

print this recipe