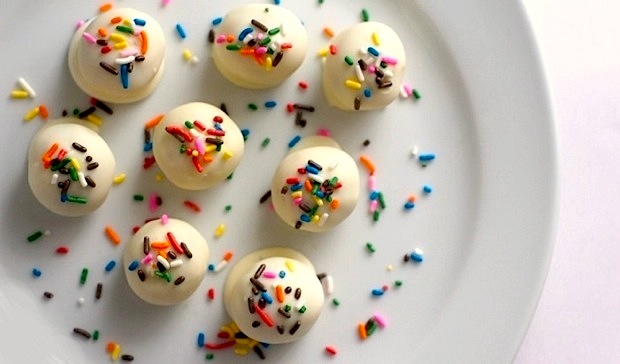 I believe there are two type of people in the world — those who love cake batter + cookie dough in their unbaked form, + those who don't. I fall into the former category. I have lots of fond memories of watching my mom bake cakes + cookies when I was growing up, always offering me a batter-covered spoon to lick or a scoop of cookie dough to nibble on. And thus, my love for cake batter + cookie dough was born + has been going strong ever since!
When I came across these festive cake batter truffles over on the sweets life, I bookmarked 'em immediately, knowing I'd make them as soon as I had the right occasion. This past weekend, we celebrated both my mother-in-law's birthday + our nephew's birthday – what more perfect occasion for cake batter truffles than two birthday celebrations in two days?!
The result? These truffles are absolutely delicious. For a cake batter lover like me, they're pretty much heaven in truffle form. The cake batter is moist, flavorful + oh-so-pretty, with colorful flecks of sprinkles, while the white chocolate coating has a lovely crunch that works perfectly with the batter center. And the sprinkles on top? Just plain adorable. =)  Although raw egg in cake batter has never stopped me from eating it, for those of you who are wary, you'll be happy to know that there's no egg in this recipe, so you can eat 'em without worrying. Next time you have something to celebrate, give these wonderful cake batter truffles a try – you will not be disappointed!
Cake Batter Truffles

makes 24 larger truffles, or about 36 smaller truffles, adapted from the sweets life

Ingredients

1 1/2 cups flour
1 cup yellow cake mix
1/2 cup unsalted butter, softened
1/2 cup white sugar
1 tsp vanilla
1/8 tsp salt
3-4 tbsp milk
2 tbsp sprinkles
16 oz (8 squares) white almond bark or candy melts
4 tbsp yellow cake mix
sprinkles, for decoration

Directions

Beat together butter + sugar with an electric mixer or stand mixer until combined. Add cake mix, flour, salt, + vanilla, mixing well. Add milk + beat until a dough consistency forms. Stir in sprinkles.

Roll dough into one-inch balls (or smaller, if desired). Place on a cookie sheet lined with wax or parchment paper. Chill for 15 minutes in the fridge or freezer.

Melt almond bark or candy melts in the microwave in 30-second increments, stirring after each increment. When bark is smooth + melted, stir in cake mix until smooth.

Dip cake batter balls in melted almond bark/candy melts to coat completely. Remove with a fork + place on wax or parchment paper-lined baking sheet. Decorate immediately with sprinkles. Store in an airtight container in the fridge.

print this recipe