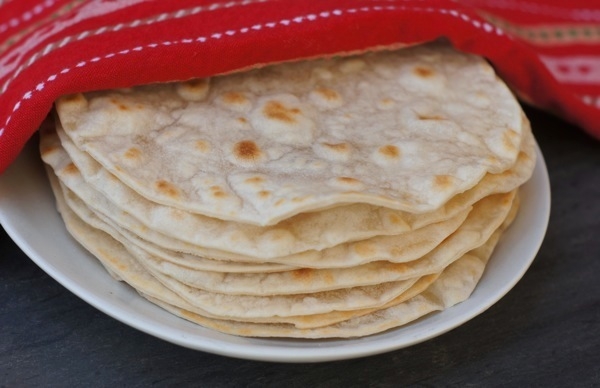 you know what makes me happy? mexican food. i'm super lucky because there's a darn tasty mexican restaurant in walking distance from our house. due to the delightfully walkable proximity of mexican food, it's no surprise that i rarely cook mexican food at home. instead, i put on my shoes + make the 5-minute stroll to a glorious place where margaritas, guacamole + enchiladas are delivered to my table in a matter of minutes. ah yes, that is a heavenly place indeed.
but, inspired by my one-new-dinner-a-week challenge for 2012, i decided to try cooking mexican food myself + put quesadillas on this week's dinner menu. i made a grocery list + the first thing i put on there? flour tortillas, of course. then i remembered seeing homemade flour tortillas on my friend ashley's blog. i figured, if i'm going to do something new by cooking mexican at home, why not go all out + make the whole meal from scratch, tortillas included? so that's what i decided to do.
and the result? they turned out fabulous! i was surprised at how easy they were to make – the dough came together in less than 5 minutes, + they were a cinch to roll out into pretty circles. they cooked up quickly + easily – the entire process took me less than an hour from start to finish. + the flavor? simply delicious + tons better than the store-bought version. they're also awesomely customizable – you can make tiny ones for mini soft tacos, giant ones for oversized burritos, + everything in between. i'll be using the standard 8" ones pictured here for my first ever attempt at quesadilla-making tonight — wish me luck!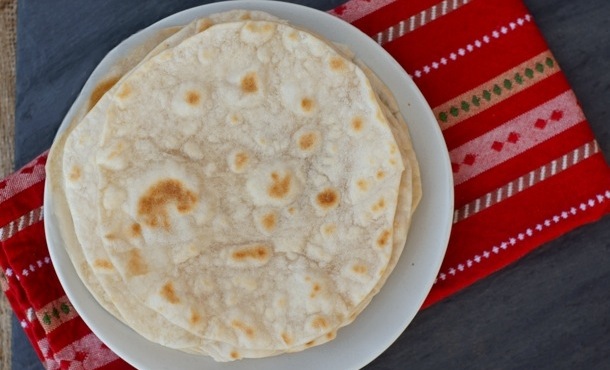 homemade flour tortillas

makes 12 tortillas, adapted from mexican made easy, as seen on kitchen meets girl

ingredients

3 1/2 cups all purpose flour
3/4 cup shortening (i used vegetable shortening)
2 teaspoons salt
1 cup lukewarm water

directions

in a large bowl, blend the flour + shortening until the mixture resembles fine meal.

in a small bowl, mix the salt + the water until the salt has dissolved. using the dough hook attachment of a stand mixer, add water to the flour mixture, mixing until the liquid is incorporated. mix for 2 to 3 minutes, or until smooth. if you don't have a stand mixer, stir the liquid into the flour mixture with a wooden spoon, then knead by hand.

divide the dough into 12 equally-sized pieces + roll each into a ball.

roll each ball into a thin 8 inch round – i rolled mine out as thin as i could get 'em — this keeps them soft + pliable once they're cooked. after i rolled them out to circles, i took an 8" salad plate, turned it upside down on top of the circles, + cut off any excess around the edges. voila! perfect circles.

cook each round in a heavy non-stick pan over medium-high heat, flipping once, until puffed + golden on both sides, about 3-5 minutes per tortilla.

print this recipe