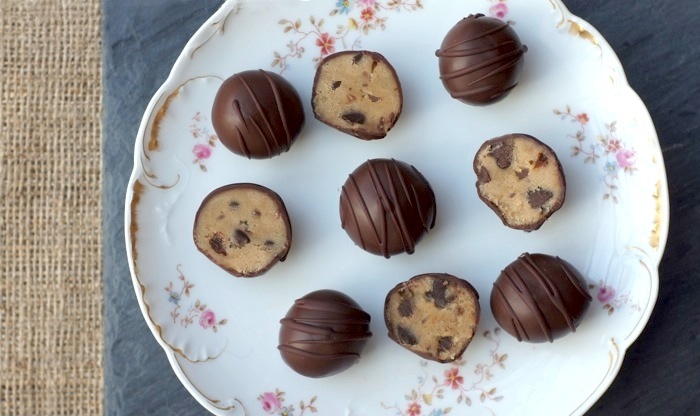 remember when i posted a recipe for cake batter truffles last month? well, i learned from that post that many of you, my dear readers, adore cake batter + cookie dough just as much as yours truly. it made me feel good to know that, when i'm baking, i'm not the only one who makes sure that no one is watching, then frantically devours any remaining batter or dough from the bowl/spoon/spatula. it would be silly to let that deliciousness go to waste, wouldn't it?
after the success of the cake batter truffles, i decided to try my hand at making chocolate chip cookie dough truffles. luckily, i had a recipe bookmarked from awesome food blogger + friend lindsay, + decided to give it a try. + how did they turn out, you ask? unbelievably, amazingly delicious. i'm talking go-in-for-just-one-and-wind-up-eating-five-of-them good.
the cookie dough has all the wonderful flavor of traditional cookie dough, without that pesky raw egg that concerns so many people. the chocolate coating provides a tasty little enclosure for each awesome cookie dough bite. if you decide to get a little fancy + add a chocolate drizzle to the top of each truffle, they wind up looking surprisingly gorgeous, too — no one will ever guess how easy they were to make. so, next time you're looking for an absolutely delicious little sweet (valentine's day is coming up, after all), i highly recommend giving these a try!
also, is it just me, or does anyone else see little chocolate chip faces in all of the cut-in-half truffles?!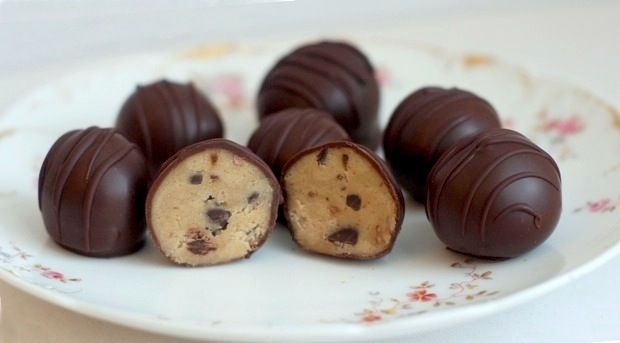 chocolate chip cookie dough truffles

makes about 4 dozen truffles, adapted from love and olive oil

ingredients

2 1/2 cups all purpose flour
1 teaspoon salt
1/4 teaspoon baking soda
1 cup (2 sticks) butter, room temperature
3/4 cup granulated sugar
3/4 cup packed brown sugar
1 teaspoon vanilla
1/3 cup milk
1 cup mini semi-sweet chocolate chips
14 oz dark chocolate candy coating

directions

beat butter + sugars in large bowl with electric mixer on medium speed until light + fluffy. add milk + vanilla. add in flour, baking soda + salt + mix on low speed (or by hand) until incorporated. fold in chocolate chips.

cover + chill dough in the refrigerator for about 1 hour, or until firm enough to handle.

when dough has firmed up, form dough into 1″ balls + arrange on a baking sheet lined with waxed paper. place baking sheet(s) in freezer + chill for 30 minutes.

melt chocolate candy coating in a double boiler or in microwave according to package directions. using forks, a toothpick or a dipping tool, dip cookie dough balls into candy coating to cover. tap fork on side of pan to remove any excess coating, + return to waxed paper-lined baking sheets. chill until set.  if desired, once set, drizzle an additional chocolate design on top of each truffle, as pictured above.

store, chilled, in an airtight container for up to 1 week.

print this recipe