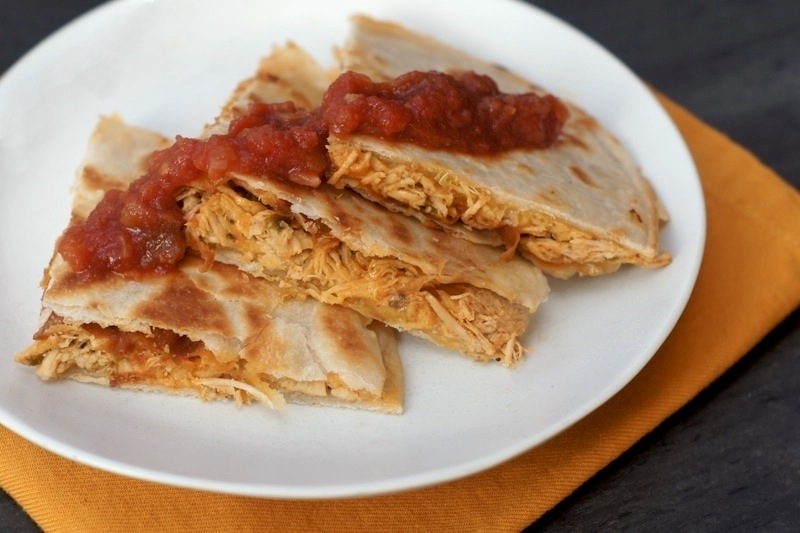 if you read my post on what i made for the first month of my one-new-dinner-a-week challenge, you may have seen that the recipe most requested by my readers was the spicy chicken + caramelized onion quesadillas. i'm not surprised by this, as these were seriously the most delicious quesadillas i've ever had. i'm more than happy to share the recipe + hope y'all love 'em as much as we did!
why are they so delicious? first, the shredded chicken is wonderfully moist, tender , + packed full of flavor, thanks to the well-seasoned broth that it is cooked in. then, the caramelized onion, garlic + jalapeno mixture is deliciously savory + complex, with just a hint of heat + spice that works perfectly against the flavor of the chicken. add to that a healthy portion of melty, delicious cheese + some warm (ideally homemade) tortillas + you pretty much have the tastiest quesadilla imaginable.
one thing i love about quesadillas is how customizable they are. if you want your quesadillas a bit heavier on one ingredient or another, feel free to adapt the recipe to perfectly personalize 'em for you. we added black beans into some of the quesadillas, which turned out deliciously. you could also add in diced tomatoes, a bit of cooked spanish rice, some salsa, or any other flavor that sounds good to you. so, next time you're looking for a easy, incredibly yummy dinner or appetizer, give these quesadillas a try. i promise that you will not be disappointed!
spicy chicken + caramelized onion quesadillas

makes 4 quesadillas, adapted from food.com

ingredients

3 boneless skinless chicken breasts
1 1/2 teaspoons dried oregano
1 bay leaf
3 cups low-sodium chicken broth
1 onion, quartered AND
1 onion, thinly sliced
1 tablespoon extra virgin olive oil
2 garlic cloves, minced
2 jalapeno peppers, chopped
2 teaspoons chili powder
1 teaspoon hot sauce
1/4 teaspoon cayenne pepper (or more to taste)
kosher salt + fresh black pepper, to taste
8 8-inch flour tortillas
2 cups shredded monterey jack cheese
optional garnishes/toppings: salsa, sour cream +/or guacamole

directions

in a medium saucepan, bring oregano, bay leaf, chicken broth, + quartered onion to a boil.

add chicken breasts to liquid, reduce heat to medium-low + simmer for about 20-25 minutes until chicken is cooked through, stirring occasionally.

meanwhile, heat a medium skillet or pan over medium-low heat. add 1 tablespoon of olive oil to the heated pan, then add the 1 sliced onion. cook the onion, stirring occasionally, until it is caramelized, about 20 minutes. add the chopped jalapenos + garlic to the pan in the last 5 minutes of cooking. set aside.

when chicken is cooked through, remove from cooking liquid with a slotted spoon + place into a large bowl. cover, + allow it to rest until it is cool enough to handle, about 15 minutes. reserve the cooking liquid.

when chicken is cool enough to handle, shred chicken in the large bowl with two forks. add the chili powder, hot sauce, cayenne pepper, + 1/8 cup of the cooking liquid to the shredded chicken, + mix thoroughly. season with salt + pepper to taste.

preheat a warming oven to about 200 degrees.

heat a large heavy-bottom skillet or pan to medium-high heat. when the pan is hot, place one full tortilla in the pan. top the tortilla with 1/4 of the chicken mixture, 1/4 of the caramelized onion/jalapeno mixture, + roughly 1/2 cup of the monterey jack cheese. top with another full tortilla. cook the quesadilla about 5-6 minutes, flipping once, until the cheese is melted + the tortilla is golden.

transfer the completed quesadilla(s) to a baking sheet in the warming oven while you cook the rest of the quesadillas. when all of the quesadillas are cooked, remove them from the warming oven, cut them into triangles with a pizza cutter, + serve immediately, topping with salsa, sour cream and/or guacamole, if you like.

print this recipe