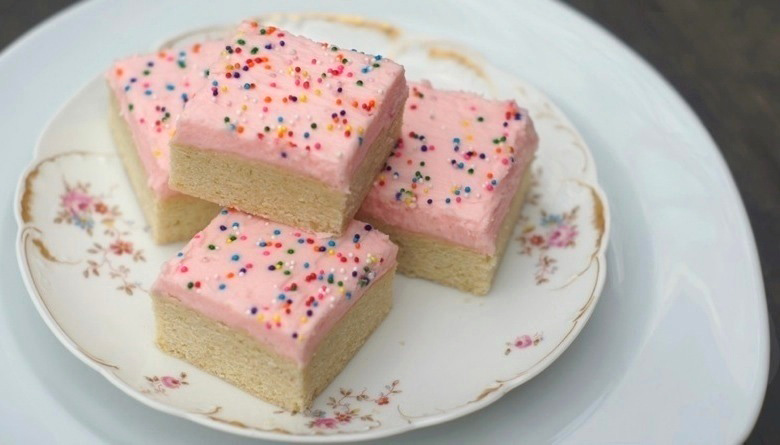 This month I participated in a fun blogger event — the secret recipe club. how does it work, you ask? Every participating blogger is secretly assigned another blog + chooses a recipe from that blog to make. On reveal day (today!), all of our posts go up at the same time, so everyone gets to see who was assigned to their blog, which recipe they chose, + how it turned out. Fun, huh?
This month, I was assigned to the blog frugal antics of a harried homemaker, + when I stumbled across her post on homemade sugar cookie bars, I knew I had to look no further – I had found the recipe that I wanted to make. so, how did they turn out? Absolutely, positively amazing. For real.
As some of you know, I'm frequently take-it-or-leave-it when it comes to sweets, but I was definitely all 'take it' when it came to these bars. The sugar cookie part is just sweet enough, with a wonderfully buttery flavor + a lovely, soft texture. The homemade buttercream frosting adds a brighter, richer sweetness, which pairs perfectly with both the flavor + texture of the cookie. Add a bit of pretty color to the frosting (I opted for pink) + some colorful sprinkles + BAM! A delicious, fun dessert.
These were a huge hit with everyone who tried 'em, + I honestly felt a bit gloomy when there were no more left to be eaten. I will definitely be making these quick, easy-to-make treats again soon – thanks to kristen at frugal antics + the secret recipe club for helping me find a new go-to dessert!
Sugar Cookie Bars

makes about 2 dozen bars (depending on how big you cut them), adapted from Mel's Kitchen Cafe, and frugal antics of a harried homemaker

Ingredients

For the bars:
3/4 cup butter (1 1/2 sticks), softened to cool room temperature
3/4 cup granulated sugar
1/4 cup powdered sugar
2 large eggs
1 teaspoon vanilla extract
1/2 tablespoon lemon zest (optional)
2 1/4 cups all-purpose flour
1 teaspoon baking powder
1/2 teaspoon salt

For the frosting:
6 tablespoons butter, softened
2 1/2 cups powdered sugar
3 tablespoons milk or cream
1/4 teaspoon vanilla extract
Sprinkles (optional)

Directions

Preheat the oven to 375 degrees F.

In the bowl of a stand mixer, mix together the butter, granulated sugar and powdered sugar at a medium speed until light and fluffy – about 2 minutes. Add the eggs and vanilla and mix for 1-2 minutes more. Stir in the lemon zest, flour, baking powder and salt. Mix until just combined – do not overmix.

Lightly grease a 9×13-inch baking pan with cooking spray. Press and/or spread the sugar cookie mixture gently into an even layer into the bottom of the pan. (Amy's note: your hands are the best tool to easily press the dough into the pan, if you don't mind getting a little messy).

Bake for 10-13 minutes. Don't overbake! The bars shouldn't have any color around the edges and barely be set in the middle. Let the bars cool completely before frosting.

For the frosting, using a stand mixer, beat together the butter and powdered sugar until smooth. Add in the vanilla extract and mix. Add the milk or cream and mix until the frosting is light and fluffy. Add the optional food coloring, if desired.

Frost the cooled bars with the frosting, using an offset spatula, and top with sprinkles, if desired. Cut into bars — 18, 24, or more, depending on how big you want them, and serve! These bars are quite rich, so smaller squares may be preferable.

*Amy's note: These were even softer + more delicious after being stored in an airtight container/tupperware overnight. I recommend making them one day before you want to eat 'em, storing them overnight, then serving them the next day. They'll keep for about a week in an airtight container, but they definitely won't last that long!

print this recipe