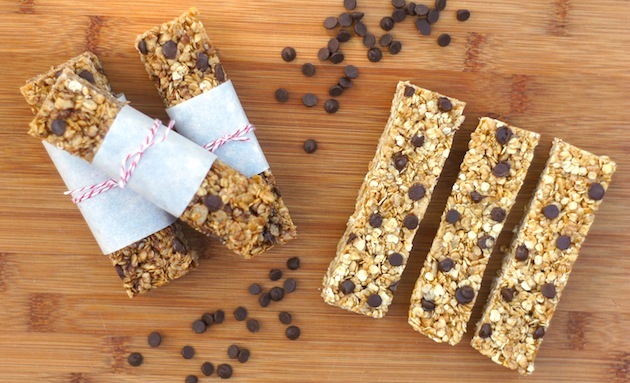 i've been wanting to make homemade granola bars for months now. despite bookmarking, dog-earing, + pinning dozens of them, i still hadn't given them a try until yesterday. what made things change? within a few hours, i stumbled across not one, not two, but three different blogs that mentioned them. i took it as a sign from the snack gods that it was time for me to give them a try!
so, how were they? amazing! while i always thought i liked the store-bought version, i don't know if i'll ever be able to go back to those now. these granola bars taste so much lighter, fresher, + more real than their store-bought cousins. they're perfectly sweet, with a lovely honey flavor that works wonderfully against the earthier oats + cereal, + the rich bursts of chocolate.
i wound up making two versions: the original chocolate chip version pictured on the above right, + a doubly chocolately version, pictured on the above left + below. see how the double chocolate version looks darker? that's because i added a 1/4 cup of chocolate chips to the cereal/oats/syrup mix before pressing it into the pan. the original version (above right) only has the chocolate chips sprinkled on the top. both are truly fantastic, so whichever version you choose will depend on how much chocolate you need in your life on that particular day. =)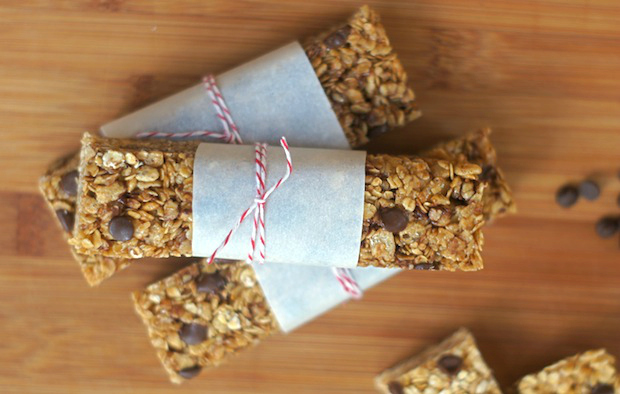 this recipe is also linked up at foodie friends friday!
no-bake chewy chocolate chip granola bars

makes 10 bars, adapted from rachael ray, as seen on lauren's latest

ingredients

1/4 cup unsalted butter
1/4 cup honey
1/3 cup packed brown sugar
2 cups quick cooking oats
1 cup crispy rice cereal
1/2 teaspoon vanilla extract
pinch of kosher salt
2 tablespoons mini chocolate chips (plus an additional 1/4 cup of mini chocolate chips if you want to make the double-chocolate version)

directions

lightly grease a small jelly roll pan or baking pan. set aside.

in a large bowl, stir oats + rice cereal together. set aside.

in a small pot, melt butter, honey + brown sugar together over medium high heat until it comes to a bubble. reduce the heat + cook 2 minutes, until the sugar dissolves. carefully pour in vanilla extract (it will bubble up a bit), a pinch of salt, + stir. remove from heat.

pour syrup over dry ingredients + mix well to moisten all ingredients. (if making the double-chocolate version, fold in a 1/4 cup of the mini chocolate chips now, too). pour into your prepared jelly roll pan/baking sheet + press out to be about 3/4 inch in thickness. if your pan isn't small enough, pack the mixture into one side. you really want to press them down so they stick together. sprinkle with 2 tablespoons mini chocolate chips + press down lightly.

cool on a countertop to room temperature for two hours or until the chocolate chips are set before cutting into bars. store in an airtight container at room temperature.

print this recipe