first , apologies for not posting in over a week. my beloved computer croaked last week, leaving me without a way to blog + edit photos. oh, the horror! luckily, my wonderful new computer has arrived + thus, blogging can re-commence! now, on to more important things, like this soup.
is there any meal as deliciously comforting as a bowl of tomato soup + a homemade grilled cheese sandwich? nope? i didn't think so. believe it or not, my husband recently revealed that he had never eaten a homemade grilled cheese before – how crazy is that? so, on a chilly night a few weeks ago, i decided to show him how truly fantastic the classic pairing of grilled cheese + tomato soup can be. that meal, and this soup? absolutely, positively delicious.
this soup is wonderfully creamy, rich, + decadent. between the butter, bacon, veggies, thyme + half-and-half, it really packs an amazing flavor punch. the smokiness of the bacon adds a great depth to the soup, so if you're vegetarian, use liquid smoke instead of bacon so you can still get that great note. the soup is amazing served simply with a fresh hunk of baguette, + even better when paired with a delicious grilled cheese sandwich hot off the griddle.
as a testament to how delicious this soup is, i had a completely different meal planned for last night's dinner. but, after writing this post + remembering how delicious it was, i changed gears + decided to make this soup, paired (yet again!) with homemade grilled cheese. + it was as scrumptious last night, if not more so, than i remembered it being. don't you love it when that happens?!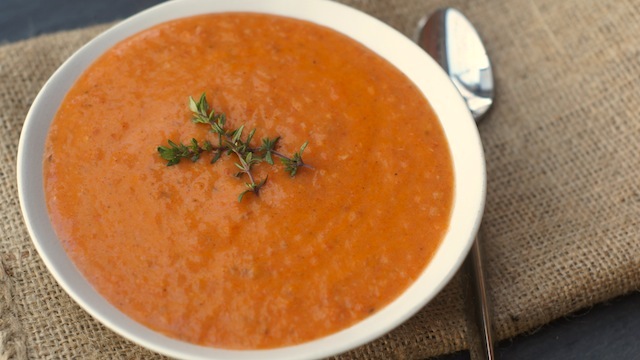 creamy tomato soup

makes 4-6 servings, adapted from food network kitchens

ingredients

3 tablespoons unsalted butter
2 slices bacon, finely chopped (or substitute liquid smoke – see note above)
1 onion, diced
1 carrot, diced
1 stalk celery, diced
5 cloves garlic, finely chopped
4 tablespoons all-purpose flour
4 1/2 cups low-sodium chicken broth (or substitute vegetable stock)
1 (28-ounce) can whole, peeled tomatoes
1 tablespoon tomato paste
1/4 teaspoon crushed red pepper (optional)
5 fresh thyme sprigs
2 bay leaves
1/2 cup heavy cream or half-and-half
kosher salt + freshly ground black pepper, to taste

directions

heat the butter in a large soup pot over medium-high heat. add the bacon + cook, stirring, until crisp + most of the fat has rendered, about 1 minute. using a slotted spoon, transfer the bacon to a paper towel-lined plate + set aside.

lower the heat to medium, add the onion, carrots, celery, + garlic + cook, covered, stirring occasionally, until soft + fragrant, about 8 minutes. stir in the flour + cook, stirring, for 3 minutes. pour in the broth + crush the tomatoes through your fingers into the pan.

bring to a boil while whisking constantly. add in the thyme springs (make sure you count them so you know how many stems to pull out later) bay leaves, tomato paste, reserved cooked bacon pieces, + crushed red pepper, if using. lower the heat + simmer for 20 minutes. remove from the heat + let cool.

remove + discard the thyme stems + bay leaves. if you have an immersion blender, you can puree the soup directly in the pot. otherwise, working in batches, transfer the mixture to a blender/food processor + puree until smooth. return the puree to the pot + reheat over medium heat. whisk in the heavy cream or half-in-half, + salt + pepper to taste. divide among warm soup bowls + serve immediately.

print this recipe