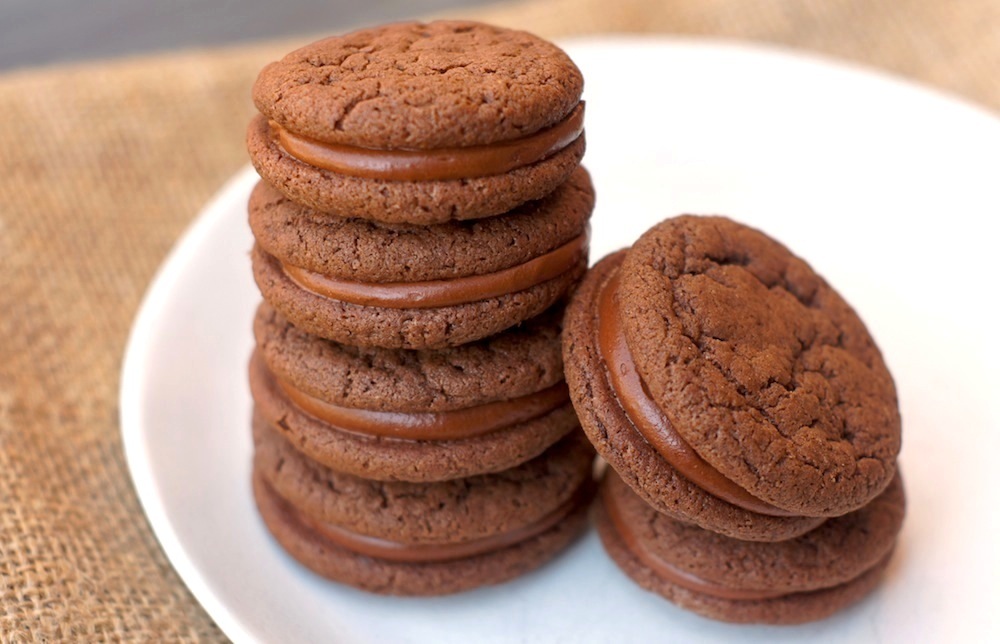 one of the greatest perks of blogging has been the wonderful connections + friends i've made, both near + far. during my nearly 16 months of blogging, i've been privileged to follow friends-i-made-online through book deals, promotions, engagements, marriages, pregnancies, + more. i was beyond excited last year when food blogger friend brooke announced that she + her husband were expecting not one, but two little ones – that's right, twins!
so, when our mutual friend caroline suggested that a bunch of us throw a surprise virtual baby shower for brooke, i was in! just like a real baby shower, we decided who would bring what, + rather than choosing an actual location/time to have a party (since we're all in different parts of the country), we choose a place (our blogs) + time (now!) to post our virtual baby shower creations.
so what did i bring to the party? i bookmarked these delicious-sounding malted chocolate sandwich cookies a while back, waiting for the perfect excuse to give them a try + knew that the time was now! and the result? amazing. seriously, these might be the best cookies i've made – everyone who tried 'em gave rave reviews! the cookies are rich, flavorful, + wonderfully soft (which i love – no crispy cookies for me, please!), + the malted chocolate buttercream in between? absolute perfection.
+ the best news of all? brooke's baby boys decided to arrive a bit early, not unusual for twins, + were born on march 5! big congrats to brooke + her husband on their two new bundles of joy!
so, what did everyone else make for the virtual baby shower? scan down for pics + links to everyone's creations, as well as the full recipe for my malted chocolate sandwich cookies!
vanessa from life undeveloped made green pea pesto crostini (below left):
mary from fervent foodie made tomato basil bruschetta (below right):

cassie from bake your day made baby spinach "bassinets" (below left):
lauren from lauren's latest made cuban pork sliders: (below right):
caroline from chocolate + carrots made two-peas-in-a-pod cookies (below top left):
julie from table for two made dark chocolate cupcakes with vanilla bean frosting (below lower left):
+ i made the malted chocolate sandwich cookies i just told you all about! (below right):
malted chocolate sandwich cookies

makes about 20 sandwich cookies, adapted from martha stewart

ingredients

for the cookies
2 cups plus 2 tablespoons all-purpose flour
1/2 cup unsweetened dutch-process cocoa powder
1/4 cup plain malted milk powder
1 teaspoon baking soda
1/2 teaspoon coarse salt
1 cup (2 sticks) unsalted butter, room temperature
1 3/4 cups sugar
1 large egg
2 teaspoons pure vanilla extract
1/4 cup creme fraiche or sour cream
3 tablespoons hot water

for the filling
10 ounces semisweet chocolate, coarsely chopped
4 tablespoons (1/2 stick) unsalted butter, cut into small pieces
1 cup plain malted milk powder
3 ounces cream cheese, room temperature
1/4 cup plus 2 tablespoons half-and-half
1 teaspoon pure vanilla extract

directions

preheat oven to 350 degrees.

make cookies: sift together flour, cocoa powder, malted milk powder, baking soda, + salt. with an electric mixer, beat butter + sugar on medium-high speed until pale + fluffy. mix in egg, vanilla, creme fraiche or sour cream, + hot water. reduce speed to low; mix in flour mixture.

space tablespoon-size balls of dough 3 1/2 inches apart on parchment paper-lined baking sheets. bake until flat + just firm, 10 to 12 minutes. let cool on parchment on wire racks.

make filling: melt chocolate + butter in a heatproof bowl set over a pan of simmering water, stirring. let cool. with an electric mixer, beat malted milk powder + cream cheese on medium speed until smooth. gradually mix in half-and-half, chocolate mixture, + vanilla. refrigerate, covered, until thick, about 30 minutes. mix on high speed until fluffy, about 3 minutes.

assemble cookies: spread a heaping tablespoon filling on the bottom of one cookie. sandwich with another cookie. repeat until all cookie sandwiches are made.

cookies will keep for about a week in an airtight container, although i guarantee they'll be gone long before then!. =)

print this recipe