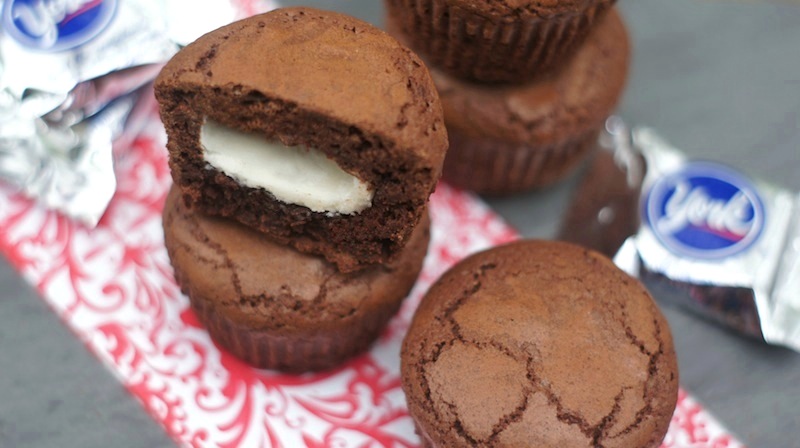 Today, I'm participating in a fun monthly blogger event — the secret recipe club. How does it work? Every participating blogger is secretly assigned another blog + chooses a recipe from that blog to make. On reveal day (today!), all of our posts go up at the same time, + everyone gets to see who was assigned to their blog, which recipe they chose, + how it turned out. Fun, huh?
This month, I was assigned the blog baking + creating with avril + as I starting looking through her wonderful creations, I knew I'd have no trouble finding a recipe to make. When I came across her post for york peppermint patty brownies, I knew I had found a winner. I'm a huge fan of the chocolate/mint combo (as you may know from this recent post), so I decided to give them a try.
But wait! As I was about to start baking, I remembered something. I had seen a very similar recipe in martha stewart's cupcakes. The difference? Martha's brownie batter was baked in a muffin tin to make individual brownie 'cupcakes' rather than in a single pan + cut into squares. With this in mind, I adapted the recipe from Avril's blog, making brownie 'cupcakes' rather than the traditional squares.
So, how'd they turn out? First, let me say that baking brownies in a muffin tin is genius. The individual brownies are a perfect single serving, + frankly, adorable. They turned out positively scrumptious – moist + seriously chocolatey, with a perfect hint of mint. I worried that the mint overpower them, but it didn't – the rich brownie perfectly balances it + even people who don't normally like chocolate/mint desserts (ahem, my husband) said that these were amazing. Hooray!
Thank you to avril for introducing me to a fabulous new dessert, + to the secret recipe club for connecting me, yet again, with fantastic bloggers + amazing recipes!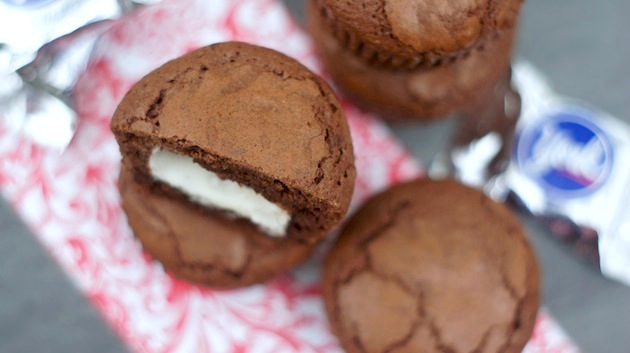 Peppermint Patty-filled Brownie Cupcakes

makes 12 cupcakes, adapted from martha stewart's cupcakes + baking + creating with avril

ingredients

8 ounces semisweet chocolate
½ cup (1 stick) unsalted butter, room temperature
1 cup granulated sugar
¾ teaspoon salt
3 large eggs
1 teaspoon vanilla extract
½ cup flour
¼ cup unsweetened cocoa, sifted
12 mini york peppermint patties

directions

preheat oven to 350°F. line a muffin tin with 12 paper liners.

melt chocolate + butter together in a double boiler. stir occasionally just until melted, around 4 to 5 minutes.

remove the mixture from heat. whisk in the sugar + salt until the mixture is smooth. whisk in the eggs + vanilla until combined. gently whisk in the flour + cocoa just until smooth, taking care not to overmix.

spoon 1 heaping tablespoon of batter into each lined cup of the muffin tin. place 1 peppermint patty on top of the batter in each liner, pressing down gently to push the peppermint patty into the batter. spoon another tablespoon of batter into each liner, making sure to completely cover each patty.

bake at 350°F for 30 minutes, or until a cake tester inserted halfway into the cupcakes (above the peppermint patty) comes out mostly clean. let them cool completely, then serve with or without paper liners still attached.

print this recipe