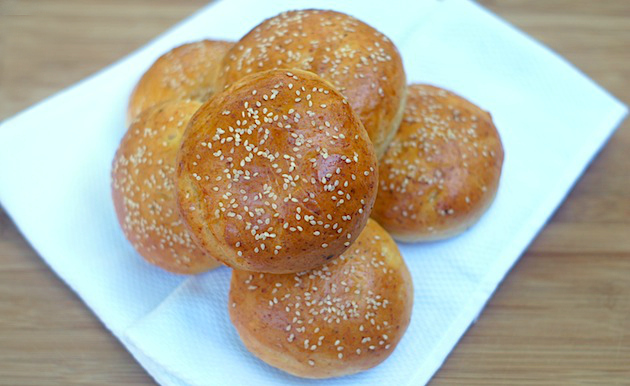 today, i'm participating in a fun monthly blogger event — the secret recipe club. how does it work? every participating blogger is secretly assigned another blog + chooses a recipe from that blog to make. on reveal day (today!), all of our posts go up at the same time, + everyone gets to see who was assigned to their blog, which recipe they chose, + how it turned out. fun, huh?
this month, i was assigned kudos kitchen by renee, a wonderful blog full of amazing recipes + adorable crafts. after looking through tons of her delicious recipes, i was especially intrigued by her homemade garlic + cheese burger rolls. i love making my own bread (as evidenced by these baguettes, pitas, + tortillas), + we've been grilling lots of burgers now that the weather is warmer, so i knew that this was the recipe to try.
i had never made rolls/buns before, but renee's recipe + instructions were so easy to follow that making these was a cinch! they came together easily + quickly, + i was so impressed with the results. i worried mine would be lumpy + lopsided, but they turned out looking beautiful! flavor-wise, the garlic + cheese notes come through beautifully, + the flavors work perfectly with a juicy grilled hamburger. the texture also turned out great – they are soft, while still being substantial enough to hold up to a good-sized burger. i also love their versatility – while i made them to serve with burgers, they'd be fab for any ol' sandwich, or even just warm, served with butter.
another month participating with the secret recipe club, another huge success! thank you renee for this fabulous recipe – i don't think i'll ever buy burger rolls again – your homemade version is so much tastier, so gorgeous + so easy to make!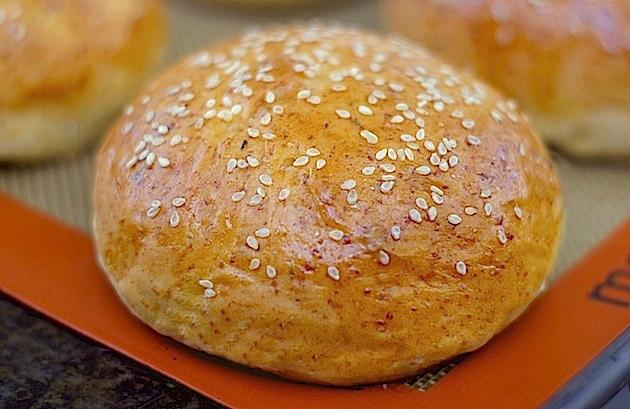 garlic, cheddar, + parmesan rolls

makes 10 rolls, adapted from kudos kitchen by renee

ingredients

2 1/4 teaspoon instant yeast
1/4 cup water
1 cup milk
1 1/4 teaspoon salt
1 tablespoon sugar
3 1/2 cups all-purpose flour
1 cup grated cheese – i used a 1/2 cheddar + 1/2 parmesan, but you can use whatever type you like
2 tablespoons olive oil
1 tablespoon garlic powder
1 teaspoon dried oregano
1 egg, lightly beaten – for the egg wash
sesame seeds for garnish (if desired)

directions

combine water + milk in a microwave-safe container + heat until just warm to the touch – for me, this only took about 30 seconds in the microwave.

in the bowl of a stand mixer fitted with the paddle attachment, combine all ingredients (including water + milk) except the egg wash + sesame seeds, + mix on the lowest speed for one minute. dough should form a shaggy bowl. allow to rest, uncovered, for 5 minutes. then, mix on a medium-low speed with the dough hook for 4-5 minutes, until the dough is soft + smooth + no longer sticky. if sticky, add a bit of additional flour to reach the desired consistency.

place dough in a well oiled bowl (turning once to oil the top), cover + rest for an hour in a warm spot, until the dough has doubled in size.

after dough has doubled, punch down + divide into 10 equal portions. roll each portion into a ball + slightly flatten to make your desired bun shape. place buns on a parchment- or silpat-lined baking sheet. brush tops of buns with egg wash + sprinkle sesame seeds on top.

place the baking sheet in a warm, draft-free spot + allow the buns to proof uncovered for another 45 minutes. they should be roughly doubled in size again. while they are rising, preheat the oven to 350 degrees.

bake buns for 30 minutes at 350 degrees, until they are golden brown + cooked through. allow to cool completely before slicing for burgers or sandwiches, or just eat 'em warm as is with butter!

print this recipe