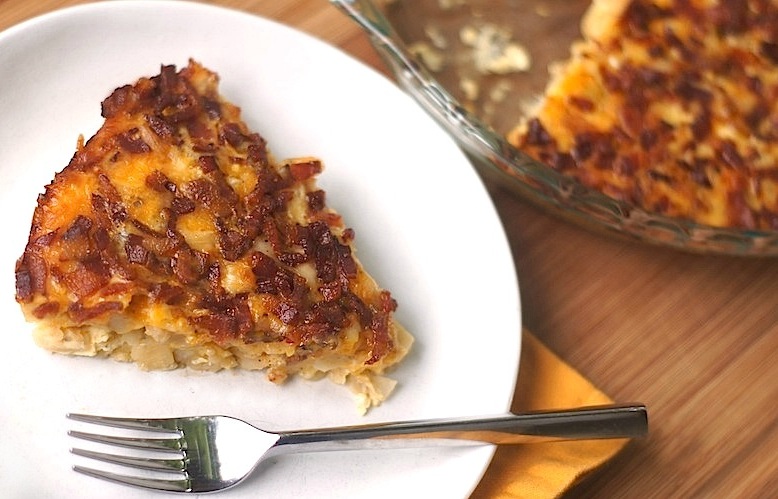 I generally dislike breakfast casseroles. You're probably thinking, uh … so why are you posting about a breakfast casserole? Because, this is honestly the first one that I've loved. In the past, I've found them to be too eggy, too soggy, too bland. But this one? Perfection. I made it for Mother's Day brunch on Sunday + it was so good that upon returning home from brunch (where every last bite of it was consumed), I made ANOTHER casserole for my husband + I to enjoy this week. Pretty shocking for a brunch casserole hater like me!
What makes this so delicious is the wonderful layers of flavor. I tweaked the original recipe to add more depth + seasoning + am so glad I did. It starts with a layer of hash brown potato cubes, flavored with sautéed onions, garlic, paprika, + bacon. Then, a layer of cheddar + pepper jack cheeses for richness + creaminess. Next, a layer of sautéed green onions for more savory notes + depth. Then, a layer of bacon, which adds saltiness, smokiness + frankly, awesomeness. Top it all with a few eggs whisked with milk, salt + pepper, which binds everything together, adding body without making it overwhelmingly eggy + you have a recipe for brunchy success!
So, next time you're looking for a savory breakfast dish, you've gotta try this! The best part? the entire thing is prepped the night before, so on the day of, all you have to do is pop it in the oven, give it about 45 minutes, + it's ready to go!
Easy Potato, Bacon + Egg Breakfast Casserole

serves about 6-8, adapted from our best bites
*note: this recipe is easily halved. halve all ingredients, then bake in an 8″x8″ dish, 9″x9″ dish or, as pictured above, a 9″ pie plate.

ingredients

1 12-oz. package bacon, chopped into bacon slivers
2 onions, chopped
4 cups country-style hash browns (cubes), fully thawed
1 teaspoon garlic powder
1 teaspoon paprika
1 1/2 cups pepper jack cheese, shredded
1 1/2 cups cheddar cheese, shredded
1 bunch (about 6) green onions, white + light green parts only, thinly sliced
4 eggs
1 cup milk
1 tsp. kosher salt
1/2 tsp. freshly ground black pepper

note: for high altitudes, reduce milk to 2/3 cup + sauté the potatoes in rendered bacon fat (or olive oil or butter) until partially cooked before baking.

directions

cook bacon in a large skillet over medium heat until browned + crisp. when the bacon is done cooking, transfer to a paper towel-lined plate to drain, + pour off all but two tablespoons of the bacon drippings from the pan.

return the pan to the heat + add in the chopped onions. cook until the onions are translucent (about 5-8 minutes), season to taste with salt + pepper, then add in the hash brown cubes, garlic powder, + sweet paprika. sauté over medium heat for 2-3 minutes, tossing frequently to combine all ingredients. add more salt/pepper if needed.

transfer potato/onion mixture to a 9″x13″ baking dish (or two 9″x9″ baking dishes or 9″ pie plates) + spread out evenly.

meanwhile, add the sliced green onions to the same pan + sauté for 2-3 minutes, until soft + fragrant. remove from heat + reserve.

in a medium bowl, combine the pepper jack + cheddar cheeses until blended, then spread over the potato/onion mixture. next, spread the cooked green onions evenly over the cheese layer. then, spread the crumbled bacon on top, evenly.

in a separate medium bowl, whisk together eggs, milk, salt, + pepper until well-combined. pour the egg mixture evenly on top of the potato/cheese/bacon layers. cover + refrigerate overnight (at least 8 hours).

when ready to bake, preheat the oven to 350°. bake, uncovered, for 40-45 minutes or until the cheese is bubbly + golden brown. allow to stand for 15 minutes before cutting.

print this recipe