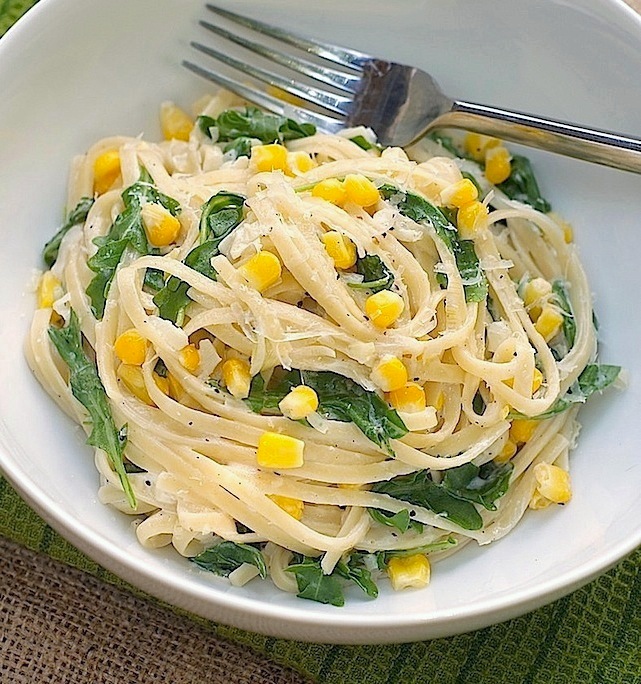 today, i'm participating in a fun monthly blogger event — the secret recipe club. how does it work? every participating blogger is secretly assigned another blog + chooses a recipe from that blog to make. on reveal day (today!), all of our posts go up at the same time, + everyone gets to see who was assigned to their blog, which recipe they chose, + how it turned out. fun, huh?
this month, i was assigned tammy's blog, koreafornian cooking, which she describes as korean cooking with a californian spirit. her blog is full of an amazing variety of recipes, + i loved looking through them all, deciding which to make. the recipe that i chose? a creamy summer pasta with local corn, baby arugula + leeks. i adore simple, fresh, veggie-heavy pasta dishes, so i knew i had to try it.
so, how did it turn out? just lovely! the sweetness of the corn, the peppery notes of the baby arugula + the creaminess of the sauce complement each other perfectly. the sauce is lush + rich without being heavy, balanced wonderfully by  the bright notes from the veggies. it made a perfect summery vegetarian meal + would be great for meat-eaters, too, by adding some sliced grilled chicken on top. i ate every last bite over the course of two days – always a sign of a winning meal. =)
thank you to tammy for introducing me to this fabulous new meal, + to the secret recipe club for connecting me with fantastic bloggers + amazing recipes!

my previous secret recipe club posts:
lime + raspberry squares with pistachio-graham crust
garlic, cheddar + parmesan rolls
peppermint patty-filled brownie cupcakes
sugar cookie bars
chocolate cheesecake with dark chocolate drizzle
creamy fettuccine with corn + arugula

serves 4, adapted from real simple, as seen on koreafornian cooking

ingredients

12 ounces fettuccine or linguine (3⁄4 box)
1 tablespoon olive oil
2 leeks (white + light green parts only), cut into thin half-moons
4 cloves garlic, thinly sliced
kosher salt + cracked black pepper to taste
1 cup corn kernels (from 1 to 2 fresh ears, or frozen)
1/2 cup dry white wine
3/4 cup half-and-half
2 cups baby arugula (1 1⁄2 ounces)
1/4 cup grated pecorino or parmesan (1 ounce)

directions

cook the pasta according to the package directions. reserve 1/2 cup of cooking liquid, set aside, + drain.

meanwhile, heat the oil in a large skillet over medium-high heat. add the leeks, garlic, 1/2 teaspoon salt, + 1/4 teaspoon pepper. cook, stirring occasionally, until tender, 3 to 4 minutes.

add the corn + wine. simmer until the corn is tender, 2 to 3 minutes. stir in the half-and-half.

add the pasta, season with 1/2 teaspoon salt + 1/4 teaspoon pepper, + toss to combine. fold in the arugula. if needed, add a little of the reserved pasta cooking liquid to achieve your desired consistency (i only added about 1/8 cup). add more salt/pepper if needed. sprinkle with the pecorino or parmesan immediately before serving.

print this recipe