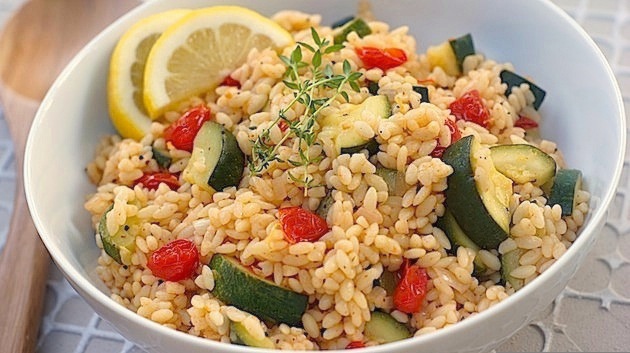 today, i'm participating in a fun blogger event — the secret recipe club. how does it work? every blogger is secretly assigned another blog + chooses a recipe from that blog to make. on reveal day (today!), all of our posts go up at the same time, + everyone gets to see who was assigned to their blog, which recipe they chose, + how it turned out. fun, huh?
this month, i was assigned my judy the foodie, a lovely blog where shari chronicles her life + memories of her wonderful mom (Judy) through cooking. there were tons of awesome recipes on shari's blog, but it wasn't hard for me to choose what to make. why? because there was a recipe that involved both pasta AND lemon, which are my two favorite foods/flavors in the world. when i saw her recipe for lemon orzo with sautéed veggies, i was all over it!
so, how was it? so amazing! i actually said to my husband, 'this might be my favorite pasta dish of all time,' which says a lot, considering what a pasta junkie i am. it was perfect – lemony, fresh + light. i served it warm, as a side dish alongside chicken for dinner, but it was also fantastic cold, as a pasta salad, the next day. i love a versatile dish like that! i preferred the warm version slightly, as it brings out more flavor from the lemon + herbs, but it really was delicious both ways. if you love lemon + pasta, like me, you've gotta try this!
thank you to shari for introducing me to this fabulous dish, + to the secret recipe club for connecting me with fantastic bloggers + amazing recipes!

my previous secret recipe club posts:
creamy fettuccine with corn + arugula
lime + raspberry squares with pistachio-graham crust
garlic, cheddar + parmesan rolls
peppermint patty-filled brownie cupcakes
sugar cookie bars
chocolate cheesecake with dark chocolate drizzle
lemon orzo with sautéed zucchini + tomatoes

serves 3-4 as a side dish, adapted from the novice chef blog, as seen on my judy the foodie

ingredients

1 cup orzo (tri-color orzo is pretty if you can find it in your local store)
8 cups water
1 tbsp. chicken bouillon granules (optional: this is for cooking your orzo – it'll add more flavor, but is optional)
1 tbsp. olive oil
1 large zucchini, chopped
15-20 cherry tomatoes, halved
1 large shallot, finely chopped
2 cloves garlic, minced
1 tsp. fresh thyme, minced
1 tbsp. lemon zest (from about 1 lemon)
juice from 1/2 a lemon
kosher salt + fresh black pepper

directions

bring water + bouillon to a boil in a pot over high heat. add orzo + cook according to package, about 9 minutes, or until al dente. drain, set aside.

in a large skillet over medium-high heat, add olive oil. wait for the skillet to heat up a bit, then add shallot + garlic. cook for 3-4 minutes, until softened + fragrant. add zucchini + cherry tomatoes, + sauté for about 5 more minutes, or until the zucchini is tender + the tomatoes are softened. add the thyme + cook for one minute more.

remove from heat + add lemon zest + lemon juice, plus salt + pepper to taste, stirring well. then toss with orzo until well-combined. add more salt + pepper if needed. serve immediately, warm, or chill + serve as a pasta salad.

print this recipe