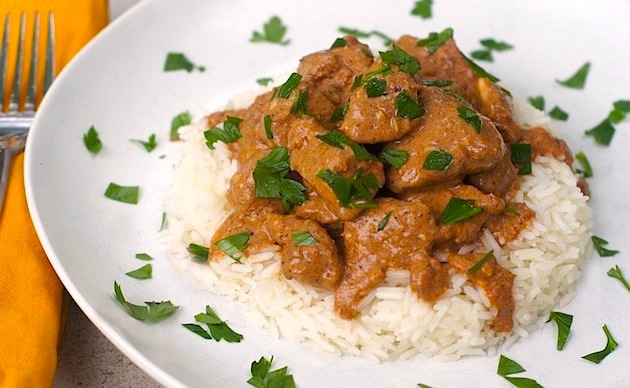 i love indian food. i tried it for the first time when i was in college, + have been hooked ever since. there are so many wonderful, exotic flavors + spices in indian cooking + with lots of rich, savory sauces + curries, it's total comfort food for me. until recently, i hadn't tried making much of it at home, but when i was perusing slow cooker recipes to make with my new crock-pot, i stumbled across a recipe for slow-cooker chicken tikka masala + knew that i had to try it ASAP.
so how did it turn out? AMAZING! if you've never had chicken tikka masala before, allow me to describe: it's pieces of tender, juicy chicken marinated in yogurt + spices, served in a delicious tomato cream sauce. using the crock-pot to make this made the chicken turn out wonderful – it was literally fall-apart tender, + packed with so much excellent flavor. + the sauce? to die for. full of delightful, savory spices + flavors, with just a hint of spiciness. we served it with both rice AND naan, which turned out to be a wise decision, as we wanted to sop up every last bit of that delicious sauce.
i hope that y'all try this soon, whether you're already an Indian food lover or if you're someone who still hasn't tried Indian cuisine. it truly is wonderful + i know you'll be oh-so-happy you made it!
slow-cooker chicken tikka masala

serves about 4, adapted from tasty kitchen

ingredients

for the chicken:
4 boneless, skinless chicken breasts (or 9 boneless, skinless chicken thighs if you prefer dark meat)
1 tablespoon ground coriander
1 tablespoon ground cumin
1 teaspoon kosher salt
1 cup yogurt
4 tablespoons unsalted butter
1 whole jalapeño pepper, stem removed, pierced several times with a fork

for the sauce:
4 tablespoons unsalted butter
1 whole large onion, peeled + diced
6 cloves garlic, peeled + minced
1 tablespoon kosher salt
3 tablespoons garam masala
1/2 teaspoon turmeric
1/2 teaspoon paprika
1 piece fresh ginger (about 2-3″ long), peeled + grated
4 cups crushed tomatoes
1 tablespoon sugar
2 teaspoons cornstarch
1 1/2 cups heavy cream

directions

cut the chicken into 1 1/2″ pieces + put into a bowl. sprinkle the coriander, cumin + salt over the chicken, then stir in the yogurt until all the pieces are evenly coated. cover lightly + let sit for 10 minutes before proceeding.

melt 2 tablespoons butter in a large saute pan over medium heat. when hot, quickly brown about 1/2 of the chicken. transfer browned chicken to the slow cooker. melt another 2 tablespoons butter in the same pan, brown the rest of the chicken, + transfer to the slow-cooker. put the pierced jalapeno in on top of the chicken.

prepare the sauce: using the pan you browned the chicken in, melt the remaining 4 tablespoons butter over medium-high heat. add the onions, garlic, + 1 tablespoon kosher salt, then stir. cook, stirring frequently, until the onions begin to lightly brown around the edges.

stir in the garam masala, turmeric, + paprika, + ginger and cook until fragrant (about 1 minute), then raise the heat to high + add the crushed tomatoes + sugar. stir well, scraping the caramelized bits from the bottom of the pan, + bring to a boil. allow to boil for 1 minute, then remove from heat + pour over the chicken in the slow-cooker.

cover + cook on LOW for 4 hours if using chicken breasts + 5 hours if using chicken thighs, or until the chicken is very tender.

use a fork or whisk to stir the cornstarch into the heavy cream until smooth. pour into the slow-cooker + stir gently until the color is even. replace the lid + let cook for 10 minutes or until bubbly around the edges. salt + pepper to taste (be careful, it'll be hot!), then serve with hot buttered rice and/or naan.

discard jalapeño before putting leftovers in the refrigerator, as jalapeños can continue to release heat/spiciness into the leftovers over the next few days.

print this recipe