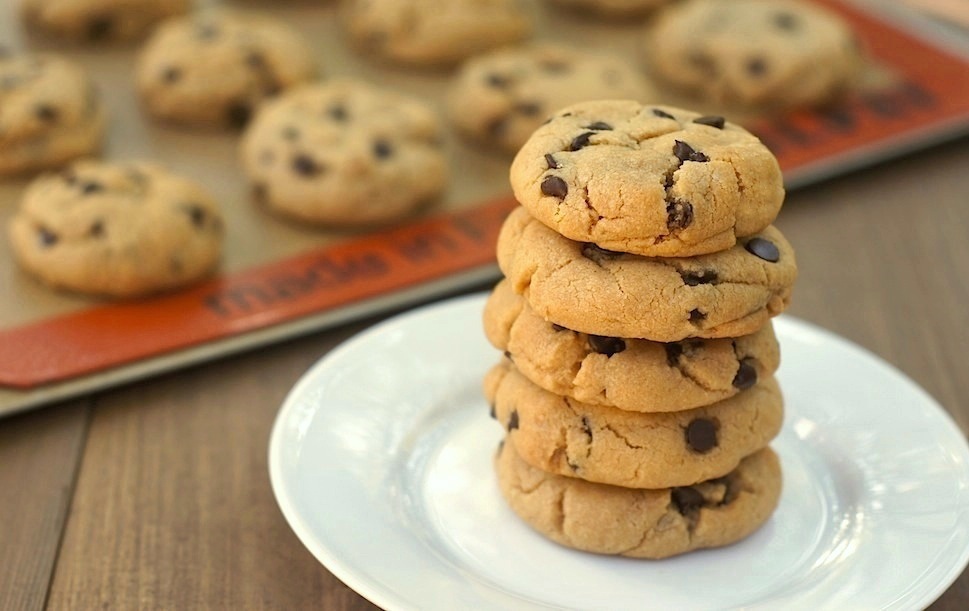 this was not the recipe i initially planned to share with you today. instead, i had yet another slow cooker recipe ready to go. but, after making these cookies yesterday afternoon, they were SO darn tasty that i couldn't wait to share 'em. plus, i thought y'all might want a break from my insane crock-pot addiction. =) i hope you don't mind me posting two sweets posts in one week!
anyway, we had workers at our house yesterday + of course, they parked their trucks such that i was blocked in. i took that as a sign that i should bake something using ONLY ingredients already in the house. a quick look through the pantry revealed that we had all the usual cookie-making staples, plus a whole lotta peanut butter + chocolate chips, so that settled it: peanut butter chocolate chip cookies.
so, how'd they turn out? absolutely delicious. they are delightfully soft, melt-in-your-mouth peanut buttery, with a perfect burst of bright richness from the chocolate chips. i sampled one, then another, then another – they're definitely addictive. i've tried many peanut butter cookie recipes before, + i do believe that this one takes the cake (or should i say, takes the cookie!) as my favorite. so, next time you're needing a peanut butter + chocolate fix, give these delicious cookies a try!
(oh, + if you're a huge chocolate + peanut butter fan like me, check out these dark chocolate cupcakes with peanut butter frosting – they are divine!)
soft peanut butter chocolate chip cookies

makes about 2 dozen cookies, adapted from sally's baking addiction

ingredients

1/2 cup (1 stick) unsalted butter, softened to room temperature
1/2 cup light brown sugar
1/4 cup sugar
1 egg
3/4 cup creamy peanut butter
1 tsp vanilla extract
1/2 tsp baking soda
1 1/4 cups all purpose flour
3/4 cup mini chocolate chips

directions

in a large bowl, using a hand-held mixer or stand mixer with paddle attachment, cream the butter + sugars together on medium speed. mix in the peanut butter, egg, + vanilla (in that order). slowly mix in the baking soda, flour, + salt, taking care not to not overmix. fold in the chocolate chips. chill the dough for at least 30 minutes.

preheat oven to 350 degrees. drop chilled dough by heaping tablespoonfuls onto a parchment or silpat-lined cookie sheet. bake for 8-10 minutes. cookies will be soft + may appear not completely done, but they will firm up as they cool.

allow to cool completely on a wire rack + enjoy!

print this recipe