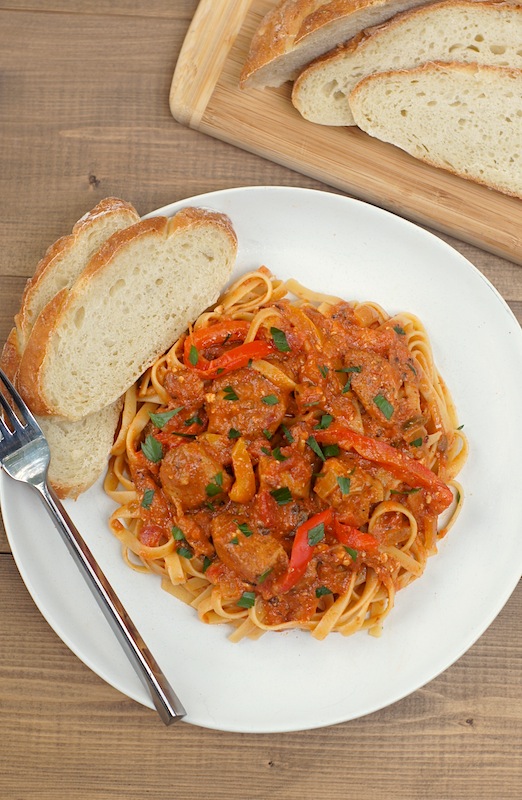 hi, my name is amy + i'm a pastaholic. i could easily eat pasta every day, preferably multiple times a day, accompanied by homemade bread (recipe for the bread pictured here will be on the blog within a few weeks!). you won't see me doing a low-carb diet any time soon.=)
i've already told you about my love for my new-ish crock-pot + slow-cooker recipes, so it was only natural that i combine my love of pasta with my love of the slow-cooker. + thus, this cajun chicken pasta was born! so, how did it turn out? absolutely amazing. it was my husband who suggested that i come up with a cajun chicken pasta recipe + after eating this, i must've thanked him, no joke, 20 times for suggesting it. it really might be my new favorite pasta recipe. it's full of flavor, from the juicy, tender chicken to the savory, spicy peppers + onions, + the rich, addictive, creamy cajun sauce.
so, fellow lovers of scrumptious pasta dishes, give this seriously fantastic recipe a try – you'll love it!
this recipe is also linked up at foodie friends friday!
slow-cooker cajun chicken pasta

serves 6-8, adapted from tasty kitchen + the pioneer woman

ingredients

2 lbs chicken breasts (about 4-5 large chicken breasts), cut into 2″ pieces
1 teaspoon paprika
1 teaspoon black pepper
1/2 teaspoon crushed red pepper
1/4 teaspoon cayenne pepper
1 teaspoon chili powder
1 teaspoon onion powder
1 teaspoon garlic powder
2 teaspoons dried italian seasoning
1 teaspoon cajun seasoning
olive oil for sautéing
1 onion, sliced
2 cloves garlic, minced
1 red pepper, sliced
1 yellow pepper, sliced
2 jalapeño peppers, seeds + ribs removed, sliced
1 28 oz. can crushed tomatoes
1 14 oz. can fire-roasted diced tomatoes
1/2 cup chicken broth
1 cups whole milk (or half + half)
2 teaspoons cornstarch
1/2 cup plain yogurt
1 pound pasta (i used fettuccine)

note: this recipe makes for a medium-spicy recipe. for a less-spicy version, you can omit the crushed red pepper, cayenne pepper, + jalapenos.

directions

combine the first 9 seasonings in a large bowl + stir to combine. add the cubed chicken, toss to cover well, + allow to sit while you prep the rest of the ingredients.

heat a tablespoon of olive oil in a large sauté pan. add the onions + garlic + saute until just softened, about 5 minutes. put the onions/garlic in the crock-pot.

return the pan to the heat, add another tablespoon of olive oil + add the chicken. cook until just seared on all sides, about 1-2 minutes per side. if your pan isn't big enough to sear all the chicken at once, do this in batches. when chicken is seared, add it to the crock-pot.

return the pan to the heat once more, add another tablespoon of olive oil, then add the red + yellow peppers + jalapeno peppers. cook until peppers are softened, about 5 minutes, then transfer the peppers to the crock-pot.

add the crushed tomatoes, fire-roasted tomatoes, + chicken broth to the crock-pot. stir everything until well-combned. cook on LOW for 4 hours, until chicken is cooked through.

whisk together the milk, yogurt, + cornstarch in a small bowl. add to the crock-pot, cover, + allow to cook on LOW for 30 minutes more, until sauce has thickened.

when the chicken has about 15-20 minutes left, cook pasta as instructed on the package. drain, return to pot, + toss with about 1/2 cup (or more, depending on your preference) of the creamy cajun sauce from the crock-pot. top with chicken + peppers mixture, + serve with fresh bread.

print this recipe