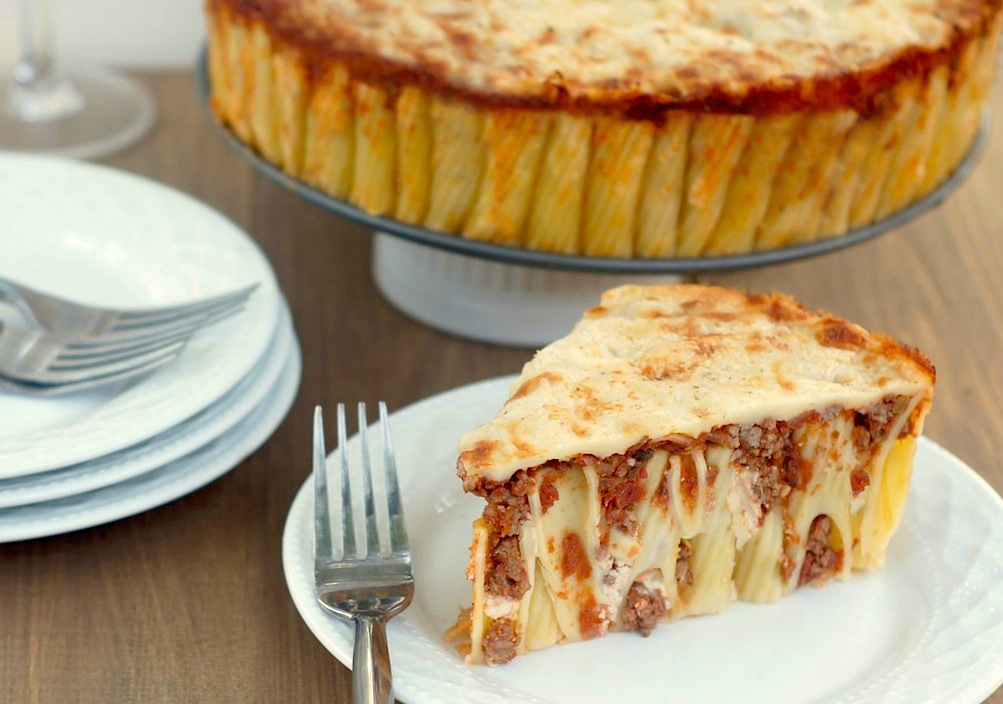 i adore pasta + i love food that's cute and/or makes for an cool presentation, so today's recipe is one that i'm so excited to share! i'm sure many of you have had baked ziti/rigatoni before, BUT have you ever had a version that's shaped like a pie? basically, you place cooked rigatoni vertically into a springform pan (pictured below), then top it with a layer of ricotta, a layer of homemade meat sauce, grated mozzarella + parmesan, + bake until it reaches bubbly perfection. sounds good, right?
i stumbled across this recipe just a few weeks ago + couldn't wait to give it a try. while it's definitely tasty, this is really a dish that's first + firemost about the presentation. the real awesomeness comes when you release the sides of the springform pan, reveal a fabulous rigatoni "pie," + proceed to cut a perfect slice from it. and the flavor? i worried that with such a cool presentation, the flavor might be so-so, but this was actually quite delicious! although, in my book, you really can't go wrong with any meal that involves lots of pasta, tons of cheese, + a wonderful, savory sauce.
so, next time you're looking for a dinner that can feed a crowd AND also has a major wow factor, look no further + give this amazing rigatoni pie a try!
three-cheese rigatoni pie with meat sauce

serves 8, adapted from betterrecipes.com

ingredients

1 lb rigatoni (the wider, the better!)
1 tbsp olive oil
1 lb ground beef
1 28 oz. can good quality crushed tomatoes
2 tbsp dry red wine
1 tbsp worcestershire sauce
1 tsp dried parsley
1/2 tsp dried basil
1/2 tsp garlic powder
1/4 tsp dried oregano
1/4 tsp crushed red pepper flakes
salt + pepper, to taste
1 1/2 cups freshly grated parmesan cheese, divided
4 oz ricotta cheese
1 1/2 cups shredded mozzarella cheese

directions

bring a large pot of salted water to a boil. add the rigatoni + cook until just al dente, according to the package instructions. drain + transfer to a large bowl. stir in 1 tbsp of olive oil + set aside to let cool, while you go on to the next steps.

meanwhile, heat a large skillet over medium heat. add the beef + cook until it is no longer pink. drain the meat well + return to the skillet. stir in the crushed tomatoes, red wine, worcestershire sauce, parsley, basil, garlic powder, oregano + red pepper flakes. season with salt + pepper to taste. reduce the heat to low + simmer for 20 minutes, stirring occasionally. remove about 1/4 of the sauce + put aside in a small bowl – this will be your extra sauce for serving.

preheat the oven to 400 degrees. grease or butter a 9″ springform pan.

gently stir 1 cup of grated parmesan cheese into the cooked rigatoni until well-coated. stand each piece of rigatoni up vertically in the prepared springform pan. (note: this step took me about 8 minutes). this is what this step will look like when done!

once all the rigtoni is packed vertically into the pan, gently spread the ricotta cheese on top of the rigatoni in a thin, even layer.

carefully pour the meat sauce in the skillet (not the reserved sauce) over the rigatoni. this is the most time-consuming part: with clean hands, use your fingers to carefully push the meat sauce down into the rigatoni. as you push the meat sauce down, you will also push the ricotta cheese into the rigatoni, which will help keep this dish from being dry. the more time you spend on this step, the better results you will obtain! (note: this step took me about 10 minutes).

set the springform pan on a baking sheet + bake for 15 minutes. remove from the oven. sprinkle the mozzarella cheese + 1/2 cup parmesan cheese evenly over the top. cook for another 15 minutes, until the cheese is lightly browned + bubbling.

remove the pie from the oven + allow it to stand in the springform pan for 15 minutes. then, carefully run a knife along the edge of the pan to loosen the pie. remove the sides of the springform pan, then slice, serve with extra sauce on the side, + garnish with parsley, if desired.

print this recipe