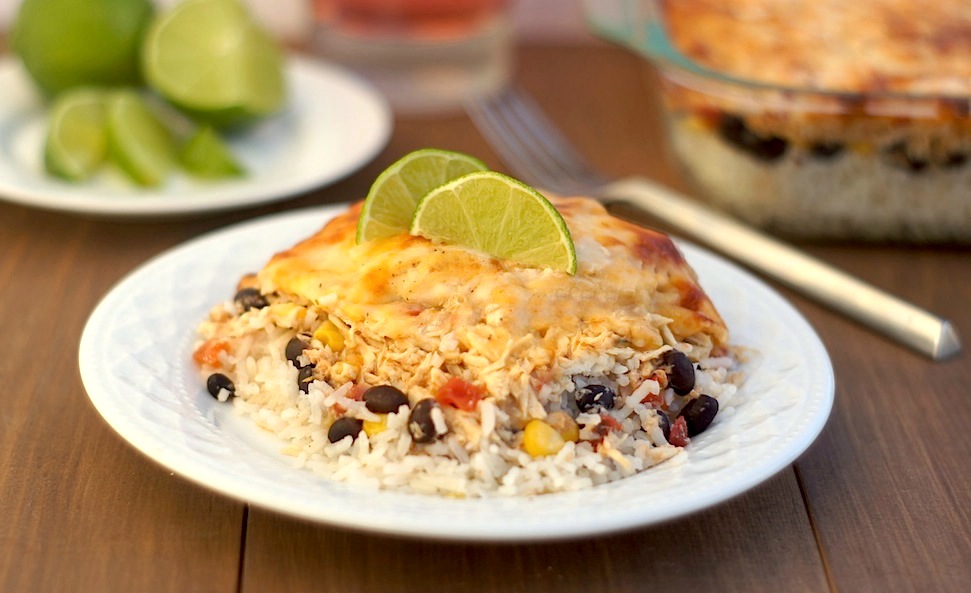 i love a good casserole. it didn't used to be this way, though. until recently, i thought that all casseroles were mushy, bland + flavorless – boy, was i wrong! after trying a truly delicious one a few years ago, i was converted into a casserole-lover + now they're one of my favorite comfort foods – hearty, stick-to-your-ribs meals that are easy to serve + great for a crowd.
the other night, it was gray + rainy – perfect casserole weather. after seeing this recipe, i knew that with a few changes, it would be amazing. and it was! first, instead of using plain white rice for the bottom layer, i was inspired by my cilantro-lime rice, + made a flavorful, delicious lime rice. i topped that with a layer of black beans + corn, which add a great texture. next comes the enchilada chicken layer, which is truly scrumptious – tender pulled chicken mixed with green enchilada sauce, diced tomatoes with green chiles, spices, + a bit of greek yogurt for creaminess. finally, the whole thing is topped off with a generous layer of cheese, which comes out of the oven golden + bubbling.
this casserole turned out wonderful – both my husband + i loved it, going back for seconds (+ thirds!). we served it with tortilla chips on the side, as they added a great crunch to the dish that was perfect. so, if you're looking for a delicious, crowd-pleasing casserole to make, give this one a try!
Chicken Enchilada + Black Bean Rice Bake

serves 6-8, adapted from picky palate

ingredients

2 cups uncooked white long grain rice (or basmati rice)
juice of 1 lime (about 2 tablespoons juice)
optional: 3 tbsp fresh chopped cilantro (i omitted this due to a cilantro-hating husband)
1 tablespoon vegetable oil
3 cups cooked, shredded chicken breast
1 15-ounce can mild green enchilada sauce
1 15-ounce can diced tomatoes with green chiles (i used ro*tel brand)
1/2 cup plain greek yogurt (or sour cream)
1 teaspoon kosher salt
1/2 teaspoon freshly ground black pepper
1/2 teaspoon cumin
pinch of cayenne
1 15-ounce can black beans, drained and rinsed
1/2 cup frozen corn kernels
2 cups shredded mexican-blend cheese

directions

preheat oven to 350 degrees + spray a 9×13-inch baking dish with non-stick cooking spray.

cook rice according to package directions. transfer to a large bowl, toss with the lime juice, vegetable oil, + (if using) cilantro, then salt to taste + set aside.

place chicken, enchilada sauce, diced tomatoes, yogurt (or sour cream), salt, pepper + cumin into a large bowl, mixing to combine.

prepare the casserole: transfer the cooked lime rice into the prepared baking dish. then, layer beans on top of rice. then, layer the corn on top. then, pour chicken mixture over + smooth evenly. top it all with the cheese.

bake for 30 to 35 minutes, until cheese is melted, golden, + bubbling, + rice is hot.

print this recipe