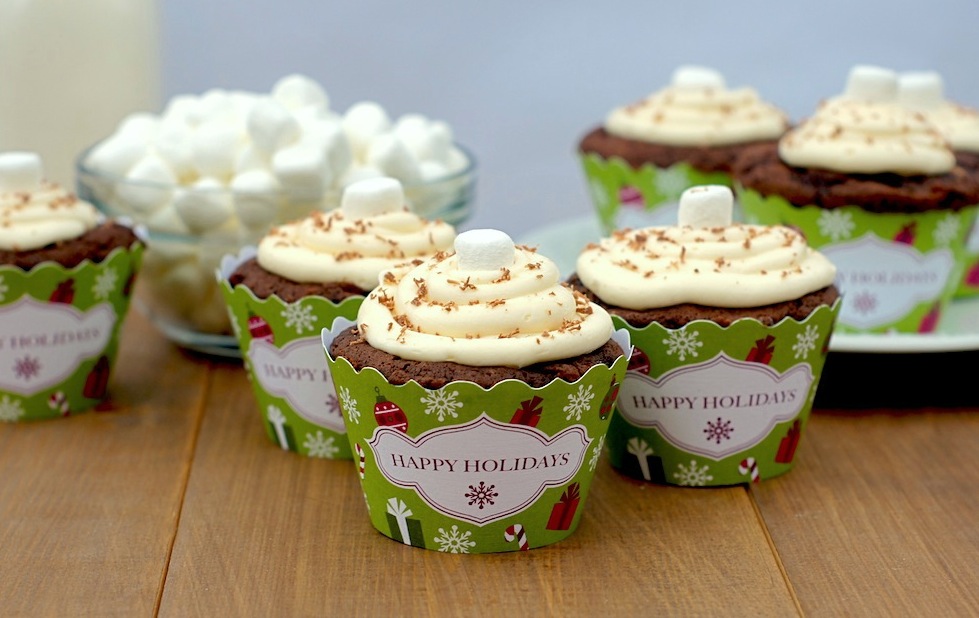 this past weekend, one of my friends hosted her annual holiday party. even though she told me i didn't need to bring anything, y'all know me, i can't resist bringing a sweet to a party! while thinking about what to make, my favorite cold-weather treat popped to mind: hot cocoa! what if, i thought, i captured the flavors of hot cocoa in a cupcake? that would be a perfect holiday party dessert.
so, i thought about how i like my hot cocoa: full of rich, dark chocolate, + topped with a generous helping of marshmallows. and thus, the inspiration for the cupcakes! for the cupcake base, i used my tried-and-true dark chocolate cupcakes. they are SO wonderful – rich, moist, + full of chocolatey flavor. then, i used this marshmallow buttercream recipe. the light, sweet, fluffy marshmallow buttercream pairs beautifully with the rich, deep chocolate cupcakes. garnish with a little shaved chocolate + a mini marshmallow + voila! hot cocoa cupcakes. =)
and aren't the cupcake wrappers just perfect for a holiday party? they're by bella cupcake couture, a company that makes fabulous eco-friendly + food-friendly cupcake wrappers in tons of different styles. you'll probably be seeing them lots more on my blog, because i can't resist using 'em!
Hot Cocoa Cupcakes with Marshmallow Buttercream

makes 12 cupcakes, adapted from and cook's lllustrated + baked bree

ingredients

for the cupcakes:
8 tablespoons (1 stick) unsalted butter, cut into 4 pieces
2 ounces bittersweet chocolate, chopped
1/2 cup dutch-processed cocoa powder
3/4 cup all-purpose flour
1/2 teaspoon baking soda
3/4 teaspoon baking powder
2 eggs
3/4 cup granulated sugar
1 teaspoon vanilla extract
1/2 teaspoon table salt
1/2 cup (4 ounces) sour cream

for the marshmallow buttercream:
1/2 cup (1 stick) unsalted butter, at room temperature
1/2 a (7-ounce) jar marshmallow creme
1 cup confectioners sugar
1/2 teaspoon vanilla

to garnish (optional):
12 mini marshmallows
1 oz. dark chocolate

directions

make the cupcakes:
adjust oven rack to lower-middle position + preheat to 350 degrees. (if using a non-stick muffin pan, heat the oven to 325 degrees.) line mini-muffin pan with baking cup liners.

combine butter, chocolate, + cocoa in medium heatproof bowl. set bowl over saucepan of barely simmering water; heat mixture until butter + chocolate are melted + whisk until smooth + combined. set aside to cool until just warm to the touch.

whisk flour, baking soda + baking powder in small bowl to combine. whisk eggs in second medium bowl to combine. add sugar, vanilla + salt until fully incorporated. add cooled chocolate mixture, whisk until combined.

sift about 1/3 of flour mixture over chocolate mixture + whisk until combined, then whisk in sour cream. sift in remaining flour mixture + whisk until batter is homogeneous + thick.

divide the batter evenly among muffin cups. bake until toothpick inserted into center of cupcakes comes out clean, about 12-14 minutes.

cool cupcakes in muffin pan on wire rack until cool enough to handle, about 10 minutes, then transfer each cupcake to cooling rack. cool to room temperature before icing.

make the buttercream:
cream the butter using a stand mixer or a hand mixer until it is light + fluffy, about 2 minutes. add the marshmallow creme + beat for 2 minutes more.

add the confectioners sugar + continue to beat for another 2 minutes. add vanilla extract + beat until combined.

ice the cupcakes using a piping bag + the tip of your choice, or a knife/spatula. top with a bit of shaved chocolate + a mini marshmallow, then enjoy!

print this recipe