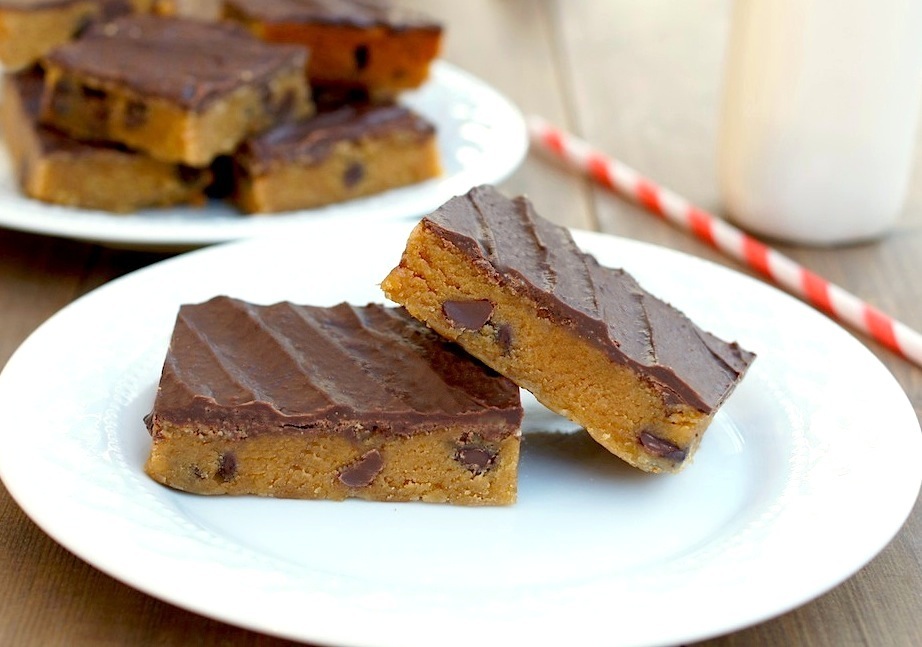 today, i'm participating in a fun blogger event — the secret recipe club. how does it work? every blogger is secretly assigned another blog + chooses a recipe from that blog to make. on reveal day (today!), all of our posts go up at the same time, + everyone gets to see who was assigned to their blog, which recipe they chose, + how it turned out. fun, huh?
this month, i was assigned Deanna's blog, The Mommy Bowl + after looking through lots of tasty-looking recipes, I stumbled across Peanut Butter Chocolate Chip Bars + knew i had to make them. Deanna had adapted the recipe to be gluten-free/dairy-free, but since I don't have those dietary restrictions (+ i already had the needed butter/flour/etc. in the house), I used the original recipe.
so, how did they turn out? so flippin' delicious. I'm a sucker for the chocolate/peanut butter combination + these bars are just wonderful – rich, creamy peanut butter bars studded with chocolate chips + topped with a delicious layer of milk chocolate.  another major plus? these were SO easy to make, requiring a mere 5-10 minutes of prep before they were ready to go into the oven. so, if you're a chocolate/peanut butter lover like I am, you've gotta give these a try!
thank you to deanna for introducing me to these fabulous sweets, + to the secret recipe club for connecting me, yet again, with fantastic bloggers + amazing recipes!
Peanut Butter Chocolate Chip Bars

makes 2-3 dozen bars (depending on size), adapted from very best baking, as inspired by the mommy bowl

ingredients

1 cup creamy peanut butter
6 tablespoons unsalted butter, softened
1 1/4 cups granulated sugar
3 large eggs
1 teaspoon vanilla extract
1 cup all-purpose flour
1/4 teaspoon salt
1 3/4 cups (11.5-ounce package) milk chocolate chips/morsels, divided (i used Nestle's)

directions

preheat oven to 350º F.

beat peanut butter + butter in large mixer bowl until smooth. beat in sugar, eggs + vanilla extract. beat in flour + salt. stir in 3/4 cup chocolate chips/morsels. spread into ungreased 13 x 9-inch baking pan.

bake for 25 to 30 minutes or until edges are lightly browned. remove from oven, + sprinkle with remaining 1 cup chocolate chips/morsels. let stand for 5 minutes or until morsels are shiny + softened; spread evenly. cool completely in pan on wire rack.

cut into bars. 2 dozen bars will yield a larger bar, while 3 dozen bars will give a smaller, more bite-size bar. i opted for the larger version, of course. =)

print this recipe