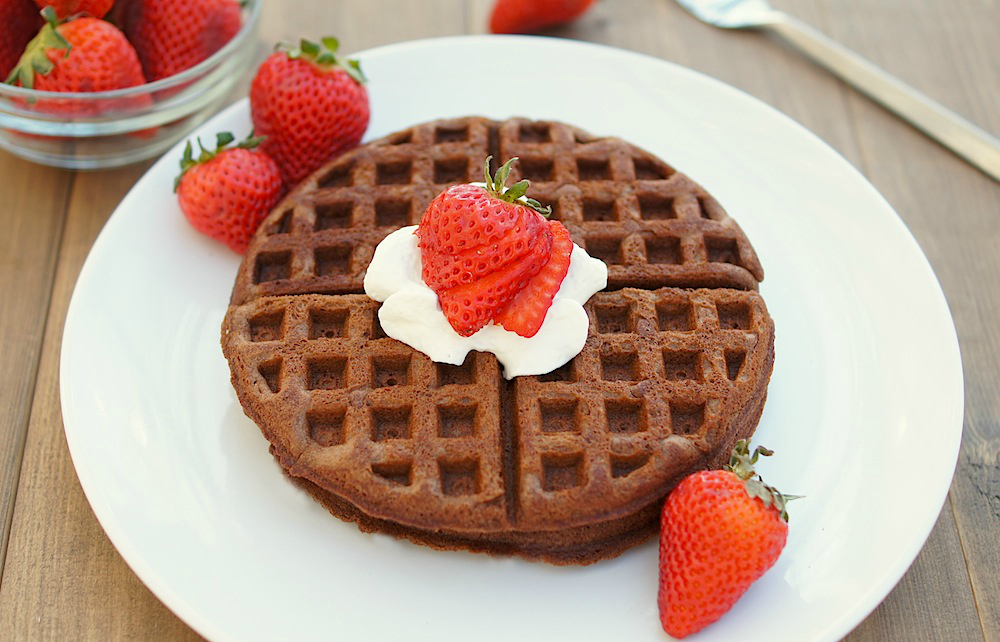 I love getting new cookbooks – it's so fun to flip through 'em + decide what recipe to make first. My newest cookbook arrival was especially exciting: the gorgeous Breakfast For Dinner, written by food blogger husband-and-wife-team Lindsay Landis + Taylor Hackbarth, who I know personally through the Nashville food blogging network. I've been lucky to sample lots of their baked goods + sweets in the past, so I was so excited to read through their cookbook + try out their recipes myself!
After flipping through all the beautifully-photographed recipes, I settled on a decadent, over-the-top sweet: Chocolate Brownie Waffles. While I normally prefer savory dishes, my sweet tooth has been out in full force lately, so I decided to treat it to something special. So, how did the waffles turn out? Amazing! They're rich, fluffy, + full of awesomely chocolatey flavor. The recipe originally called for them to be served with a sweetened blackberry sauce, but I wanted the chocolate to be the star of the dish, so I accompanied them simply with whipped cream + fresh strawberries. And it was perfect – I gobbled these up as an afternoon treat, + then, I confess, I made them again the next day for lunch!

For the full recipe, hope over to Cooks + Books + Recipes, where I'm guest posting today!